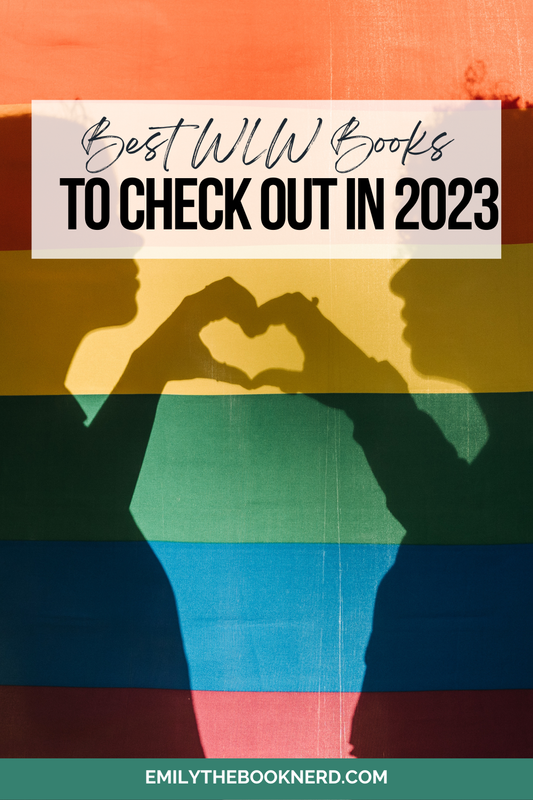 Here is a guest post brought to you by Pamela Lacey, a fellow blogger, that contacted me to do a guest piece. I thought this would be a perfect guest post to feature on my blog for all things "pride" related. To me, love is love and everyone should be accepted and loved for who they are.
If you are looking for captivating reads featuring women who love women, this post is for you!
WLW books have been around for decades, offering representation and validation to those who
identify as lesbians, bisexuals, or queer women, as well as providing a window into the
experiences of women who love women for others.
In this post, we have compiled a list of the best WLW books to explore in 2023, spanning across
various genres. These books not only showcase the diverse experiences of WLW characters
but also offer compelling narratives that will keep you turning the pages.
Let's dive in and discover the best WLW books to explore in 2023.
1. The One Woman by Laura May
Laura May's The One Woman tells an intricate and poignant tale of love that delves into the
complexities of relationships and the challenges of timing. Julie, a gifted graphic designer, feels
unfulfilled in her current relationship with Mark until she meets Ann, a dynamic and
accomplished woman who kindles a new passion within her.
Their connection strengthens as they reunite in Barcelona, and they find themselves falling
deeply in love. However, their relationship is put to the test when tragedy strikes, and Julie must
choose between her loyalty to Mark and her affection for Ann.
2. Stars Collide by Rachel Lacey
After a lackluster album release and a failed marriage, Eden Sands, a long-time music industry
star, is feeling lost and alone. Despite her waning popularity, she's reluctant to collaborate with
a rising young artist to reignite her career. Meanwhile, Anna Moss, an aspiring musician who
has looked up to Eden for years, sees their upcoming performance together at the Grammys as
a chance to break away from her bubblegum pop image and be taken seriously as an artist.
As they rehearse for their duet, Anna and Eden discover a connection that goes beyond just
their music, but they must decide whether it's a fleeting attraction or the beginning of a love
story worthy of a chart-topping hit.
3. Just as You Are by Camille Kellogg
In this debut romantic comedy with a touch of Pride and Prejudice inspiration, Liz Baker and her
three roommates work for Nether Fields, a struggling queer magazine in New York that is saved
from shutdown by two wealthy lesbians. Unfortunately, one of the investors, Daria Fitzgerald,
starts making budget cuts and taking away office perks, leading Liz to dislike her even more.
When Liz overhears Daria belittling her work, she fears for her job security.
However, as Liz and Daria spend more time together, Liz begins to see a different side to her.
Despite knowing she shouldn't, Liz can't help but feel attracted to Daria, who reciprocates her
feelings. This steamy and hilarious rom-com celebrates queer culture, the importance of chosen
families, and falling in love despite all odds.
4. Forget Me Not by Alyson Derrick
Have you ever wondered what you would do if you woke up one day and realized that you had
forgotten the love of your life? This is exactly what happens to Stevie in Alyson Derrick's Forget
Me Not. Stevie and Nora shared a once-in-a-lifetime love that they had planned to take with
them when they left their small, conservative town for California after graduation.
However, when Stevie suffers a traumatic fall, she wakes up unable to remember the last two
years of her life, including her love for Nora. Now, Stevie is living a life that feels foreign to her,
with a strained relationship with her parents, a job she's not sure she remembers getting, and a
boyfriend she can't remember crushing on. Meanwhile, Nora has been left behind and forgotten.
Can they find their way back to each other despite the odds, even if it means starting from
scratch?
5. Dykette by Jenny Fran Davis
In Dykette by Jenny Fran Davis, we meet Sasha and Jesse, two young creatives living in
Brooklyn who are deeply in love but also dysfunctional. When they are invited to spend the
holidays at the country home of Jules Todd, a prominent news host, and her partner Miranda, a
psychotherapist, they eagerly accept. However, the trip includes another couple, Jesse's best
friend Lou and their cool-girl flame Darcy, whom Sasha both ridicules and desires.
Over the course of ten days, the guest's motivations become muddled, and a web of infatuation
and jealousy begins to unravel, threatening the future of each couple. Dykette is a captivating
love story that explores the complexities of queer nonconformity and the seductive pull of
conformity, with engaging prose that captures the nuances of desire and the ways we seek
validation.
In conclusion, these best WLW books offer a diverse range of experiences, emotions, and
stories that celebrate the complexity and beauty of lesbian love. These books not only provide
entertainment and escapism but also serve as important representations of the LGBTQ+
community and their experiences.
Whether you are looking for a book to make you laugh, cry, or fall in love, these best WLW
books are a great place to start. Happy reading!
GUEST POST BIO:
Pamela Lacey is a blogger and writer who is just starting her career. With a passion for storytelling and a love of language, Pamela has been writing for as long as she can remember.