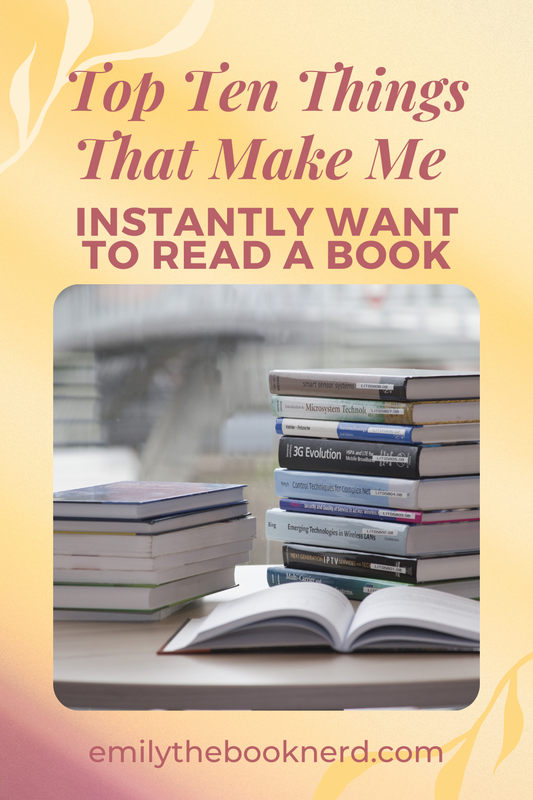 Welcome to another TTT! This week's topic is the Top Ten Things That Make Me Instantly Want to Read a Book. This is an exciting topic to think about. Books draw me in for various reasons but here are the top ten reasons a novel will pique my interest.
1. Is the book by an auto-buy author of mine?
I have a handful of auto-buy authors that I purchase books from. Honestly, these authors can write anything and I may not even know what the book is about and I will still buy/read their books. I enjoy those authors so much that I automatically know that if they write anything I will be reading their books. These current authors include Penelope Ward, Vi Keeland, Colleen Hoover, Lauren Blakely, and Taylor Jenkins Reid.
2. Is the book a romance?
I am a sucker for all things romance. Chances are if the book is a romance I will want to read it.
3. Is the book a thriller?
Like romance, I gravitate toward the thriller genre. I have always loved a good mystery or suspense novel.
4. An author that I love blurbs on the cover of another book.
If an auto-buy author of mine endorsed another book. I will pick that one up too.
5. Sparkle or Pink Covers
I love girly-looking covers.
6. Is it on Reese Witherspoon's book club picks?
Reese is my favorite. We have very similar reading tastes and most of the picks that I have read from her book club have been 5-star reads of mine. Plus, she always makes tv shows and movies off the books she has discovered or read which is a plus.
7. Is a sexy man on the cover?
I love hot and steamy romances. Plus, I am a sucker for those hunks on the covers.
8. Is it a paranormal romance?
I love ghost love stories.
9. Is there time travel aspects?
I love anything with sci-fi elements in a book. For some reason, I absolutely love time travel time altering plots in books.
10. Does it have a cool cover in general?
Ultimately, the cover of a book is what initially draws me in.
What kinds of books grab you in? What are you drawn to read and why? I would love to discuss this in the comments down below.
xoxo,