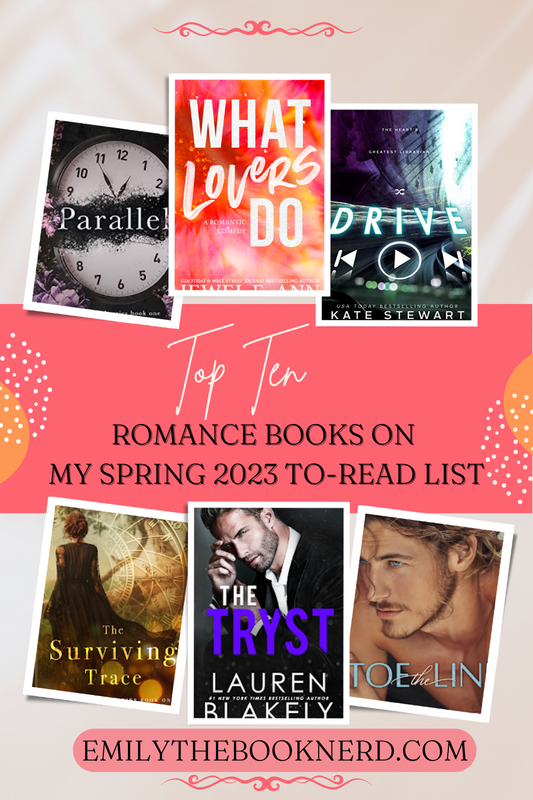 Welcome to another TTT! Spring is here and I am so excited to share all the books that I am looking forward to reading this spring! I love writing these lists up, even if I don't always stick to them 100%. I think it's really fun to make reading goals and share what I'm excited to read. Eventually, I will get to these books but this TTT is here to share titles that you are excited about. I also really love seeing what you're all excited to read, too! To add a little personal flair to this Top Ten Tuesday, I am doing the top ten romance books on my spring tbr.
1. The Surviving Trace by Calia Read
Our love is timeless.
Will is my fiancé. The shy man I met years ago in college. The person I'm supposed to spend the rest of my life with.
This is the life I've always wanted until finding a picture of four men changes everything…
Etienne says he's my husband and the year is 1912. He can't stand the sight of me, but I don't know why.
Oh, and he's one of the men from the picture.
I've done the impossible and have become trapped in time and I know Etienne is my key to going home.
The more time I spend with Etienne, the further I fall for him, until I'm questioning which time I belong in and if the life I left behind is the one I truly desire.
All I know for certain is I need to survive time.
I need to survive love.
And I need to make it out on the other side alive.
She first met him in a dream. And now, weeks before she marries someone else, he's appeared in real life.
I've spent my entire life hiding what I can do. The things I know. Until the day Nick Reilly walks into my hospital room.
Nic

k—the man I've been dreaming about for as long as I can remember. I know everything about him, as if we spent an entire lifetime together, and I know I loved him in a way I've never loved anyone else...including my fiancé.
Even stranger? Nick's been dreaming about me too.
Working with him to unravel the puzzle might save me, but the attraction between us could destroy us both.
Just like it did before.
From

New York Times

bestselling author Penelope Ward comes a friends-to-lovers story spanning more than a decade… At first, I thought I'd hate spending the summer with Archie Remington—the conceited son of my parents' friends. What I knew about Archie: he was gorgeous, pre-law, and had always treated me like I didn't exist when we were younger. When our families bought a house together on an island in Maine, he and I were forced to share a bathroom. The boy I remembered was now a full-grown man—but with the same attitude. After a rough start, Archie and I unexpectedly started getting along one day and eventually became friends. We shared secrets and bonded during our morning jogs. I discovered that Archie had a wild spirit and that he struggled to conform to his father's expectations. Things were cool until I had to go and ruin it, getting drunk one night, and blurting out my fantasy—involving him. I took it back, but it was too late. Archie had heard me loud and clear. After that, we never quite knew how to toe the line. When that summer came to an abrupt and shocking end, I headed back to college, unsure if anything would ever be the same again. Across the miles over the years, he and I stayed in touch as friends, but fate and timing always kept us from becoming more. You know the saying: If two people are meant to be, they'll find their way back to each other? Let's just say Archie came back into my life in a way I would've never expected. And this time, my heart would really be put to the test.
From USA Today and Wall Street Journal bestselling author Ashley Jade comes an edgy, enemies-to-lovers standalone romance about mistakes, forgiveness, and second chances. He was the talented bad boy everyone wanted. I was the irrelevant geek everyone hated. He was the sun...drawing all of us in. I was a black hole...taking up space. He was destined to be a star. I was destined to remain an insignificant no one. Until he made me believe I was special... And then he destroyed me. I never thought I'd see Phoenix Walker again after he broke my heart, but fate had other plans. One tour. Eight weeks. Forty shows. Countless opportunities to make him pay. The world thought he was a God... But I knew the truth.
Some men are just off-limits. Like your ex-boyfriend's father.

But when I met the sexy, powerful older man shortly after my business school graduation, he was simply the seductive stranger I wanted to notice me, and he sure did. Fast forward a few months later, when my college ex – now a good friend – introduces me to the person he looks up to most…his father. The man I spent that one hot night with. I should stay far away from the commanding business mogul. But my ex and I are planning a charity fundraiser that involves late nights at his dad's penthouse in Manhattan. Nights where he can't stop looking at me with desire in his eyes that matches my own. I try to resist him, playing the good girl in the city…mostly. He's the perfect gentleman…until he comes knocking on my door and tells me exactly what he wants to do to me. And I say yes. Stealing nights with him like this is supposed to be wrong, but it feels so right. And when he saves the day to protect his son at the fundraiser, my heart wants him as much as my body does. Can we ever be more than just a tryst?
Sparks fly when a romance novelist and a documentary filmmaker join forces to craft the perfect Hollywood love story and take both of their careers to the next level—but only if they can keep the chemistry between them from taking the whole thing off script.

Felicity "Fizzy" Chen is lost. Sure, she's got an incredible career as a beloved romance novelist with a slew of bestsellers under her belt, but when she's asked to give a commencement address, it hits her: she hasn't been practicing what she's preached. Fizzy hasn't ever really been in love. Lust? Definitely. But that swoon-worthy, can't-stop-thinking-about-him, all-encompassing feeling? Nope. Nothing. What happens when the optimism she's spent her career encouraging in readers starts to feel like a lie? Connor Prince, documentary filmmaker and single father, loves his work in large part because it allows him to live near his daughter. But when his profit-minded boss orders him to create a reality TV show, putting his job on the line, Connor is out of his element. Desperate to find his romantic lead, a chance run-in with an exasperated Fizzy offers Connor the perfect solution. What if he could show the queen of romance herself falling head-over-heels for all the world to see? Fizzy gives him a hard pass—unless he agrees to her list of demands. When he says yes, and production on The True Love Experiment begins, Connor wonders if that perfect match will ever be in the cue cards for him, too. The True Love Experiment is the book fans have been waiting for ever since Fizzy's debut in The Soulmate Equation. But when the lights come on and all eyes are on her, it turns out the happily ever after Fizzy had all but given up on might lie just behind the camera.
I've got a list of people I absolutely don't ever want to be stuck with on a boat, or a plane, or a train, and it starts and ends with the broody, grumpy, too-sexy-for-my-own good Axel Huxley.
Also known as this romance novelist's number one nemesis.
The man is legendary for his mighty pen and his even mightier scowl. I tried to work together with the cocky thriller writer once upon a time, but the two of us are like vodka and good decisions. We don't play well together.
Only now, our publishers are sending us on a joint trip across Europe to mingle with our most devoted readers on an old-fashioned luxury train. And thanks to a booking snafu, we have to share a sleeper car.
You guessed it--
there's only one bed.
I'm not sure I can survive the next seven days and nights with my dangerously sexy enemy and all our fiery tension.
Which explodes one night in a desperately needed hate bang.
But the bigger plot twist is this – the more time we spend together, visiting the most romantic cities in Europe by day and discovering each other at night, the more I'm forced to face our past.
To let go of the hurt.
To see the man he's become.
And when I do, I wonder if it's too late to write a new happy ending for us?
It started out like any other Tuesday.
I spent twelve hours writing algorithms for one of the largest companies in the world and then came home to work on a pet project of mine—feeding facts about the men I knew into a formula to find my perfect match before my twenties came barreling to a close.
But then a man knocked on my door and handed me some papers that turned my life upside down.
Apparently, a father I never knew existed had left me something in his will. That something turned out to be part ownership in a
professional football team
.
Next thing I knew, I was learning a sport I knew nothing about by spending time with the team's quarterback who was out with an injury, a man who my formula would
definitely
determine was all wrong for me.
Christian Knox was too handsome and confident for his own good and could have any woman he wanted. Only lately the only woman he seemed to want was
me
.
But there was no way I was getting involved when I was now his boss, even if he was insanely gorgeous and had the dirtiest mouth I'd ever come across.
It would be wrong, wouldn't it?
Probably. But you know what they say about things that are wrong...sometimes they feel so right.
Music . . . the heart's greatest librarian. The average song is three and a half minutes long; those three and a half minutes could lead to a slow blink, a glimpse of the past, or catapult the soul into heart-shattering nostalgia. At the height of my career, I had the life I wanted, the life I'd always envisioned. I'd found my tempo, my rhythm. Then I received a phone call that left me off key. You see, my favorite songs had a way of playing simultaneously. I was in love with one man's beats and another's lyrics. But when it came to the soundtrack of a life, how could anyone choose a favorite song? So, to erase any doubt, I ditched my first-class ticket and decided to take a drive, fixed on the rearview. Two days. One playlist. And the long road home to the man who was waiting for me.
From bestselling author Jewel E. Ann comes a hilarious secret lovers story that redefines the meaning of friendship.

Shep's found the female version of himself … and he thinks she's perfect—perfectly unavailable. Everyone loves Shep, the charismatic employee at Scottsdale's newest pet store. He has shared custody of his two dogs with his annoying ex-wife and a smile that can disarm most women. Except … Dr. Sophie Ryan. What starts out as a disastrous first meeting, involving a coffee catastrophe and mistaken flirting, turns into an unconventional friendship. Fake phone sex. Dog park dates. And eighteen holes of golf. The problem? Sophie's taken herself out of the dating pool for a mysterious reason, imprisoning Shep in the friend zone for eternity. As their competitive personalities hit a boiling point, the gloves come off and so do their clothes. When Sophie's "real" life threatens their relationship, can Shep let go of his past to chase the one that might get away?
What books are on your spring TBR? Have you read any of the titles above? What are your thoughts? I would love to know in the comments down below.