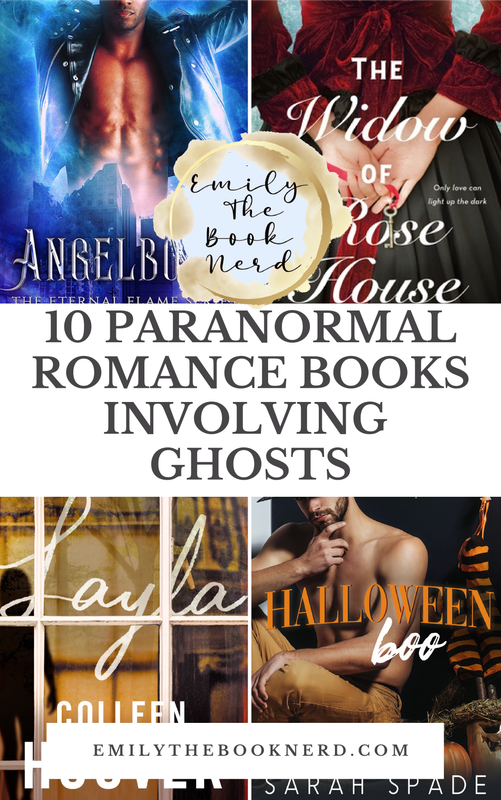 Since childhood, I have always loved paranormal romance novels involving ghosts. Especially plots that involve seeing ghosts, falling in love with a spirit in some way, or helping ghosts crossover. Therefore, this list has been inspired by that very topic. Hence the inspiration for this post!
Here are all the paranormal ghost romance novels that I plan to read soon. I have even created a bookshelf on Goodreads for this specific plot point because I like those kinds of books so much. If you know of any ghostly romances let me know about them in the comments down below if they are not included in this list because I always need more books to add to my book lists!
1. The Widow of Rose House by Diana Biller
A young widow restores a dilapidated mansion with the assistance of a charming, eccentric genius, only to find the house is full of dangerous secrets in this effervescent Gilded Age debut novel.
It's 1875, and Alva Webster has perfected her stiff upper lip after three years of being pilloried in the presses of two continents over fleeing her abusive husband. Now his sudden death allows her to return to New York to make a fresh start, restoring Liefdehuis, a dilapidated Hyde Park mansion, and hopefully her reputation at the same time. However, fresh starts aren't as easy as they seem, as Alva discovers when stories of a haunting at Liefdehuis begin to reach her. But Alva doesn't believe in ghosts. So when the eccentric and brilliant professor, Samuel Moore, appears and informs her that he can get to the bottom of the mystery that surrounds Liefdehuis, she turns him down flat. She doesn't need any more complications in her life―especially not a handsome, convention-flouting, scandal-raising one like Sam.
Unfortunately, though Alva is loath to admit it, Sam, a pioneer in electric lighting and a member of the nationally-adored Moore family of scientists, is the only one who can help. Together, the two delve into the tragic secrets wreathing Alva's new home while Sam attempts to unlock Alva's history―and her heart.
Set during the Gilded Age in New York City,
The Widow of Rose House
is a gorgeous debut by Diana Biller, with a darkly Victorian Gothic flair and an intrepid and resilient American heroine guaranteed to delight readers.
A disillusioned millennial ghostwriter who, quite literally, has some ghosts of her own, has to find her way back home in this sparkling adult debut from national bestselling author Ashley Poston.
Florence Day is the ghostwriter for one of the most prolific romance authors in the industry, and she has a problem—after a terrible breakup, she no longer believes in love. It's as good as dead.
When her new editor, a too-handsome mountain of a man, won't give her an extension on her book deadline, Florence prepares to kiss her career goodbye. But then she gets a phone call she never wanted to receive, and she must return home for the first time in a decade to help her family bury her beloved father.
For ten years, she's run from the town that never understood her, and even though she misses the sound of a warm Southern night and her eccentric, loving family and their funeral parlor, she can't bring herself to stay. Even with her father gone, it feels like nothing in this town has changed. And she hates it.
Until she finds a ghost standing at the funeral parlor's front door, just as broad and infuriatingly handsome as ever, and he's just as confused about why he's there as she is.
Romance is most certainly dead... but so is her new editor, and his unfinished business will have her second-guessing everything she's ever known about love stories.
#1
New York Times
bestselling author Nora Roberts presents a novel set deep in the bayou of Louisiana—where the only witness to a long-ago tragedy is a once-grand house…
Declan Fitzgerald had always been the family maverick, but even he couldn't understand his impulse to buy a dilapidated mansion on the outskirts of New Orleans. All he knew was that ever since he first saw Manet Hall, he'd been enchanted-and obsessed-with it. So when the opportunity to buy the house comes up, Declan jumps at the chance to live out a dream.
Determined to restore Manet Hall to its former splendor, Declan begins the daunting renovation room by room, relying on his own labor and skills. But the days spent in total isolation in the empty house take a toll. He is seeing visions of days from a century past, and experiencing sensations of terror and nearly unbearable grief-sensations not his own, but those of a stranger. Local legend has it that the house is haunted, and with every passing day Declan's belief in the ghostly presence grows.
Only the companionship of alluring Angelina Simone can distract him from the mysterious happenings in the house, but Angelina too has her own surprising connection to Manet Hall-a connection that will help Declan uncover a secret that's been buried for a hundred years.
A sexy professor. A logical lawyer. A determined ghost. And a very real killer...
Welcome to Wicks Hollow: a cozy town near Lake Michigan filled with quaint houses, eccentric residents, and more than its share of ghosts, murders, and romance.
Diana Iverson needs a break--from her stressful job, from her philandering boyfriend, and from the rest of her fast-paced life. When she inherits her eccentric Aunt Jean's home on Wicks Lake, Diana takes a much-needed vacation in the cozy little town.
But when the lake house becomes the scene of multiple break-ins and other unsettling events, Diana begins to suspect Aunt Jean's death was not as innocent as it seems.
And then there's Ethan Murphy, the sexy college professor who lives next door… He appears to know a lot more about Aunt Jean than he should, and Diana doesn't trust him.
But most of all, there's Aunt Jean herself…who seems determined to communicate with Diana—from beyond the grave.
A ghost story romance set in a small town, featuring a cozy mystery about a ghost that just won't rest until justice is served. The perfect blend of romance, suspense, and ghosts.
Ryan Callahan.
Intelligent. Pensive. Reclusive.
DECEASED.
Mercy Hunter.
Ambitious. Optimistic.Independent.
LIVING.
Ryan thought he was on the fast track to his dream life. That is, until he woke up without a pulse. Realizing he has no way to leave the space where he took his last breath, he fears he is destined to spend eternity within the confines of his dreary apartment walls.
Mercy is certain she has left the clairvoyant tendencies of her bloodline behind. However, when she arrives at her new apartment in blustery Chicago, she is shocked to find that the previous tenant, Ryan, has stayed behind.
As their unique friendship blossoms, Ryan begins to think he's been left behind to act as Mercy's protector, but she doesn't seem to be the kind of woman who wants to be protected.
Meanwhile, Mercy is convinced it's her job to help Ryan cross over, but as she grows to know him, she's not entirely sure she's selfless enough to let him go.
As they struggle through the complexities of their relationship, they realize that the collision of their worlds isn't just coincidence. It's fate.
What happens when you're stalked by Death? You fall in love with him, of course.
Pagan Moore doesn't cheat Death, but instead, falls in love with him.
Seventeen year old Pagan Moore has seen souls her entire life. Once she realized the strangers she often saw walking through walls were not visible to anyone else, she started ignoring them. If she didn't let them know she could see them, then they left her alone. Until she stepped out of her car the first day of school and saw an incredibly sexy guy lounging on a picnic table, watching her with an amused smirk on his face. Problem is, she knows he's dead.
Not only does he not go away when she ignores him, but he does something none of the others have ever done. He speaks. Pagan is fascinated by the soul. What she doesn't realize is that her appointed time to die is drawing near and the wickedly beautiful soul she is falling in love with is not a soul at all.
He is Death and he's about to break all the rules.
7. Layla by Colleen Hoover
From #1

New York Times

bestselling author Colleen Hoover comes a novel that explores life after tragedy and the enduring spirit of love.
When Leeds meets Layla, he's convinced he'll spend the rest of his life with her—until an unexpected attack leaves Layla fighting for her life. After weeks in the hospital, Layla recovers physically, but the emotional and mental scarring has altered the woman Leeds fell in love with. In order to put their relationship back on track, Leeds whisks Layla away to the bed-and-breakfast where they first met. Once they arrive, Layla's behavior takes a bizarre turn. And that's just one of many inexplicable occurrences.
Feeling distant from Layla, Leeds soon finds solace in Willow—another guest of the B&B with whom he forms a connection through their shared concerns. As his curiosity for Willow grows, his decision to help her find answers puts him in direct conflict with Layla's well-being. Leeds soon realizes he has to make a choice because he can't help both of them. But if he makes the wrong choice, it could be detrimental for
all
of them.
Cas Lowood has inherited an unusual vocation: He kills the dead.
So did his father before him, until he was gruesomely murdered by a ghost he sought to kill. Now, armed with his father's mysterious and deadly athame, Cas travels the country with his kitchen-witch mother and their spirit-sniffing cat. They follow legends and local lore, destroy the murderous dead, and keep pesky things like the future and friends at bay.
Searching for a ghost the locals call Anna Dressed in Blood, Cas expects the usual: track, hunt, kill. What he finds instead is a girl entangled in curses and rage, a ghost like he's never faced before. She still wears the dress she wore on the day of her brutal murder in 1958: once white, now stained red and dripping with blood. Since her death, Anna has killed any and every person who has dared to step into the deserted Victorian she used to call home.
Yet she spares Cas's life.
9. Halloween Boo by Sarah Spade
A ghost falling in love with a mortal? It's just a bunch of hocus pocus…
Dani
So, I think my apartment is haunted.
No. Really.
Spooky things have been happening to me ever since I moved in last year. At first, I ignored them. Later, I got used to the idea that I shared my place with a ghost. I even called him Casper. We got along just fine.
Until a sexy hunk showed up the night before Halloween and told me that his name wasn't Casper--it was Zack. And that, on All Hallow's Eve, certain ghosts sometimes have the power to cross over into the human world. Which he did, because he loves me.
Okay then.
Zack
I'm in love.
The only problem?
She's alive. And me?
I'm kinda not.
At least, I'm not on every day except for October 31st. Because on Halloween? Anything goes.
I want Dani. And even if it's only for the one night when ghosts can cross over to the living world, I'll take what I can get. Because I love a mortal, and it's not just hocus pocus.
Dani Williams doesn't believe in ghosts. But this Halloween, after a year of watching over and falling in love with his mortal houseguest, Zack Banks is ready to prove that this particular ghost might just believe in her.
This sweet Halloween treat is chock full of insta-love, over-the-top Halloween magic, and enough Hocus Pocus nods to make you cackle like a sexy witch in between moaning for more. A Sarah Spade HEA guaranteed!
He gave up eternity for love… and lost. Will she be his second chance?
Maia sees dead people. Since she can't distinguish them from the living, she ignores everyone in order to appear sane. But the ghost haunting her roommate breaks through her hardened shell. Not only does he claim to not be dead, he makes her feel things she never has before—dangerous feelings for a man who can never be hers.
For an angelborn like Caleb, dying without a soul sentenced him to eternity in the Wasteland. Now he's escaped, but the only way to stay free is by convincing his true love to share her soul with him. You only get one soulmate and his is not the broken, scarred young woman he can't stay away from. With dangerous angels hunting him, Maia is a distraction he can't afford.
After inadvertently leading a threat to Caleb's door, Maia is willing to risk anything to keep him safe. Even if that means losing him forever.