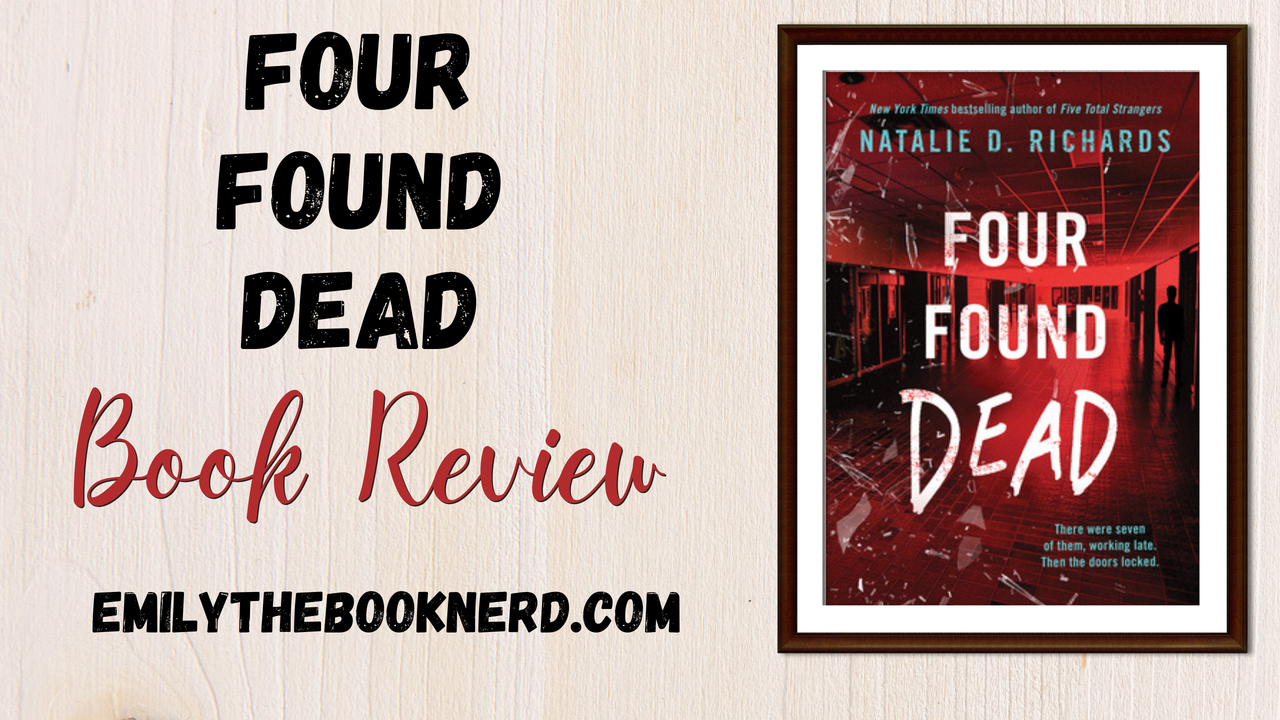 Four Found Dead
Author: Natalie D. Richards
Genre: Young Adult Thriller
Published: May 23, 2023
Pages: 352
My Rating:
★★
At the movie theater where Jo works, the last show has ended. But the nightmare is just beginning.

Tonight, Tempest Theaters is closing forever, the last remaining business in a defunct shopping mall. The moviegoers have left, and Jo and her six coworkers have the final shift, cleaning up popcorn and mopping floors for the last time.

But after an unexpected altercation puts everyone on edge, the power goes out. Their manager disappears, along with the keys to the lobby doors and the theater safe, where the crew's phones are locked each shift. Then, the crew's tension turns to terror when Jo discovers the dead body of one of her co-workers.

Now their only chance to escape the murderer in their midst is through the dark, shuttered mall. With its boarded-up exits and disabled fire alarms, the complex is filled with hiding places for both pursuer and pursued. In order to survive this night, Jo and her friends must trust one another, navigate the sprawling ruins of the mall, and outwit a killer before he kills again.
Teenagers found dead at a movie theater mall shooting.
I am always reluctant to read books about shootings because I am terrified of guns. Plus, in recent years, with the sheer amount of shootings around the world I do not like reading about them even if it's fictional. My anxiety is horrible and sometimes even reading about fake shootings will create massive anxiety for me to where I do not want to leave the house. Therefore, I try to stay clear of novels that involve gun violence.
However, Four Found Dead seemed interesting enough so I thought I would give it a try..... but just like in other novels about gun violence I had an incredibly hard time getting through this book. The novel ran incredibly slow and was gut-wrenching for me. It was just not for me and a topic that can be triggering to my own mental health. I should have realized this and stayed clear of a gun violence book but I wanted to give it a try.
First of all, you find out who the killer is from the first page of the book which I think almost became detrimental to the book. It made the story less interesting. The only thriller aspect the book truly held was you didn't know who would ultimately die in the end or if all the teens would make it out of the mall. Knowing the killer right away took from the excitement. The story is nothing short of predictable. I just did not jive with this story or the characters.
Natalie D. Richards

is the author of two New York Times Bestsellers, Five Total Strangers (2020) and Seven Dirty Secrets (2021), as well as six additional novels. Natalie writes "page-turning thrillers" (School Library Journal) for a Young Adult audience. Her first middle-grade book, through Penguin Random House imprint Delacorte, is called 15 Secrets to Survival and is due out in 2023. Four Found Dead (2023) will be Natalie's ninth YA thriller from Sourcebooks Fire and is expected to be a bone-chilling addition to her psychologically twisted work. Natalie won her very first writing contest when she was in the second grade with a short story about Barbara Frances Bizzlefishes (who would not dare do the dishes). These days she writes about some awesome girls, broody boys, and all things that are creepy and dark. She spent many years applying her writing abilities to amazingly boring business documents. Fortunately, she realized that she is much better at making things up, and has written for teens ever since. When she isn't shopping a manuscript or writing, she can most likely be found wading through the huge stacks of dog-eared paperback books that have taken over her bedroom. As a writer, she tends to write by the seat of her pants without much of a clue as to where she is going with each scene, often with the entire book as a whole. Natalie finds this helps her maintain an authentic edge of suspense in all her work because she honestly has no idea just how or even if her characters will get out of whichever mess she has wrote them into. Natalie currently lives in Ohio with her three children and (very) large dog, Wookie.