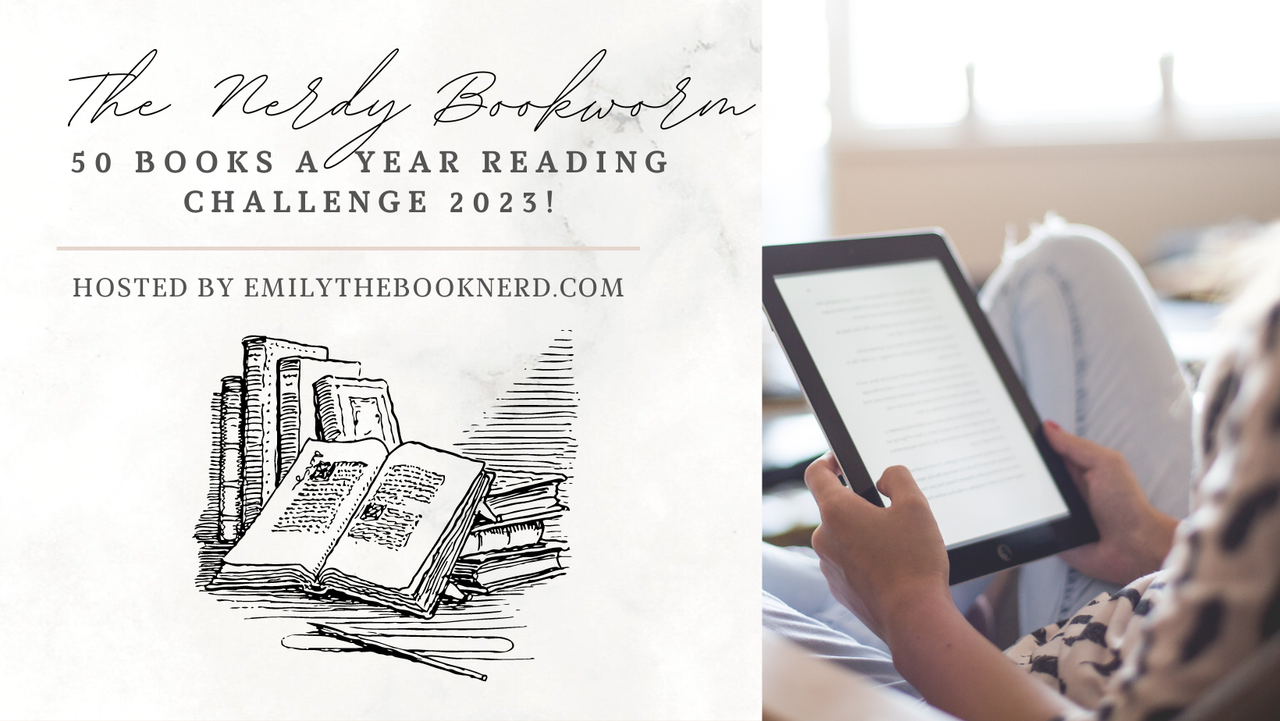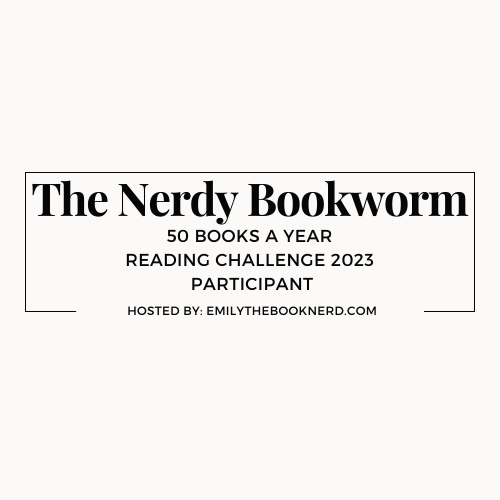 INTRODUCTION:
Last year, I started The Nerdy Bookworm 50 Books A Year Reading Challenge and I never thought it would become as popular as it did. Plus, I had a lot of fun trying to read all the challenges in 2022. Therefore, I am going to be making this a yearly thing each year! Each year brings new challenges. I am still currently working on trying to finish all of the challenges from 2022 in the last month of December. I don't know if I will be able to but I at least finished over 50% of the challenge and you know reading anything is a success in my book. The only requirement is to read the following challenges below.
For fellow bloggers, bookstagramers, etc... I will post a link-up at the start of January where you can link up all Nerdy Bookworm Challenge posts to. At the end of this post, you can link all of the challenge announcement posts that you may have.
Sounds easy enough right?! The whole purpose is to read period and to increase the amount that you read. This is even a great way to try out some new genres or to go outside of your comfort zone which I personally want to try doing. The challenge last year certainly pushed me outside of my comfort zone that's for sure. I hope it does the same for you. Like last year, this challenge is what you make of it. Don't stress yourself out.
As always, I want to encourage more reading in the world and this is a great way to do just that. If you're not feeling one of the categories or themes in the reading challenge, change it up or skip it. Do what you need to do to make this reading challenge completely your own.
I personally try to read at least 50 books per year as my target goal. So, this challenge helps me do just that. I honestly, probably won't be able to complete all of the themes below again but I sure am going to try my best. By no means is this supposed to stress you out. Read and complete as many of the challenges as you can.
I can't wait to have some new challenges this year as well as some of the ones used in 2022!
RULES/HOW TO PARTICIPATE:
- You cannot double up on books. For example, one book per category.
- If you are a blogger, bookstagrammer, etc, and posting your reviews and books read try to link back to my blog and this challenge when you can. That way, more people can join in on the fun/discussions.
- Use the hashtag #NerdyBookwormChallengeXO when posting on social media and sharing books you read for challenges etc.
- You can join in on our Facebook group here for discussions. Just like last year!
- You can read and do the prompts/challenges in any order you want.
- Set fun but attainable reading goals. If you do not complete all prompts that is completely fine! No stress zone here.
- Join at any time throughout 2023 but all books need to be read January 1, 2023 - the end of 2023. Pretty basic. Same as last year.
- It is okay to DNF any book that you start for that challenge. Even better, share why you did not finish it. DNF books still count.
- All audiobooks count regardless of the challenge.
- Feel free to use all graphics for your posts on social media.
THE CHALLENGES:
1. ☐ 2023 New Release
2. ☐ A book with more than 300 pages
3. ☐ A book outside of your comfort genre's
4. ☐ Read a nonfiction book
5. ☐ Read a book based on a tv series or movie adaptation (watch the show or movie after for fun)
6. ☐ Read a steamy romance novel
7. ☐ Thriller, mystery, or suspense novel
8. ☐ Book that is set in the decade you were born in (90s baby here)
9. ☐ A book that has been on your TBR for 2+ years or more
10. ☐ Read a book that is hyped online
11. ☐ Read a book with a number in the title
12. ☐ Goodread's 2022 Winner or Nominee
13. ☐ A book with one word in the title
14. ☐ Listen to an audiobook
15. ☐ Read a retelling
16. ☐ 2023 Bestseller
17. ☐ Read a book that involves family
18. ☐ Highly anticipated read
19. ☐ A book that discusses death, grief, and or moving on
20. ☐ A book title that starts with the word "The" (for example The Great Gatsby, The Help, The Hobbit)
21. ☐ A book set in NYC
22. ☐ A book by an auto-buy author of yours
23. ☐ Read a historical fiction novel
24. ☐ New York Times Bestseller
25. ☐ Read a book with a person on the cover
26. ☐ Read a book that has time travel in it
27. ☐ Read a book with a happily-ever-after ending
28. ☐ Read a YA book
29. ☐ Read a book where the two main characters are "fake dating"
30. ☐ A book set in a place where you have visited
31. ☐ Read a book with two or more authors
32. ☐ Read a book that has a purple cover
33. ☐ A book that has a cover you love
34. ☐ Read a celebrity memoir
35. ☐ A book that has mental health aspects to it
36. ☐ Read a graphic novel, manga, or comic
37. ☐ Read an author's debut book
38. ☐ Read a horror/creepy novel
39. ☐ Read the highest-rated book on your Goodreads TBR list
40. ☐ Read a book that Rory Gilmore read in Gilmore Girls (There are over 500 books on the list to choose from) you can reference these book lists one, two, and three
41. ☐ A book you bought from a bookstore
42. ☐ Read a book that is set at a carnival or circus
43. ☐ Read a book from the library
44. ☐ Read a book set around wartime
45. ☐ Read a book with a close proximity romance
46. ☐ Book you meant to read last year but didn't
47. ☐ Read a book that has one of your favorite book tropes in it (enemies to lovers, second chance romance, forbidden love, good vs evil, etc.) check out this trope master list here for inspiration
48. ☐ Read a new to you author
49. ☐ Read any book from a series
50. ☐ Free space/pick any book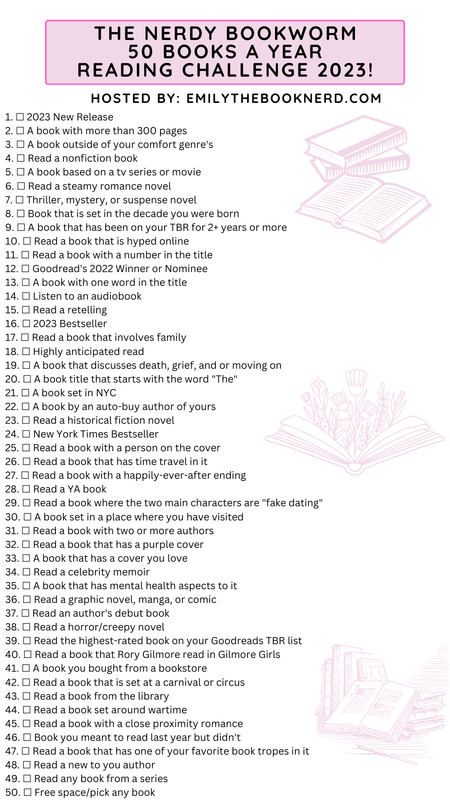 PARTICIPANTS: (LINK TO YOUR CHALLENGE ANNOUNCEMENT POST)