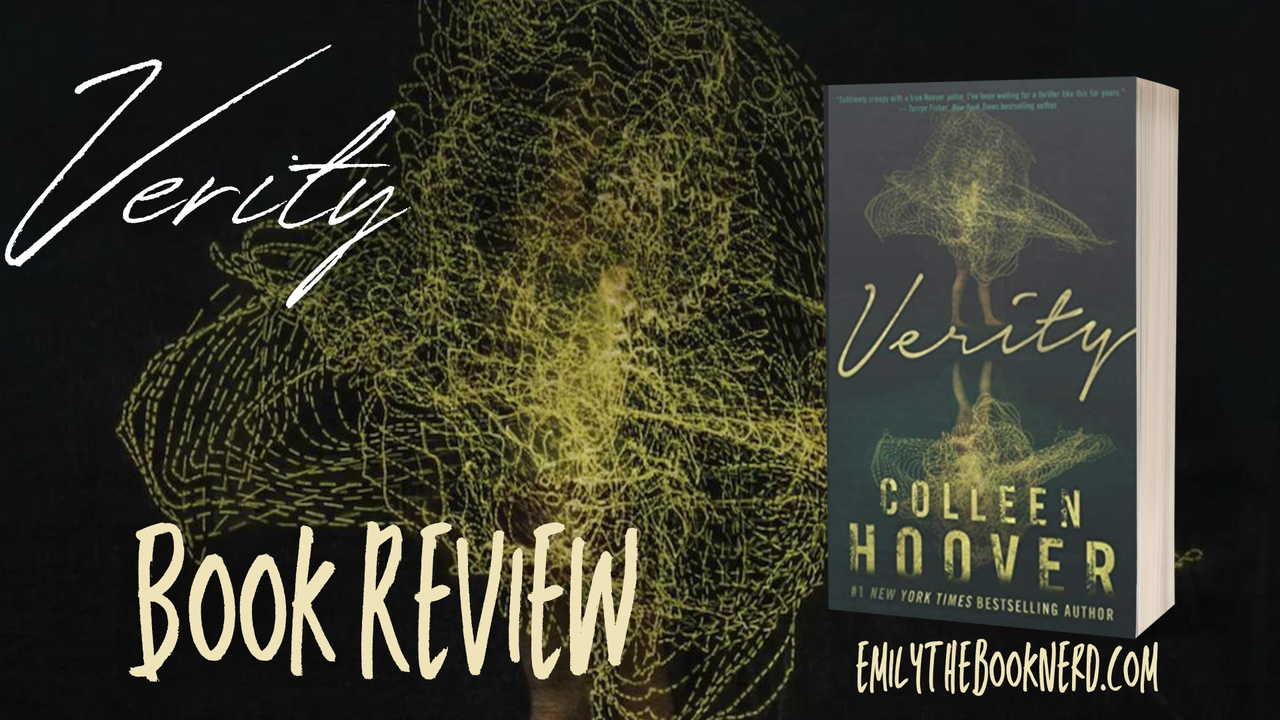 Verity
Author: Colleen Hoover
Genre: Thriller
Published:
December 10, 2018
Pages: 323
My Rating:
★★★
★
★
Lowen Ashleigh is a struggling writer on the brink of financial ruin when she accepts the job offer of a lifetime. Jeremy Crawford, husband of bestselling author Verity Crawford, has hired Lowen to complete the remaining books in a successful series his injured wife is unable to finish.

Lowen arrives at the Crawford home, ready to sort through years of Verity's notes and outlines, hoping to find enough material to get her started. What Lowen doesn't expect to uncover in the chaotic office is an unfinished autobiography Verity never intended for anyone to read. Page after page of bone-chilling admissions, including Verity's recollection of what really happened the day her daughter died.

Lowen decides to keep the manuscript hidden from Jeremy, knowing its contents would devastate the already grieving father. But as Lowen's feelings for Jeremy begin to intensify, she recognizes all the ways she could benefit if he were to read his wife's words. After all, no matter how devoted Jeremy is to his injured wife, a truth this horrifying would make it impossible for him to continue to love her.
An author starts writing another author's final books in her series only to have a mystery surrounding her life come about.
Verity was one hell of a ride. Probably the best book that I have read this year by far! The hype of this amazing thriller lives up to the hype let me tell you. Do yourself a favor and read this book if you enjoy thrillers. Go into knowing nothing and it makes it that much better. There were so many twists and turns that I did not see coming. I honestly didn't like any of the characters in the novel they were not likable at all to me really but Hoover I believe did this on purpose and it really adds to the novel but in a good way.
Why did I wait so long to finally read this story?! The novel was nothing short of creepy and brilliant! I honestly finished reading Verity late at night because I needed to know what happened next. I could not stop turning the pages. I blew through this book. It is a new favorite of mine and one of the best thriller books I have honestly ever read. Colleen Hoover, you are brilliant! I finished the book saying, "WTF" out loud. FIVE HUGE STARS FROM ME.
International and #1 New York Times bestselling author of romance, YA, thriller, women's fiction, and paranormal romance. I don't like to be confined to one genre. If you put me in a box, I'll claw my way out. My social media username is @colleenhoover pretty much everywhere except my email, which is colleenhooverbooks@gmail.com Founder of www.thebookwormbox.com charity and Book Bonanza.