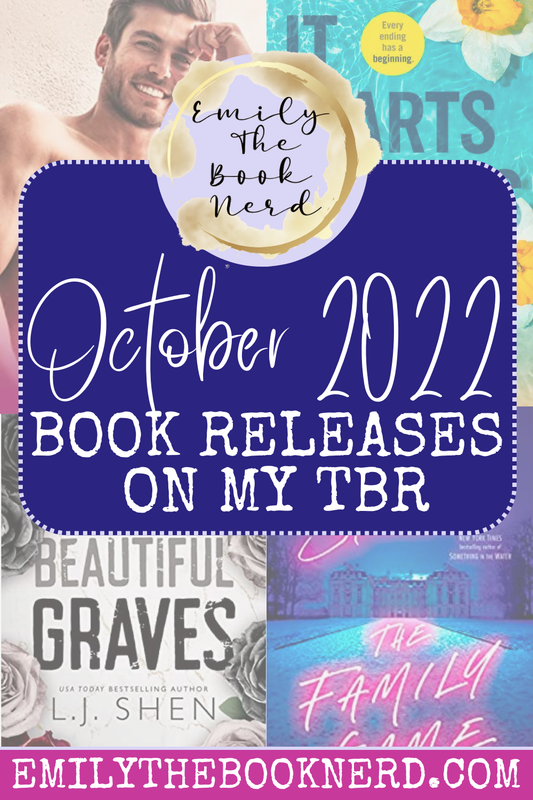 I have a handful of book releases coming out this month that I am excited to read. One of them below is even my Book of The Month Pick. The covers are absolutely gorgeous too! Some of my favorite authors are releasing books this month.... so yes, they are auto-buy authors of mine.. so I know I will be picking up a lot of physical copies this month.
1. It Starts With Us by Colleen Hoover: October 18, 2022
Before It Ends with Us, it started with Atlas. Colleen Hoover tells fan favorite Atlas's side of the story and shares what comes next in this long-anticipated sequel to the "glorious and touching" (USA TODAY) #1 New York Times bestseller It Ends with Us.

Lily and her ex-husband, Ryle, have just settled into a civil coparenting rhythm when she suddenly bumps into her first love, Atlas, again. After nearly two years separated, she is elated that for once, time is on their side, and she immediately says yes when Atlas asks her on a date.

But her excitement is quickly hampered by the knowledge that, though they are no longer married, Ryle is still very much a part of her life—and Atlas Corrigan is the one man he will hate being in his ex-wife and daughter's life.

Switching between the perspectives of Lily and Atlas,

It Starts with Us

picks up right where the epilogue for the "gripping, pulse-pounding" (Sarah Pekkanen, author of Perfect Neighbors) bestselling phenomenon

It Ends with Us

New York Times bestselling author).
2. Our Missing Hearts by Celeste Ng: October 4, 2022
From the #1 bestselling author of Little Fires Everywhere, comes one of the most highly anticipated books of the year – the inspiring new novel about a mother's unbreakable love in a world consumed by fear.

Twelve-year-old Bird Gardner lives a quiet existence with his loving but broken father, a former linguist who now shelves books in a university library. Bird knows to not ask too many questions, stand out too much, or stray too far. For a decade, their lives have been governed by laws written to preserve "American culture" in the wake of years of economic instability and violence. To keep the peace and restore prosperity, the authorities are now allowed to relocate children of dissidents, especially those of Asian origin, and libraries have been forced to remove books seen as unpatriotic—including the work of Bird's mother, Margaret, a Chinese American poet who left the family when he was nine years old.

Bird has grown up disavowing his mother and her poems; he doesn't know her work or what happened to her, and he knows he shouldn't wonder. But when he receives a mysterious letter containing only a cryptic drawing, he is pulled into a quest to find her. His journey will take him back to the many folktales she poured into his head as a child, through the ranks of an underground network of librarians, into the lives of the children who have been taken, and finally to New York City, where a new act of defiance may be the beginning of much-needed change.

Our Missing Hearts

is an old story made new, of the ways supposedly civilized communities can ignore the most searing injustice. It's a story about the power—and limitations—of art to create change, the lessons and legacies we pass on to our children, and how any of us can survive a broken world with our hearts intact.
3. Two a Day by Lauren Blakely: October 14, 2022
Look, I had a rough week at work. So I put on a bikini and escape to the beach, where I wind up rescuing the city's hot new quarterback from a rogue paddleboard, and then he rescues me that night from a s-e-x drought. Hello O-Town. Nice to see you! The charmer with the magic hands wants another date too, and I say yes so fast. But the thing is I'm the team lawyer for The Mercenaries. And the morning after the sexiest night of my life, I find out the guy I plan to see again was just traded to our team. Dating the brand-spanking new star quarterback? Off-limits. Especially when my boss blindsides me with this twist – I'm in charge of managing his reputation. I really shouldn't invite him over late tonight then. Truly, I shouldn't. Contents include: sex hacks, text snafus, bedroom dares, major league dirty talking, and twists you won't see coming in this sexy sports romance.
4. The Family Game by Catherine Steadman: October 18, 2022
A rich, eccentric family. A time-honored tradition. Or a lethal game of survival? One woman finds out what it really takes to join the 1% in this riveting psychological thriller from the New York Times bestselling author of Something in the Water, Mr. Nobody, and The Disappearing Act.

Harry is a novelist on the brink of stardom; Edward, her husband-to-be, is seemingly perfect. In love and freshly engaged, their bliss is interrupted by the reemergence of the Holbecks, Edward's eminent family and the embodiment of American old money. For years, they've dominated headlines and pulled society's strings, and Edward left them all behind to forge his own path. But there are eyes and ears everywhere. It was only a matter of time before they were pulled back in . . .

After all, even though he's long severed ties with his family, Edward is set to inherit it all. Harriet is drawn to the glamour and sophistication of the Holbecks, who seem to welcome her with open arms, but everything changes when she meets Robert, the inescapably magnetic head of the family. At their first meeting, Robert slips Harry a cassette tape, revealing a shocking confession which sets the inevitable game in motion.

What is it about Harry that made him give her that tape? A thing that has the power to destroy everything? As she ramps up her quest for the truth, she must endure the Holbecks' savage Christmas traditions all the while knowing that losing this game could be deadly.
5. Built to Last by Erin Hahn: October 18, 2022
Shelby Springfield has spent the last ten years trying to overcome her past, sanding it away like she does the rough spots on the vintage furniture finds she makes over. But as a former child star, it's hard to forget a mediocre pop career, a meltdown widely documented by the paparazzi, and a huge public break with her former co-star Lyle Jessup. It's also hard to forget her other co-star and childhood sweetheart, Cameron Riggs -- the one who got away.

Anytime Shelby has called, Cameron has come running… And then he runs right off again to chase stories around the world by making documentaries, too scared to admit what he really wants. But when Lyle stirs the pot, getting the two back in the spotlight with a home renovation show, Cameron can't help but come on board.

There's something in it for everyone -- almost. Cameron wants to come home and set down some roots. Shelby wants to prove to the world she's not the messy party girl anymore. And Lyle wants to twist the screws on his two childhood friends who had more chemistry than he could dream of with anyone. Sparks and sawdust fly as Shelby and Cameron film the pilot for "Homemade" and battle Lyle's shenanigans at every turn.

Erin Hahn's sparkling rom com debut, Built to Last, is a second chance romance sure to have readers falling in love fast.

Two childhood sweethearts find a second chance at love in this adult romance debut from a critically acclaimed young adult author.
6. Sign Here by Claudia Lux: October 25, 2022
This was my Oct 2022 BOTM pick
A darkly humorous, surprisingly poignant, and utterly gripping debut novel about a guy who works in Hell (literally) and is on the cusp of a big promotion if only he can get one more member of the wealthy Harrison family to sell their soul.

Peyote Trip has a pretty good gig in the deals department on the fifth floor of Hell. Sure, none of the pens work, the coffee machine has been out of order for a century, and the only drink on offer is Jägermeister, but Pey has a plan—and all he needs is one last member of the Harrison family to sell their soul.

When the Harrisons retreat to the family lake house for the summer, with their daughter Mickey's precocious new friend, Ruth, in tow, the opportunity Pey has waited a millennium for might finally be in his grasp. And with the help of his charismatic coworker Calamity, he sets a plan in motion.

But things aren't always as they seem, on Earth or in Hell. And as old secrets and new dangers scrape away at the Harrisons' shiny surface, revealing the darkness beneath, everyone must face the consequences of their choices.
7. Beautiful Graves by L.J. Shen: October 4, 2022
From USA Today bestselling author L.J. Shen comes a passion- and angst-charged story about a woman caught between a secure relationship and a once-in-a-lifetime spark with her muse.

They say first loves are oftentimes the end of one's innocence.

Those words couldn't ring truer for Everlynne Lawson, whose first brush with romance came with a heartbreak … and the thing that seems to follow her everywhere she goes.

Death

.

After a great tragedy, Everlynne loses all she cares about—her dreams, her family, and her soulmate, Joe.

Guilt-ridden, Everlynne decides to isolate herself in Salem, Massachusetts. A shell of the woman she once was, she takes her days one at a time, careful not to allow herself the joy she believes others in her life were robbed of. But when the mysterious, handsome Dominic storms into her life, it becomes more difficult to stay in solitude. Dominic is different: adventurous, joyous, with lust for life and a passion to make her his.

Everlynne is on the cusp of reinventing herself once again when the old wounds of her past are resurrected, rawer than ever. There is nothing worse than being in love with two men.

Especially when one of them hates you.
Are any of these titles on your TBR too? What new releases are you looking forward to reading this month? Let's talk in the comments down below.