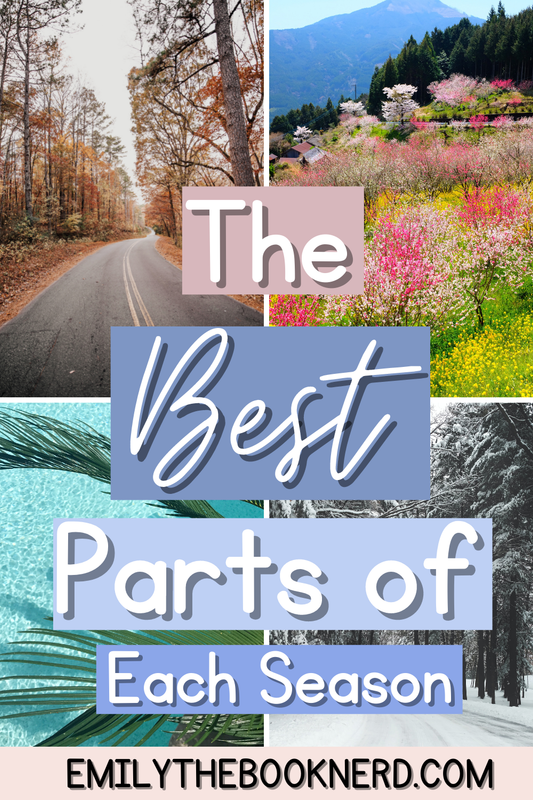 Wednesday Weekly Blogging Challenge is hosted by Long and Short Reviews.
Click here to read everyone else's replies to this week's question and here to see the full list of topics for the year.
Every month, they even have a giveaway with four winners just for posting a response — prizes for June will be a winner's choice of a $5 Amazon GC -or- a 3 month LASR Cover only ad!
THIS WEEKS TOPIC:
June 16th: the best parts of each season.
I live in Arizona and unfortunately we do not get very different seasons other than hot or mild weather. However, I was born in Pennsylvania and prefer the weather/seasons of the east coast. In fact, I am spending my summer here now. I try my best to always be in Pennsylvania all summer every year through the fall because I cannot stand the desert heat in Arizona. I actually am considering moving back to the east coast because I am starting to not be able to stand it anymore.
My Dad originally got a job out in Arizona when I was younger and that's why we moved... but now that I am in my late 20s I am thinking about one day moving back east again. I try to pretty much be a snow bird. That way I get the best of both worlds and my Grandma never minds if I stay with her for most of the summer anyways. My Grandpa died at the beginning of the year so she's really enjoying my company right now anyways and I always bring my pets with me. My kitten didn't make one peep on the airplane :) He's such a good boy.
Anyways, here is what I like about each season.....
SUMMER:
This is my least favorite season in Arizona! 118 outside is no fun. I can't stand the heat. However, in Pennsylvania it's beautiful! There's tons of green grass and trees and flowers to plant.
I am always in the mood to do extra summer reading.

Time in the pool. I love water and swimming.

Fresh fruit and produce (when back east).
Winter
I actually like the cold and prefer it honestly. I know I am in the minority here.
Christmas

I love baking and feeling extra cozy because it's cold outside when back east or up in Northern Arizona where it snows (my family has a cabin up there and that's where my brother lives).

I actually love winter fashion and wearing coats/sweats. I like feeling bundled up.

Drinking cozy warm beverages like a hot coffee or hot chocolate... or even hot apple cider.

Playing in the snow/making a snow man.
Fall
The fall back east is my favorite season by far.
The leaves changing colors is absolutely beautiful in PA.

I love apple season and making apple pie.

Thanksgiving time.

Decorating pumpkins for Halloween.

I love the beginning of having more crisp air.

It's not too hot and not too cold.
Spring
My allergies are usually terrible in the spring in Arizona. I am allergic to everything in the desert!
I love gardening and planting flowers. I can only really do this back east. Everything frys and doesn't grow in Arizona. It's too hot and plants hate the desert soil unless it's cactus or succulents. It's sad.

Easter time

Springtime brings new life.