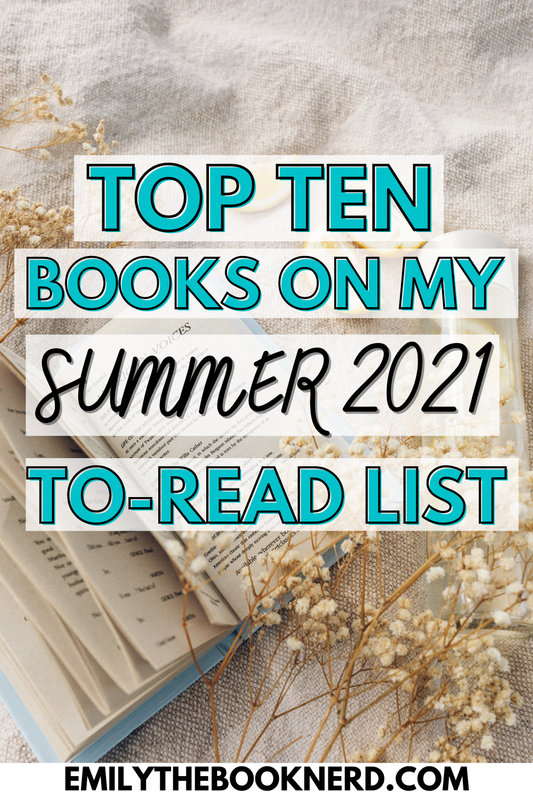 Welcome to another Top Ten Tuesday! TTT is one of my favorite weekly meme's to participate in. I can't believe how fast this year is already flying! There have been a lot of amazing books that have come out in the past couple months that I am dying to read. Plus, the covers are absolutely gorgeous. For some reason, I love reading thrillers in the summer.... It happens to me every single summer where I crave a good psychological thriller.
Here are ten books that I hope I can get to this summer:
1. Malibu Rising by Taylor Jenkins Reid
Malibu: August 1983. It's the day of Nina Riva's annual end-of-summer party, and anticipation is at a fever pitch. Everyone wants to be around the famous Rivas: Nina, the talented surfer and supermodel; brothers Jay and Hud, one a championship surfer, the other a renowned photographer; and their adored baby sister, Kit. Together the siblings are a source of fascination in Malibu and the world over--especially as the offspring of the legendary singer Mick Riva.

The only person not looking forward to the party of the year is Nina herself, who never wanted to be the center of attention, and who has also just been very publicly abandoned by her pro tennis player husband. Oh, and maybe Hud--because it is long past time for him to confess something to the brother from whom he's been inseparable since birth.

Jay, on the other hand, is counting the minutes until nightfall, when the girl he can't stop thinking about promised she'll be there.

And Kit has a couple secrets of her own--including a guest she invited without consulting anyone.

By midnight the party will be completely out of control. By morning, the Riva mansion will have gone up in flames. But before that first spark in the early hours before dawn, the alcohol will flow, the music will play, and the loves and secrets that shaped this family's generations will all come bubbling to the surface.

Malibu Rising

is a story about one unforgettable night in the life of a family: the night they each have to choose what they will keep from the people who made them . . . and what they will leave behind.
2. Golden Girl by Elin Hilderbrand
In this satisfying page-turner from "the queen of beach reads" (New York Magazine), a Nantucket novelist has one final summer to protect her secrets while her loved ones on earth learn to live without their golden girl.

On a perfect June day, Vivian Howe, author of thirteen beach novels and mother of three nearly grown children, is killed in a hit-and-run car accident while jogging near her home on Nantucket. She ascends to the Beyond where she's assigned to a Person named Martha, who allows Vivi to watch what happens below for one last summer. Vivi also is granted three "nudges" to change the outcome of events on earth, and with her daughter Willa on her third miscarriage, Carson partying until all hours, and Leo currently "off again" with his high-maintenance girlfriend, she'll have to think carefully where to use them.

From the Beyond, Vivi watches "The Chief" Ed Kapenash investigate her death, but her greatest worry is her final book, which contains a secret from her own youth that could be disastrous for her reputation. But when hidden truths come to light, Vivi's family will have to sort out their past and present mistakes—with or without a nudge of help from above—while Vivi finally lets them grow without her.

With all of Elin's trademark beach scenes, mouth-watering meals, and picture-perfect homes, plus a heartfelt message—the people we lose never really leave us—

Golden Girl

is a beach book unlike any other.
3. That Summer by Jennifer Weiner
From the #1 New York Times bestselling author of Big Summer comes another timely and deliciously twisty novel of intrigue, secrets, and the transformative power of female friendship, set on beautiful Cape Cod.

Daisy Shoemaker can't sleep. With a thriving cooking business, full schedule of volunteer work, and a beautiful home in the Philadelphia suburbs, she should be content. But her teenage daughter can be a handful; her husband can be distant, her work can feel trivial, and she has lots of acquaintances, but no real friends. Still, Daisy knows she's got it good. So why is she up all night?

While Daisy tries to identify the root of her dissatisfaction, she's also receiving misdirected emails meant for a woman named Diana Starling, whose email address is just one punctuation mark away from her own. While Daisy's driving carpools, Diana is chairing meetings. While Daisy's making dinner, Diana's making plans to reorganize corporations. Diana's glamorous, sophisticated, single-lady life is miles away from Daisy's simpler existence. When an apology leads to an invitation, the two women meet and become friends. But, as they get closer, we learn that their connection was not completely accidental. Who IS this other woman, and what does she want with Daisy?

From the manicured Main Line of Philadelphia to the wild landscape of the Outer Cape, written with Jennifer Weiner's signature wit and sharp observations, THAT SUMMER is a story about surviving our pasts, confronting our futures, and the sustaining bonds of friendship.
4. The Last Thing He Told Me by Laura Dave
We all have stories we never tell. Before Owen Michaels disappears, he manages to smuggle a note to his beloved wife of one year: Protect her.

Despite her confusion and fear, Hannah Hall knows exactly to whom the note refers: Owen's sixteen-year-old daughter, Bailey. Bailey, who lost her mother tragically as a child. Bailey, who wants absolutely nothing to do with her new stepmother.

As Hannah's increasingly desperate calls to Owen go unanswered; as the FBI arrests Owen's boss; as a US Marshal and FBI agents arrive at her Sausalito home unannounced, Hannah quickly realizes her husband isn't who he said he was. And that Bailey just may hold the key to figuring out Owen's true identity—and why he really disappeared.

Hannah and Bailey set out to discover the truth, together. But as they start putting together the pieces of Owen's past, they soon realize they are also building a new future. One neither Hannah nor Bailey could have anticipated.
5. In Another Light by A.J. Banner
The death of a look-alike stranger leads a grieving woman down a troubling path in this riveting novel by A. J. Banner, bestselling author of The Poison Garden.

Three years ago mortuary cosmetologist Phoebe Glassman lost her husband in a tragic accident. No longer the hopeful wife and mother she once was, Phoebe is disappearing into her grief and into the quietude of her job—restoring to the dead the illusion of life. Then the body of a woman named Pauline Steele arrives in the mortuary, and for Phoebe, everything changes.

Pauline is unmistakably Phoebe's mirror image and bears an alarmingly familiar tattoo. Even more startling is that among Pauline's effects is a faded photograph of Phoebe. Aided by an eccentric colleague, her curiosity sparked, Phoebe investigates her doppelgänger's life and death—and uncovers surprising clues to a shared past.

Phoebe's emotional journey soon leads to shocking revelations about those closest to her…and even herself. When she's driven to the brink, how much of what she discovers can she trust?
6. Seven Days in June by Tia Williams
Seven days to fall in love, fifteen years to forget and seven days to get it all back again... From the author of The Perfect Find, this is a witty, romantic, and sexy-as-hell new novel of two writers and their second chance at love

.

Brooklynite Eva Mercy is a single mom and bestselling erotica writer, who is feeling pressed from all sides. Shane Hall is a reclusive, enigmatic, award-winning literary author who, to everyone's surprise, shows up in New York.

When Shane and Eva meet unexpectedly at a literary event, sparks fly, raising not only their past buried traumas, but the eyebrows of New York's Black literati. What no one knows is that twenty years earlier, teenage Eva and Shane spent one crazy, torrid week madly in love. They may be pretending that everything is fine now, but they can't deny their chemistry-or the fact that they've been secretly writing to each other in their books ever since.

Over the next seven days in the middle of a steamy Brooklyn summer, Eva and Shane reconnect, but Eva's not sure how she can trust the man who broke her heart, and she needs to get him out of New York so that her life can return to normal. But before Shane disappears again, there are a few questions she needs answered. . .

With its keen observations of Black life and the condition of modern motherhood, as well as the consequences of motherless-ness,

Seven Days in June

is by turns humorous, warm and deeply sensual.
7. Untamed by Glennon Doyle
Soulful and uproarious, forceful and tender, Untamed is both an intimate memoir and a galvanizing wake-up call. It is the story of how one woman learned that a responsible mother is not one who slowly dies for her children, but one who shows them how to fully live. It is the story of navigating divorce, forming a new blended family, and discovering that the brokenness or wholeness of a family depends not on its structure but on each member's ability to bring her full self to the table. And it is the story of how each of us can begin to trust ourselves enough to set boundaries, make peace with our bodies, honor our anger and heartbreak, and unleash our truest, wildest instincts so that we become women who can finally look at ourselves and say: There She Is.
8. Summer of 69' by Elin Hilderbrand
Welcome to the most tumultuous summer of the twentieth century! It's 1969, and for the Levin family, the times they are a-changing. Every year the children have looked forward to spending the summer with their grandmother in Nantucket: but this year Blair, the oldest sister, is marooned in Boston, pregnant with twins and unable to travel. Middle sister Kirby, a nursing student, is caught up in the thrilling vortex of civil rights protests, a passion which takes her to Martha's Vineyard with her best friend, Mary Jo Kopechne. Only son Tiger is an infantry soldier, recently deployed to Vietnam. Thirteen-year-old Jessie suddenly feels like an only child, marooned in the house with her out-of-touch grandmother who is hiding some secrets of her own. As the summer heats up, Teddy Kennedy sinks a car in Chappaquiddick, a man flies to the moon, and Jessie experiences some sinking and flying herself, as she grows into her own body and mind.
9. City of Girls by Elizabeth Gilbert
"Life is both fleeting and dangerous, and there is no point in denying yourself pleasure, or being anything other than what you are."

Beloved author Elizabeth Gilbert returns to fiction with a unique love story set in the New York City theater world during the 1940s. Told from the perspective of an older woman as she looks back on her youth with both pleasure and regret (but mostly pleasure),

City of Girls

explores themes of female sexuality and promiscuity, as well as the idiosyncrasies of true love.

In 1940, nineteen-year-old Vivian Morris has just been kicked out of Vassar College, owing to her lackluster freshman-year performance. Her affluent parents send her to Manhattan to live with her Aunt Peg, who owns a flamboyant, crumbling midtown theater called the Lily Playhouse. There Vivian is introduced to an entire cosmos of unconventional and charismatic characters, from the fun-chasing showgirls to a sexy male actor, a grand-dame actress, a lady-killer writer, and no-nonsense stage manager. But when Vivian makes a personal mistake that results in professional scandal, it turns her new world upside down in ways that it will take her years to fully understand. Ultimately, though, it leads her to a new understanding of the kind of life she craves - and the kind of freedom it takes to pursue it. It will also lead to the love of her life, a love that stands out from all the rest.

Now ninety-five years old and telling her story at last, Vivian recalls how the events of those years altered the course of her life - and the gusto and autonomy with which she approached it. "At some point in a woman's life, she just gets tired of being ashamed all the time," she muses. "After that, she is free to become whoever she truly is." Written with a powerful wisdom about human desire and connection,

City of Girls

is a love story like no other.
10. Local Woman Missing by Mary Kubica
People don't just disappear without a trace…

Shelby Tebow is the first to go missing. Not long after, Meredith Dickey and her six-year-old daughter, Delilah, vanish just blocks away from where Shelby was last seen, striking fear into their once-peaceful community. Are these incidents connected? After an elusive search that yields more questions than answers, the case eventually goes cold.

Now, eleven years later, Delilah shockingly returns. Everyone wants to know what happened to her, but no one is prepared for what they'll find…

In this smart and chilling thriller, master of suspense and New York Times bestselling author Mary Kubica takes domestic secrets to a whole new level, showing that some people will stop at nothing to keep the truth buried.
What are on your summer TBR lists?
Do we have any similar books on our lists?
Have you read any of the books above?
xoxo,