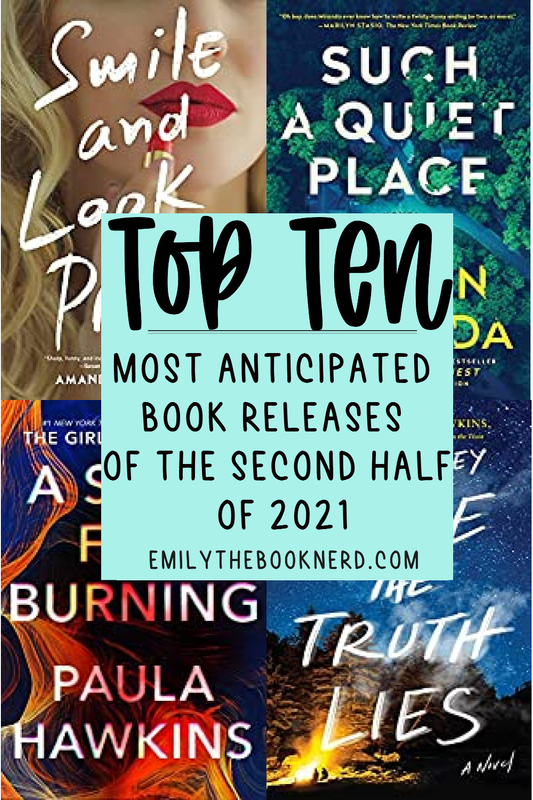 Can you believe that this year is already halfway over? This year is just flying by... Thank god this year has been better so far than last year during quarantine and the pandemic. Thank god for the COVID vaccine and being able to go out again. This week's Top Ten Tuesday topic is my most anticipated book releases for the second half of 2021 and man are there some good picks here!
1. Such a Quiet Place by Megan Miranda
Release Date: July 13th, 2021
We had no warning that she'd come back.

Hollow's Edge used to be a quiet place. A private and idyllic neighborhood where neighbors dropped in on neighbors, celebrated graduation and holiday parties together, and looked out for one another. But then came the murder of Brandon and Fiona Truett. A year and a half later, Hollow's Edge is simmering. The residents are trapped, unable to sell their homes, confronted daily by the empty Truett house, and suffocated by their trial testimonies that implicated one of their own. Ruby Fletcher. And now, Ruby's back.

With her conviction overturned, Ruby waltzes right back to Hollow's Edge, and into the home she once shared with Harper Nash. Harper, five years older, has always treated Ruby like a wayward younger sister. But now she's terrified. What possible good could come of Ruby returning to the scene of the crime? And how can she possibly turn her away, when she knows Ruby has nowhere to go?

Within days, suspicion spreads like a virus across Hollow's Edge. It's increasingly clear that not everyone told the truth about the night of the Truett's murders. And when Harper begins receiving threatening notes, she realizes she has to uncover the truth before someone else becomes the killer's next victim.
2. The Spark by Vi Keeland
Release Date: July 12th, 2021
Before I even met Donovan Decker, I knew his shoe size.

You see, I'd gone away for a few days, and in my haste to get out of the airport, I'd grabbed the wrong suitcase.

After checking out the expensive footwear and tailored clothes, I dialed the number on the luggage tag hoping maybe Mister Big Spender might have my bag. A deep, velvety voice answered, and as luck would have it, he had my suitcase, too.

Donovan and I met at a coffee shop to do the exchange. Turned out, it wasn't just his voice that was sexy. The man holding my luggage was absolutely gorgeous, and we had an immediate spark.

He got me to admit that I'd snooped in his bag and then convinced me to make it up to him by letting him buy me coffee. Coffee led to dinner, dinner led to dessert, and dessert led to spending an entire weekend together. Donovan wasn't just handsome with a panty-dropping voice. He was also funny, smart, and surprisingly down to earth for a man who wore seven-hundred-dollar shoes.

Did I mention he also

did my laundry while I slept?

Definitely

too good to be true.

So what did I do to repay him for his kindness?

I waited until he was in the shower, then ghosted him.

My life was too complicated for such a great guy.

In the months that passed, I thought about Donovan often. But New York City had eight million people, so what were the chances I'd run into him? Then again, what were the chances I'd run into him a year later…when I'd just started dating

his boss?
3. The Husbands by Chandler Banker
Release Date: August 3rd, 2021
Chandler Baker, the New York Times bestselling author of Whisper Network, is back with The Husbands, a novel that asks: to what lengths will a woman go for a little more help from her husband?

Nora Spangler is a successful attorney but when it comes to domestic life, she packs the lunches, schedules the doctor appointments, knows where the extra paper towel rolls are, and designs and orders the holiday cards. Her husband works hard, too... but why does it seem like she is always working so much harder?

When the Spanglers go house hunting in Dynasty Ranch, an exclusive suburban neighborhood, Nora meets a group of high-powered women--a tech CEO, a neurosurgeon, an award-winning therapist, a bestselling author--with enviably supportive husbands. When she agrees to help with a resident's wrongful death case, she is pulled into the lives of the women there. She finds the air is different in Dynasty Ranch. The women aren't hanging on by a thread.

But as the case unravels, Nora uncovers a plot that may explain the secret to having-it-all. One that's worth killing for. Calling to mind a

Stepford Wives

gender-swap,

The Husbands

imagines a world where the burden of the "second shift" is equally shared--and what it may take to get there.
4. Where The Truth Lies by Anna Bailey
Release Date: August 3rd, 2021
When a teenaged girl disappears from an insular small town, all of the community's most devastating secrets come to light in this stunningly atmospheric and slow-burning suspense novel—perfect for fans of Megan Miranda and Celeste Ng.

The town of Whistling Ridge guards its secrets.

When seventeen-year-old Abigail goes missing, her best friend Emma, compelled by the guilt of leaving her alone at a party in the woods, sets out to discover the truth about what happened. The police initially believe Abi ran away, but Emma doesn't believe that her friend would leave without her, and when officers find disturbing evidence in the nearby woods, the festering secrets and longstanding resentment of both Abigail's family and the people of Whistling Ridge, Colorado begin to surface with devastating consequences.

Among those secrets: Abi's older brother Noah's passionate, dangerous love for the handsome Rat, a recently arrived Romanian immigrant who has recently made his home in the trailer park in town; her younger brother Jude's feeling that he knows information he should tell the police, if only he could put it into words; Abi's father's mercurial, unpredictable rages and her mother's silence. Then there is the rest of Whistling Ridge, where a charismatic preacher advocates for God's love in language that mirrors violence, under the sway of the powerful businessman who rules the town, insular and wary of outsiders.

But Abi had secrets, too, and the closer Emma grows to unraveling the past, the farther she feels from her friend. And in a tinder box of small-town rage, and all it will take is just one spark—the truth of what really happened that night—to change their community forever.
5. When Sparks Fly by Helena Hunting
Release Date: September 21st, 2021
Running the Spark House, a hotel/event space that has been in her family for years, has been Avery Spark's lifelong dream. After years of working hard and making personal sacrifices, Avery and her two younger sisters have turned the Spark House into the premier destination in Colorado Springs. Avery is living her best life—she works with her sisters and loves every minute of it, she has a great group of friends, and she lives in a fantastic condo with her best friend Declan. She might not have any love in her life, but she's happy.

But everything comes to a screeching halt when Avery is in a car accident, leaving her immobile for weeks. After nearly losing Avery, Declan insists that he will be the one to take care of her while she recovers. However, as Declan becomes Avery's caretaker, lines begin to blur.

Avery and Declan have been best friends since college and always had an attraction to one another, but when she ended up dating his best friend, Sam, they successfully stamped down any feelings they may have ever had for one another. Now, as Declan and Avery spend more time together, they each begin to wonder what would've happened if she'd dated him instead of Sam. What starts as a friend helping out another friend turns into foreplay and, before they realize it, they recognize how deeply they care for one another. But when things get serious their past threatens to destroy everything they have built.
6. You'll Be the Death of Me by Karen M. McManus
Release Date: November 30th, 2021
From the author of One of Us Is Lying comes a brand-new pulse-pounding thriller. It's Ferris Bueller's Day Off with murder when three old friends relive an epic ditch day, and it goes horribly--and fatally--wrong.

Ivy, Mateo, and Cal used to be close. Now all they have in common is Carlton High and the beginning of a very bad day.

Type A Ivy lost a student council election to the class clown, and now she has to face the school, humiliated. Heartthrob Mateo is burned out--he's been working two jobs since his family's business failed. And outsider Cal just got stood up . . . again.

So when Cal pulls into campus late for class and runs into Ivy and Mateo, it seems like the perfect opportunity to turn a bad day around. They'll ditch and go into the city. Just the three of them, like old times. Except they've barely left the parking lot before they run out of things to say . . .

. . . until they spot another Carlton High student skipping school--and follow him to the scene of his own murder. In one chance move, their day turns from dull to deadly. And it's about to get worse.

It turns out Ivy, Mateo, and Cal still have some things in common. They all have a connection to the dead kid. And they're all hiding something.

Now they're all wondering--could it be that their chance reconnection wasn't by chance after all?
7. The Virgin Scorecard by Lauren Blakely
Release Date: December 25th, 2021
I've got a problem. After a dozen failed dates - but who's counting - I'm done hunting for Mr. Right.

I'm more than ready to cash in my V-card, and at this point, I'll gladly hand it over to Mr. Right Now.

When I go out with my friends for a night on the town, I bump into the perfect candidate.

A guy from my past who kissed like a dream but took off before we could say goodbye.

The swoony, charming pro athlete is back in the city and he's as ready to help me with my project as he is to win baseball games.

The next morning, I'm deliciously satisfied and I know I've chosen wisely.

But when he leaves again, I can't stop wondering -- what if Mr. Right Now is actually Mr. Right?

And how do I get him back?
8.
Smile and Look Pretty by Amanda Pellegrino
Release Date: December 28th, 2021
A whip-smart, piercing debut novel,

Smile and Look Pretty

follows four assistants who band together to take on their toxic office environments in the ultimate comeuppance.

Online they're the Aggressive One, the Bossy One, the Bitchy One, and the Emotional One. In real life, best friends Cate, Lauren, Olivia, and Max all have one thing in common—they're overworked, overtired, and underpaid assistants to some of the most powerful men in the entertainment industries. When they secretly start an anonymous blog detailing their experiences, their posts go viral and hundreds of other women come forward with stories of their own. Confronted with the risks of newfound fame and the possibility of their identities being revealed, they have to contend with what happens when you try to change the world.

Gripping, razor-sharp, and scathingly funny,

Smile and Look Pretty

is a fast-paced millennial rallying cry about the consequences of whistleblowing for an entire generation, and a testament to the strength of female friendship and what can be accomplished when women come together.
9. We Are the Brennans by Tracey Lange
Release Date: August 3rd, 2021
In the vein of Mary Beth Keane's Ask Again, Yes and Cynthia D'Aprix Sweeney's The Nest, Tracey Lange's We Are the Brennans explores the staying power of shame—and the redemptive power of love—in an Irish Catholic family torn apart by secrets. When twenty-nine-year-old Sunday Brennan wakes up in a Los Angeles hospital, bruised and battered after a drunk driving accident she caused, she swallows her pride and goes home to her family in New York. But it's not easy. She deserted them all—and her high school sweetheart—five years before with little explanation, and they've got questions. Sunday is determined to rebuild her life back on the east coast, even if it does mean tiptoeing around resentful brothers and an ex-fiancé. The longer she stays, however, the more she realizes they need her just as much as she needs them. When a dangerous man from her past brings her family's pub business to the brink of financial ruin, the only way to protect them is to upend all their secrets—secrets that have damaged the family for generations and will threaten everything they know about their lives. In the aftermath, the Brennan family is forced to confront painful mistakes—and ultimately find a way forward, together.
10. A Slow Fire Burning by Paula Hawkins
Release Date: August 31st, 2021
'What is wrong with you?'

Laura has spent most of her life being judged. She's seen as hot-tempered, troubled, a loner. Some even call her dangerous.

Miriam knows that just because Laura is witnessed leaving the scene of a horrific murder with blood on her clothes, that doesn't mean she's a killer. Bitter experience has taught her how easy it is to get caught in the wrong place at the wrong time.

Carla is reeling from the brutal murder of her nephew. She trusts no one: good people are capable of terrible deeds. But how far will she go to find peace?

Innocent or guilty, everyone is damaged. Some are damaged enough to kill.

Look what you started.
Do you plan to read any of the books above?
What books are you looking forward to that are releasing in the next half of the year?
xoxo,