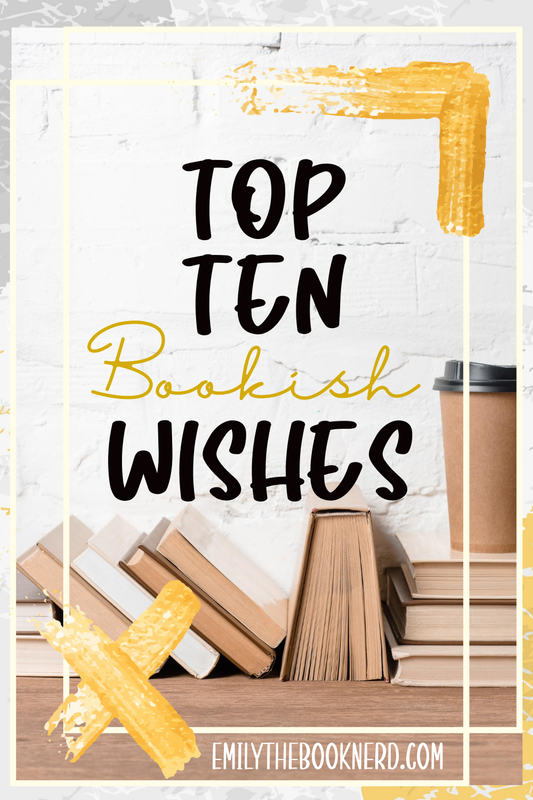 Welcome to another TTT! Today is all about bookish wishes.... This TTT prompt is so cute/fun. By no means should you feel obligated to buy me any of these books but if you do I cannot thank you enough.
This is a popular thing to do on Twitter these days. People will tweet out a call for wishlists, people will link theirs, and then everyone starts granting wishes. It's so much fun to surprise someone with a little something. Today we're doing the same thing, but we'll be blog hopping! List the top 10 books you'd love to own and include a link to your wishlist so that people can grant your wish.
Make sure you link your wishlist to your mailing address [here's how to do it on Amazon] or include the email address associated with your e-reader in the list description so people know how to get the book to you. Here are my top ten bookish wishes! Oh yeah, and my Amazon book wish list is HERE! It was hard to narrow down my list to just ten books because I want to read tons of books!
1. Golden Girl by Elin Hilderbrand: I want to read this book so bad. The premise sounds amazing... I love supernatural elements in books. Plus, it sounds like the perfect summer read. It even made the New York Times Bestsellers list.
2. Malibu Rising by Taylor Jenkins Reid: This book is everywhere! I am not exaggerating. I can't wait to read another Taylor Jenkins Reid novel! Plus, it's set in the 1980s, and that in itself sounds so fun.
3. Dear Edward by Ann Napolitano: I have been wanting to read this book for a while. It's all about finding inner strength and the concept sounds amazing.
4. The Midnight Library by Matt Haig: I have been seeing this book everywhere too and the synopsis sounds so cool. "Somewhere out beyond the edge of the universe, there is a library that contains an infinite number of books, each one the story of another reality. One tells the story of your life as it is, along with another book for the other life you could have lived if you had made a different choice at any point in your life." I mean how cool does this sound?!
5. Not Pretending Anymore by Penelope Ward and Vi Keeland:
My favorite romance duo is at it again and I need to pick up this novel! I love me a good roommate romance novel.
6. The Invitation by Vi Keeland:
Another Vi Keeland novel I have yet to read.... I mean how good does this one look? The cover is stunning in itself.
7. The Two Lives of Lydia Bird by Josie Silver:
I have been wanting to read this book for a long time. The book is all about what if's and answering the questions you have about your life. It sounds incredible.
8. Whisper Network by Chandler Baker:
I have been trying to get through all of
Reese's Book Club Picks
because her reading tastes and mine are on par with each other. Plus,
Reese Witherspoon
is my favorite actress so I cannot resist reading books that she recommends. Plus, I love this cover!
9. The Hunting Wives by May Cobb:
I love a good thriller novel and this book sounds so cool. I love the cover too.
10. City of Girls by Elizabeth Gilbert:
The concept for this novel sounds so cool. It is set in the 1940s through flashbacks and I love novels that are told in flashbacks.
Have you read any of the books above?
Are any of these books on your TBR shelf or wishlist?
xoxo,