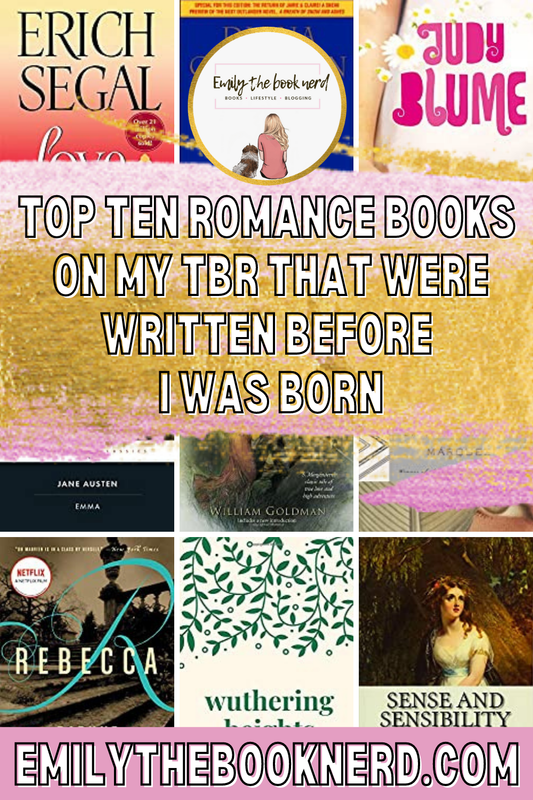 With all the trauma that I have gone through this week, I almost completely forgot about Top Ten Tuesday yesterday! So, here I am a day late on this week's topic but I am still getting it done. Now, that I am single again sigh..... I will probably have more blogging time now.
Anyways, the topic for this week is the top ten books on my TBR that were written before I was born. The year I was born was 1994. I am a millennial. So, for this list, I will be featuring books from 1993 and before! Since my blog is mainly romance I will add the top romance books to this week's topic as well. I just turned 27 on January 28th. This month is also my blog's birthday and it is turning three years old.
1. Wuthering Heights by Emily Bronte (1847)
Wuthering Heights is an 1847 novel by Emily Brontë, published under the pseudonym Ellis Bell. It concerns two families of the landed gentry in the West Yorkshire moorlands, the Earnshaws and the Lintons, and their turbulent relationships with Earnshaw's adopted son, Heathcliff.
2. Pride and Prejudice by Jane Austen (1813)
Since its immediate success in 1813,

Pride and Prejudice

has remained one of the most popular novels in the English language. Jane Austen called this brilliant work "her own darling child" and its vivacious heroine, Elizabeth Bennet, "as delightful a creature as ever appeared in print." The romantic clash between the opinionated Elizabeth and her proud beau, Mr. Darcy, is a splendid performance of civilized sparring. And Jane Austen's radiant wit sparkles as her characters dance a delicate quadrille of flirtation and intrigue, making this book the most superb comedy of manners of Regency England.
3. Outlander by Diana Gabaldon (1991)
The year is 1945. Claire Randall, a former combat nurse, is just back from the war and reunited with her husband on a second honeymoon when she walks through a standing stone in one of the ancient circles that dot the British Isles. Suddenly she is a Sassenach—an "outlander"—in a Scotland torn by war and raiding border clans in the year of Our Lord...1743.





Hurled back in time by forces she cannot understand, Claire is catapulted into the intrigues of lairds and spies that may threaten her life, and shatter her heart. For here James Fraser, a gallant young Scots warrior, shows her a love so absolute that Claire becomes a woman torn between fidelity and desire—and between two vastly different men in two irreconcilable lives.
4. Emma by Jane Austen (1815)
Emma Woodhouse is one of Austen's most captivating and vivid characters. Beautiful, spoilt, vain and irrepressibly witty, Emma organizes the lives of the inhabitants of her sleepy little village and plays matchmaker with devastating effect.
5. Sense and Sensibility by Jane Austen (1811)
'The more I know of the world, the more am I convinced that I shall never see a man whom I can really love. I require so much!'



Marianne Dashwood wears her heart on her sleeve, and when she falls in love with the dashing but unsuitable John Willoughby she ignores her sister Elinor's warning that her impulsive behaviour leaves her open to gossip and innuendo. Meanwhile Elinor, always sensitive to social convention, is struggling to conceal her own romantic disappointment, even from those closest to her. Through their parallel experience of love—and its threatened loss—the sisters learn that sense must mix with sensibility if they are to find personal happiness in a society where status and money govern the rules of love.
6. The Princess Bride by William Goldman (1973)
What happens when the most beautiful girl in the world marries the handsomest prince of all time and he turns out to be...well...a lot less than the man of her dreams?





As a boy, William Goldman claims, he loved to hear his father read the S. Morgenstern classic,

The Princess Bride

. But as a grown-up he discovered that the boring parts were left out of good old Dad's recitation, and only the "good parts" reached his ears.





Now Goldman does Dad one better. He's reconstructed the "Good Parts Version" to delight wise kids and wide-eyed grownups everywhere.





What's it about? Fencing. Fighting. True Love. Strong Hate. Harsh Revenge. A Few Giants. Lots of Bad Men. Lots of Good Men. Five or Six Beautiful Women. Beasties Monstrous and Gentle. Some Swell Escapes and Captures. Death, Lies, Truth, Miracles, and a Little Sex.





In short, it's about everything.
7. Rebecca by Daphne Du Maurier (1938)
Last night I dreamt I went to Manderley again . . .

The novel begins in Monte Carlo, where our heroine is swept off her feet by the dashing widower Maxim de Winter and his sudden proposal of marriage. Orphaned and working as a lady's maid, she can barely believe her luck. It is only when they arrive at his massive country estate that she realizes how large a shadow his late wife will cast over their lives--presenting her with a lingering evil that threatens to destroy their marriage from beyond the grave.
8. Forever by Judy Blume (1975)
Katherine and Michael meet at a New Year's Eve party. They're attracted to each other, they grow to love each other. And once they've decided their love is forever, they make love.





It's the beginning of an intense and exclusive relationship, with a future all planned. Until Katherine's parents insist that she and Michael put their love to the test with a summer apart...



Forever

is written for an older age group than Judy Blume's other novels for children. It caused a storm of controversy when it was first published because of its explicit sexual content.
9. Love in the Time of Cholera by Gabriel Garcia Marquez (1985)
In their youth, Florentino Ariza and Fermina Daza fall passionately in love. When Fermina eventually chooses to marry a wealthy, well-born doctor, Florentino is heartbroken, but he is a romantic. As he rises in his business career he whiles away the years in 622 affairs—yet he reserves his heart for Fermina. Her husband dies at last, and Florentino purposefully attends the funeral. Fifty years, nine months, and four days after he first declared his love for Fermina, he will do so again.
10. Love Story by Erich Segal (1970)
Oliver Barrett IV, a wealthy jock from a stuffy WASP family on his way to a Harvard degree and a career in law . . . Jenny Cavilleri, a sharp-tongued, working-class beauty studying music at Radcliffe . . .





Opposites in nearly every way, Oliver and Jenny are kindred spirits from vastly different worlds. Falling deeply and powerfully, their attraction to one another defies everything they have ever believed—as they share a passion far greater than anything they dreamed possible . . . and explore the wonder of a love that must end too soon.





One of the most adored novels of our time, this is the book that defined a generation—a story of uncompromising devotion, of life as it really is . . . and love that changes everything.
---
Have you read any of the books above?
What books are on your TBR that were published before you were born that you would like to read?
xoxo,