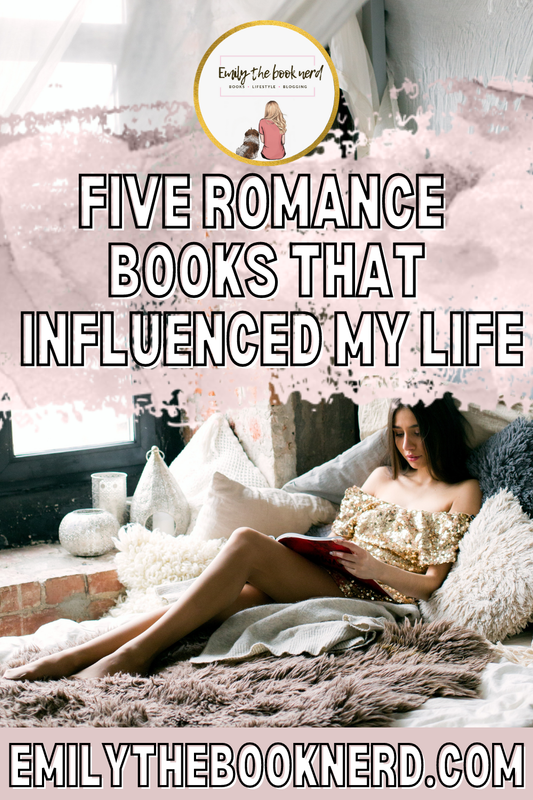 This is my first Wednesday Weekly Blogging Challenge that I have decided to participate in. Each Wednesday, Long and Short Reviews hosts a weekly "blog hop". For more details on how to participate, please click here.
The topic this week is a book, movie, or tv show that influenced my life. I thought I would go even further and do romance books that influenced my life.
1. Love and Other Words by Christina Lauren
The story of the heart can never be unwritten.



Macy Sorensen is settling into an ambitious if emotionally tepid routine: work hard as a new pediatrics resident, plan her wedding to an older, financially secure man, keep her head down and heart tucked away.





But when she runs into Elliot Petropoulos—the first and only love of her life—the careful bubble she's constructed begins to dissolve. Once upon a time, Elliot was Macy's entire world—growing from her gangly bookish friend into the man who coaxed her heart open again after the loss of her mother...only to break it on the very night he declared his love for her.





Told in alternating timelines between Then and Now, teenage Elliot and Macy grow from friends to much more—spending weekends and lazy summers together in a house outside of San Francisco devouring books, sharing favorite words, and talking through their growing pains and triumphs. As adults, they have become strangers to one another until their chance reunion. Although their memories are obscured by the agony of what happened that night so many years ago, Elliot will come to understand the truth behind Macy's decade-long silence, and will have to overcome the past and himself to revive her faith in the possibility of an all-consuming love.



Love, loss, friendship, and the betrayals of the past all collide in this first fiction novel from New York Times and #1 international bestselling author Christina Lauren (Autoboyography, Dating You / Hating You).
2. RoomHate by Penelope Ward
Sharing a summer house with a hot-as-hell roommate should be a dream come true, right?





Not when it's Justin… the only person I'd ever loved… who now hates me.





When my grandmother died and left me half of the house on Aquidneck Island, there was a catch: the other half would go to the boy she helped raise.





The same boy who turned into the teenager whose heart I broke years ago.





The same teenager who's now a man with a hard body and a hardass personality to match.





I hadn't seen him in years, and now we're living together because neither one of us is willing to give up the house.





The worst part? He didn't come alone.





I'd soon realize there's a thin line between love and hate. I could see through that smug smile. Beneath it all…the boy is still there. So is our connection.





The problem is…now that I can't have Justin, I've never wanted him more.
3. The Kiss Quotient by Helen Hoang
A heartwarming and refreshing debut novel that proves one thing: there's not enough data in the world to predict what will make your heart tick.

Stella Lane thinks math is the only thing that unites the universe. She comes up with algorithms to predict customer purchases — a job that has given her more money than she knows what to do with, and way less experience in the dating department than the average thirty-year-old.

It doesn't help that Stella has Asperger's and French kissing reminds her of a shark getting its teeth cleaned by pilot fish. Her conclusion: she needs lots of practice — with a professional. Which is why she hires escort Michael Phan. The Vietnamese and Swedish stunner can't afford to turn down Stella's offer, and agrees to help her check off all the boxes on her lesson plan — from foreplay to more-than-missionary position...

Before long, Stella not only learns to appreciate his kisses, but to crave all the other things he's making her feel. Soon, their no-nonsense partnership starts making a strange kind of sense. And the pattern that emerges will convince Stella that love is the best kind of logic...
4. Josh and Hazel's Guide to Not Dating by Christina Lauren
Hazel Camille Bradford knows she's a lot to take—and frankly, most men aren't up to the challenge. If her army of pets and thrill for the absurd don't send them running, her lack of filter means she'll say exactly the wrong thing in a delicate moment. Their loss. She's a good soul in search of honest fun.





Josh Im has known Hazel since college, where her zany playfulness proved completely incompatible with his mellow restraint. From the first night they met—when she gracelessly threw up on his shoes—to when she sent him an unintelligible email while in a post-surgical haze, Josh has always thought of Hazel more as a spectacle than a peer. But now, ten years later, after a cheating girlfriend has turned his life upside down, going out with Hazel is a breath of fresh air.





Not that Josh and Hazel date. At least, not each other. Because setting each other up on progressively terrible double blind dates means there's nothing between them...right?
5. The Time Traveler's Wife by Aubrey Niffenegger
A funny, often poignant tale of boy meets girl with a twist: what if one of them couldn't stop slipping in and out of time? Highly original and imaginative, this debut novel raises questions about life, love, and the effects of time on relationships.





Audrey Niffenegger's innovative debut,

The Time Traveler's Wife

, is the story of Clare, a beautiful art student, and Henry, an adventuresome librarian, who have known each other since Clare was six and Henry was thirty-six, and were married when Clare was twenty-three and Henry thirty-one. Impossible but true, because Henry is one of the first people diagnosed with Chrono-Displacement Disorder: periodically his genetic clock resets and he finds himself misplaced in time, pulled to moments of emotional gravity in his life, past and future. His disappearances are spontaneous, his experiences unpredictable, alternately harrowing and amusing.



The Time Traveler's Wife

depicts the effects of time travel on Henry and Clare's marriage and their passionate love for each other as the story unfolds from both points of view. Clare and Henry attempt to live normal lives, pursuing familiar goals—steady jobs, good friends, children of their own. All of this is threatened by something they can neither prevent nor control, making their story intensely moving and entirely unforgettable.
---
Are any of the books above your favorites too?
What books have influenced your life?
xoxo,