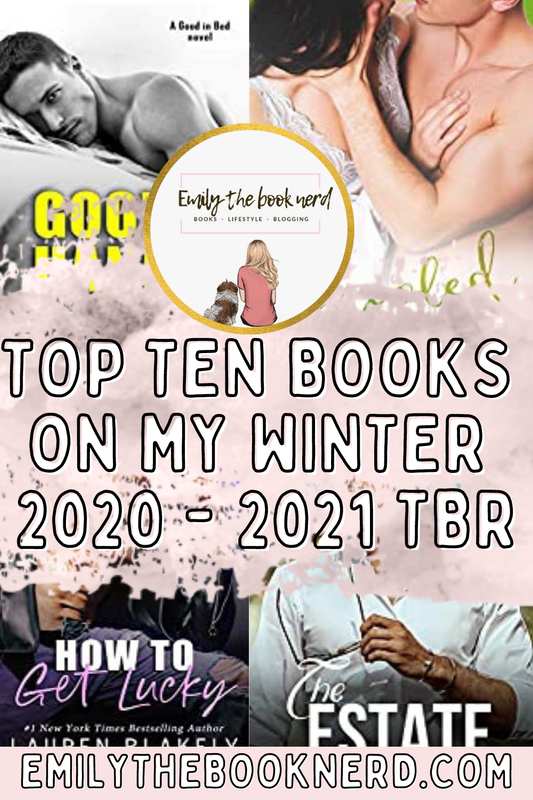 Another week and another Top Ten Tuesday! This week's topic is fun because it covers the top ten books on my winter 2020-2021 TBR! Or if you are in the southern hemisphere you do your top ten summer TBR books that you plan on reading.
Join in on all the fun of TTT on thatartsyreadergirl.com and you can see all of the many topics each week that you can participate in.
I cannot believe this year is already over and Christmas is almost here! The year went by extremely fast and I for one am glad that 2020 is going to be over. It has been one sucky year. The only good thing to come out of this year for me was finding my boyfriend and falling in love.
Here are the top ten books that I plan on reading in the next couple of winter months ahead:
1. Billionaire Bosshole by Laura Lee (Currently Reading)
-noun

1. A person who turns into a massive jerk ten seconds after being made supervisor.

2. An employer completely devoid of empathy or concern for anyone else.

3. A manager with whom you often disagree.

Also see: jerk boss, a$$hole, egomaniac




Do you know the one thing you should never do at work?

Your boss.

Sadly, following that particular piece of advice is much easier said than done.

Ronan Maxwell is hands down the sexiest man I've ever met. He's also the pushiest, most demanding, and most arrogant S.O.B. on the planet. And even though I can't stand him, I never stop wondering how his ridiculously pretty mouth would feel against my skin. Or whether or not that bulge in his pants is as impressive as it seems.

For two years, I had it under control. But then one late night, all that changed. Now that I know firsthand how electrifying his touch can be, I want him more than ever. And the longer we continue this twisted relationship, the softer my heart gets. I have no idea what the future holds, but one thing I know for sure—this man has the power to break my heart.

And that's one thing I can never let happen.




*Billionaire Bosshole is the third installment in the Bedding the Billionaire world. It is a full-length interconnected standalone novel.
2. Four Weddings and a Swamp Boat Tour by Erin Nicholas
She's been proposed to five times.
Five.
She even said yes to one of them.
And then broke his heart when she called it off. Not to mention her mother's heart. And her grandmother's. And his mother's. And…you get the picture.

Paige Asher has now officially sworn off all dating. Diamonds give her hives.

All she wants is to be a yoga-doing, cat-collecting, vegetarian in peace. Away from her marriage-crazy family and all their expectations.

So when her weekend fling turns into a real friend and offers her a place to escape, she finds herself on his doorstep in Louisiana. And right in the middle of not just one family wedding, but three. Of course.

Charming, sexy bayou boy Mitch Landry gets stuff done. Whatever anyone needs. From alligator-sitting to getting a buddy drunk to showing a woman a good time to fixing a swamp boat, he's the man. No problem. No drama.

But he wants a hell of a lot more from Paige than a temporary friends-with-benefits arrangement. He wants to take care of her. And her five cats. He also really wants other men to stop asking her to marry them.

But if a roommate and a few orgasms are all she wants, that's what he'll deliver.

He can just be her friend and not commit the greatest sin of all…asking her for forever.

Probably.
3. Good With His Hands by Lili Valente and Lauren Blakely
A sexy best friend's brother romance from bestselling authors Lauren Blakely and Lili Valente!



I'm the wrong guy for her.





She's sunshine, and cherry pie. I'm whiskey and fast cars. I'm also keeping one hell of a secret from the woman I've wanted for years.





But when I find a list my sister left behind for Ruby, I've got no choice but to offer the sexy, big-hearted girl next door both a road trip and a chance.





A chance to discover how big she can dream.





And if some of those dreams play out in the bedroom? Well, there's nothing wrong with a few -- okay, several -- hot nights together as we hit the beach, visit old stomping grounds, and test all sorts of limits, in and out of the sheets.





Seven days, then I'm off, moving across the country, far away from her.





No way can things get complicated in a week. Ruby and I aren't the kind of dream that has a shot of coming true.





Especially once she learns what I've done.



GOOD WITH HIS HANDS is a sexy standalone romance in the Good in Bed series!
4. How to Get Lucky by Lauren Blakely and Joe Arden
A sexy standalone romance written by #1 NYT Bestselling Author Lauren Blakely and Award-Winning Romance Narrator Joe Arden!

Every man knows there are lines you don't cross. Like this one -- don't bang your boss's little sister.



Too bad I didn't know sexy, clever, irresistible London is related to the guy who signs my paychecks. Would have been helpful to have that intel before I took her out on that first date, before I kissed her on the beach, before I made plans to take her home that night.





But now I know and I'm going to be so damn disciplined. I'm a good guy, after all. And good guys don't break the golden rules of the bro code. I'm going to follow the f&*k out of all the rules. I won't break a single damn one.





Even when London asks me to help her with a work project. One that has us working late every night, all alone, in my tiny apartment.





One that tests every ounce of willpower I have.





One that is driving me out of my ever loving mind.





But I resist.





Until the night she issues a challenge I can't refuse.
5. The Estate by Ivy Wild
Family. Honor. Commitment. Lies.





Carter:




Family. Honor. Commitment.




My entire life was built around these three words.




And my entire life turned out to be a lie.




But burying the pain is easier than dealing with it and that's what I'd planned to do.




Until Lex Evans showed up.




She tore down the walls I'd thrown around my heart brick by brick.




She reduced me to rubble, so she could build me back up.





Lex:




I am the girl people abandon and I've accepted that.




I don't say no because I don't know how and people take advantage of it.




I hoped he'd be different. It seemed like he was.




Carter Ross swept into my life and I didn't say no.




But this time, I didn't want to.




His walls are up so high, but I can see the cracks.




And in all his darkness, he can't stop the light from seeping through.




When he leaves, I'll be the one to break.





The Estate is a complete stand-alone contemporary romance novel.
6. Beautiful Mistake by Vi Keeland
The first time I met Caine West was in a bar.





He noticed me looking his way and mistakenly read my scowling as checking him out.





When he attempted to talk to me, I set him straight — telling him what I thought of his lying, cheating, ego-maniacal ass.





You see, the gorgeous jerk had wined and dined my best friend - smooth talking her into his bed, all along failing to mention that he was married.





He deserved every bit of my tongue-lashing and more for what he'd done.





Especially when that lazy smile graced his perfect face in response to my rant.





Only it turned out, the man I'd just told off wasn't the right guy.



Oops

. My mistake.





Embarrassed, I slunk out without an apology.




I was never going to see the handsome stranger again anyway, right?





That's what I thought… until I walked into class the next morning.





Well, hello

Professor

West, I'm your new teaching assistant.





I'll be working under you… figuratively speaking.





Although the literal interpretation might not be such a bad thing — working

under,

Professor West.





This was going to be interesting…
7. Drive Me Wild by Julie Kriss
Emily was a cop's daughter, and I was the boy from the wrong side of the tracks. At eighteen, our affair was wild and completely secret. Until she left town for college and a better life, and I hit the road to nowhere.





Eight years later, we're both back in town. My father is in prison; Emily is selflessly helping her sister. We should be farther apart than we've ever been. But I've never been able to resist temptation, especially when that temptation is Emily.





I shouldn't go near her. But I do.





She shouldn't say yes. But she does.





Our chemistry is hotter than ever, but she's hiding something from me. Just like I'm hiding something from her. It's hard to tell whose secrets are more dangerous, until it all goes to hell.





I can save her - and she can save me. But we'll have to break the rules.





We're from different worlds. We don't belong together.





But in the end, Emily and I are going to have to get dirty.
8. Keep Her Safe by Kemmie Michaels
Erin never would have expected to fall in love. Never. Not with her past, and not with her fear. She never dated; she didn't even allow herself friendships. She didn't trust her judge-of-character skills enough to allow anyone close...until Marcus.





With him, a deep connection happened in spite of the walls she'd so carefully constructed around herself. His self-confessed rage fueled much of his life, with the exception of her. For Erin, Marcus dares to make the step toward love…one with the potential to heal them both.





This is the first book in the Play for Keeps Series by Kemmie Michaels.
9. Schooled by Piper Lawson
My best friend's brother grew up. Hot.



I know the rules.





The rules say Dylan Cameron is off-limits.





That includes his messy dark hair and wickedly knowing eyes. The hard body he built playing rugby. Definitely his reputation for doing

very

bad things.





But when the most gorgeous, mysterious, brooding boy I never let myself want shows up on my birthday with a confession that sends me reeling...





I can't ignore him.





But I refuse to screw up everything over a guy.





Especially

that

guy.





Because Dylan is my best friend's brother.



Her younger brother.




Schooled is a deliciously smart, steamy forbidden college romance from USA Today bestselling author Piper Lawson. This full-length story can be enjoyed as a standalone.
10. Meant to Be by Melody Grace
Millions of readers around the world have fallen in love with Melody Grace's bestselling contemporary romances. Now discover the romance, laughter, and happily-ever-afters waiting for you in her new series, Sweetbriar Cove!



Poppy Somerville believes in happily-ever-after. It's the reason her romance novels have won devoted readers all over the world—and why she's broken off her engagement just weeks before the wedding instead of settling for less than true love. Escaping to her aunt's beach cottage in Sweetbriar Cove, Poppy is looking for inspiration to end her writer's block and finish her new book. She just wasn't counting on the handsome, gruff contractor making such a racket next door…





Cooper Nicholson doesn't believe in soul-mates. He thought he'd found his forever once, and the world proved him wrong, so when the cute brunette comes storming over and demands he keep the noise down, romance is the last thing on his mind. But his new neighbor is full of surprises, and soon, their chemistry is too hot to ignore.





As they grow closer, they discover fiction has nothing on the plot twists life has in store. But will Cooper find a way to let go of the past and risk his heart again? And can Poppy find her happy ending — on and off the page?



Find out in the new sweet and sexy small-town romance from New York Times bestselling author, Melody Grace!
---
What books are on your TBR within the next couple of months?
Have you read any of the books above or want to read them too?
I would love to know all of your thoughts in the comments down below.
Thanks for stopping by my blog!
xoxo,