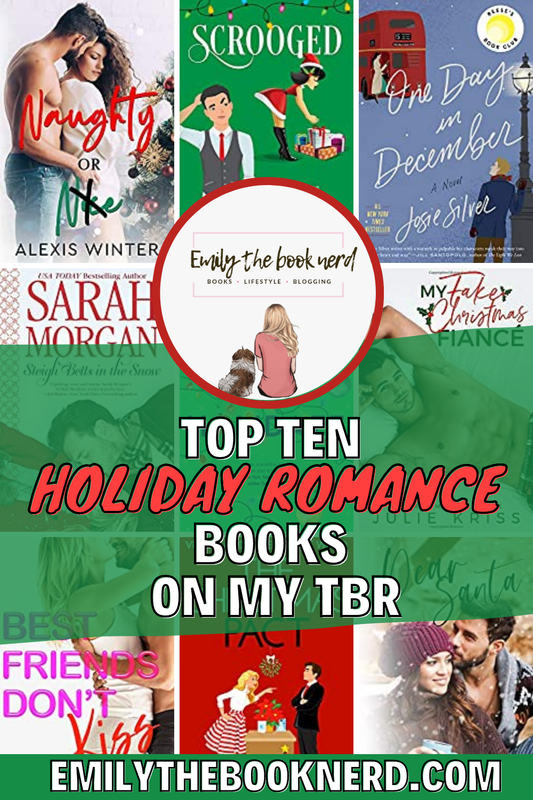 It's another Top Ten Tuesday! This week's topic is a seasonal freebie... So, I decided to do my Top Ten Holiday Romance Books that are on my personal TBR. When it comes to Christmas and wintertime there are tons of Holiday-themed romance books to choose from. I love Christmas themed romance books. They always seem to get me into the Christmas mood.
Top Ten Tuesday is hosted by That Artsy Reader Girl. Every Tuesday features a new topic or theme that you can participate in.
Here is my TBR list:
1. In a Holidaze by Christina Lauren
One Christmas wish, two brothers, and a lifetime of hope are on the line for hapless Maelyn Jones in

In a Holidaze

, the quintessential holiday romantic novel by Christina Lauren, the

New York Times

bestselling author of

The Unhoneymooners.




It's the most wonderful time of the year…but not for Maelyn Jones. She's living with her parents, hates her going-nowhere job, and has just made a romantic error of epic proportions.




But perhaps worst of all, this is the last Christmas Mae will be at her favorite place in the world—the snowy Utah cabin where she and her family have spent every holiday since she was born, along with two other beloved families. Mentally melting down as she drives away from the cabin for the final time, Mae throws out what she thinks is a simple plea to the universe:

Please. Show me what will make me happy.




The next thing she knows, tires screech and metal collides, everything goes black. But when Mae gasps awake…she's on an airplane bound for Utah, where she begins the same holiday all over again. With one hilarious disaster after another sending her back to the plane, Mae must figure out how to break free of the strange time loop—and finally get her true love under the mistletoe.




Jam-packed with yuletide cheer, an unforgettable cast of characters, and Christina Lauren's trademark "downright hilarious" (Helen Hoang, author of

The Bride Test

) hijinks, this swoon-worthy romantic read will make you believe in the power of wishes and the magic of the holidays.
2. The Christmas Pact by Vi Keeland and Penelope Ward
Eggnog. Check. Roaring fire. Check. Hot romance book. Check!



Riley Kennedy's emails keep getting crossed with her male colleague, Kennedy Riley. The infuriating man forwards them along with his annoying commentary and unsolicited advice. At least she never has to see him in person, since they work in different locations…until they come face to face at the office holiday party.





As luck would have it, Kennedy turns out to be outrageously handsome…though still a jerk. Yet somehow he's able to charm her out on the dance floor—and convince her to participate in his crazy scheme: he'll go home with Riley for a Christmas party and pretend to be her boyfriend, if Riley agrees to be his date to a wedding. It sounds easy enough. Little by little, however, the act they're putting on starts to feel like so much more than a Christmas pact—and Riley's about to learn there's more to Kennedy than she ever imagined.
3. My Fake Christmas Fiance' by Julie Kriss
Dear Wesley Kane, We are not getting married. I know we had to get engaged as part of our companies' merger plans, but a fake engagement is all I'll agree to. For business purposes. We are never, ever getting married. We have nothing in common. I'm the nerdy do-gooder girl with glasses and you're the playboy with a new woman on his arm every week. I'm not your type, and you're not mine. Okay, so you're incredibly gorgeous. And funny. And you keep giving me That Look. And you've ditched all your other girlfriends for me. And I've seen you in nothing but your boxer shorts, and I'm still thinking about it. Because…wow. We have to be married by midnight Christmas Eve, and the deadline is getting closer. It doesn't matter if you might be my dream guy. It doesn't matter if I'm falling for you—it's just a business deal. We are never, ever—Oh God, I just kissed you again.
4. Scrooged by Vi Keeland and Penelope Ward
New York Times Bestselling Authors, Vi Keeland and Penelope Ward bring you three sexy short stories to heat up your holidays!

Sexy Scrooge

The last thing I needed was to share an Uber with Scrooge—a cocky lawyer on a snowy Christmas Eve. It was bad enough I was on my way to court for the gift of eviction.Although maybe today wouldn't turn out so bad after all.The Sexy Scrooge and I started to connect as we trudged our way through a storm. Our ride was about to end. But would I ever see him again?

The Merry Mistake

Note to self: Ask Santa for glasses this year. When I accidentally mistook a gorgeous man resting outside my building for a homeless person in need of lunch, we got into it. I'd only been trying to do a good deed around the holidays, but he called me righteous. I called him something far worse. If only I didn't have to see him again. But fate had other plans.

Kissmas in New York

It was just supposed to be a simple kiss with a stranger. I'd done it to prove a point—that I hadn't lost my sense of adventure. But you know what they say about the best laid plans. Maybe I'd get something in my stocking after all this holiday season...
5. Best Friend's Don't Kiss by Max Monroe
Goal: Find a boyfriend, get married, buy a house in the suburbs with a white picket fence, and pop out 2.5 kids.

Deadline: Sixty days.

That's possible, right?



HAHAHA. *Faints*





I'm kidding.

Well, kind of.

I mean, I'm not going to attempt a shotgun wedding or try to get knocked up by some guy I met on the internet, but there is no doubt that, this year,

home for the holidays

takes on a whole new,

terrifying

meaning.





I have to travel from New York City—my home and safe haven for the last fifteen years—to my tiny hometown in Vermont for Christmas, my baby sister's wedding,

and

my high school reunion.





Talk about a trifecta of single-

doom

.





Throw in Callie Camden—

aka my high school class's version of Regina George

—and it's a recipe for certified disaster.





Especially since my mouth ran away from me when she asked me if I'd be bringing someone to our reunion, and I told her to

put me down for two.


Gah. Now I

can't

go alone.





But the online dating world is a cesspool of bad manners, speedy hookups, and outright weirdos.





Handsome, single, successful—

that's

what I'm looking for.




And it just so happens that my best friend Luke London fits

all

of the criteria.





The only problem is

best friends don't kiss

…





But maybe it doesn't count if it's pretend?



Best Friends Don't Kiss is a best-friends-to-lovers, holiday-themed, feel-good, full-length, standalone romantic comedy with witty banter, so many laughs, and so much swoon. Readers can't read the first ten pages without cracking a smile and laughing their you-know-whats off. Consider this a Max Monroe smile and laughter guarantee.

Disclaimer: The Max Monroe smile and laughter guarantee applies to normally happy and pleasant individuals. Those that have Grinch-like tendencies and do not smile at things such as puppies or kittens or rainbows or Christmas—well, even a Max Monroe Rom Com can't help you.
6. Dear Santa by Kristen Granata
Dear Santa: A Fake Relationship Holiday Novella

Dear Santa,
Find me a fake boyfriend I can take home for the holidays...



There are certain things I never thought I'd do. Hiring an escort to pose as my boyfriend sits at the top of that list. But the idea of sitting alone at Mom's table for the fifth year in a row after my fiancé cheated on me has me feeling desperate. It started as a drunken joke when I let my best friend convince me to fill out an application for a male escort. Now, I'm on my way to see my family with the man I paid for.





He's nothing like the polished professional I expected—complete with tattoos, a sinful muscular physique, and a blunt attitude. I almost call the whole thing off. Yet there's something he's hiding under his gruff exterior, and while I'm supposed to be getting to know my fake boyfriend, I'd rather learn about who this mysterious man truly is.





What started as a simple business transaction isn't so simple anymore. We can barely keep our hands off each other—even when no one's watching. The lines we drew in our contract are blurring, and it doesn't feel like we're pretending. I can't keep up with our lie for much longer.





But how can I trust my heart with someone who fakes love for a living?
7. Naughty or Nice by Alexis Winter
Dear Santa,
I know I'm supposed to be nice, but this year, I need to be really naughty.
Oh, and I need a BIG favor—Carson Wells, in nothing but a big pretty bow under my Christmas tree.

Xoxo,
Felicity



Look, I'm desperate okay.




I've been the kid sister, sidekick, and friend zone queen since I was seven years old,




But this year, that all changes.





Growing up next door to my best friend was pure, wonderful…torture.




From the moment my seven-year-old eyes landed on Carson,




I was head over heels in love.





I tried to wish him to fall in love with me but all it got me was rejection.




Forget feelings and romance this year,




I'm going in for the kill—pure seduction.




After all, Christmas is the time of year to let it all out, right?



I know Santa won't approve but, I'm done being nice.
It's time for Carson Wells to see my naughty side once and for all.

If you love a little (or maybe a lot) naughty with your nice during the holidays then grab this delicious holiday romance from best-selling romance author Alexis Winter today!
8. The Christmas Con by Rachel Robinson
All I wanted for Christmas was a date…





I posted one personal ad on a free, dark web dating site. I expected a Nigerian Prince who wanted my bank account number or a phishing scam. I didn't expect to receive lavish gifts from a beautiful stranger.





A plane ticket.





A weeklong vacation in Bora Bora.





Saying yes to everything was easy because in exchange for my insane compliance, he agreed to be my date home for Christmas.




Except when I arrive in paradise I realize he isn't just a beautiful stranger.





He's Italian royalty—an actual freaking Prince!





He's also a world-famous porn star.





Falling for an untouchable man isn't advisable, but then again this was only supposed to be The Christmas Con.
9. Sleigh Bells in the Snow by Sarah Morgan
USA TODAY bestselling author Sarah Morgan heats up the season with the O'Neil brothers in a brand-new holiday series!

Once upon a time, Christmas was Kayla Green's favorite time of year. Now all the workaholic wants for Christmas is for it to be over—as fast as possible! So when duty calls her to snowy Vermont to close a deal with a new client, Kayla is grateful for an excuse to avoid the holidays for another year.

Jackson O'Neil left a thriving business behind to return home and salvage his family's resort—it's in his blood, and he can't let it fail. Now that he's got marketing whiz Kayla Green working with him to put Snow Crystal on the map, success is on the horizon. The fact they strike enough sparks off each other to power all the Christmas lights in Vermont is just an added bonus.

Kayla might be an expert at her job, but she's out of her depth with Jackson—he makes her crave the happy-ever-after she once dreamed of, and it's terrifying. As the snowflakes continue to swirl, will the woman who doesn't believe in the magic of Christmas finally fall under its spell?
10. One Day in December by Josie Silver
Two people. Ten chances. One unforgettable love story.





Laurie is pretty sure love at first sight doesn't exist anywhere but the movies. But then, through a misted-up bus window one snowy December day, she sees a man who she knows instantly is the one. Their eyes meet, there's a moment of pure magic...and then her bus drives away.





Certain they're fated to find each other again, Laurie spends a year scanning every bus stop and cafe in London for him. But she doesn't find him, not when it matters anyway. Instead they "reunite" at a Christmas party, when her best friend Sarah giddily introduces her new boyfriend to Laurie. It's Jack, the man from the bus. It would be.





What follows for Laurie, Sarah and Jack is ten years of friendship, heartbreak, missed opportunities, roads not taken, and destinies reconsidered.

One Day in December

is a joyous, heartwarming and immensely moving love story to escape into and a reminder that fate takes inexplicable turns along the route to happiness.
---
Have you read any of the books above? Are any of them on your TBR? I would love to know all of your thoughts in the comments down below. What are some of your favorite holiday romance novels? I am always looking for suggestions.
xoxo,