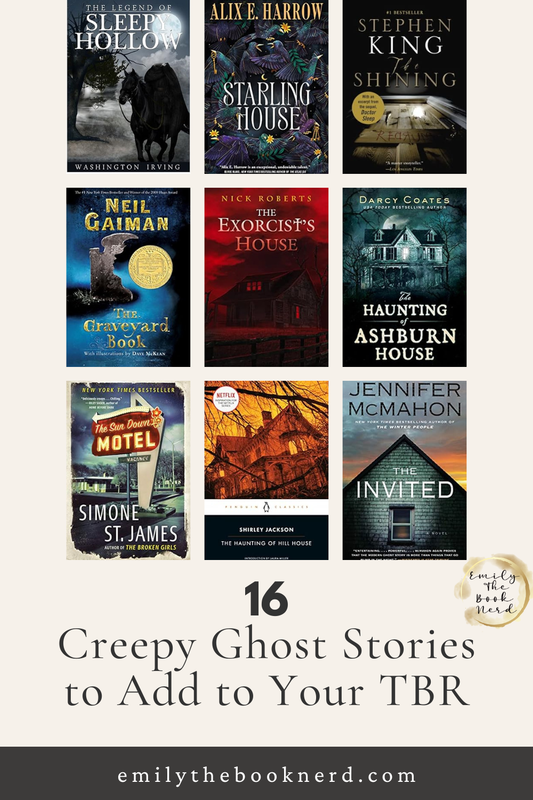 Halloween is vastly approaching and I love reading creepy ghost stories around Halloween and in the fall time. I thought I would share with you some novels involving creepy ghost stories that you can add to your fall TBR lists. Who doesn't love a good ghost story or haunted house?!
1. The Legend of Sleepy Hollow by Washington Irving
A breakout suspense novel from the award-winning author of The Haunting of Maddy Clare. Vermont, 1950. There's a place for the girls whom no one wants--the troublemakers, the illegitimate, the too smart for their own good. It's called Idlewild Hall. And in the small town where it's located, there are rumors that the boarding school is haunted. Four roommates bond over their whispered fears, their budding friendship blossoming--until one of them mysteriously disappears. . . . Vermont, 2014. As much as she's tried, journalist Fiona Sheridan cannot stop revisiting the events surrounding her older sister's death. Twenty years ago, her body was found lying in the overgrown fields near the ruins of Idlewild Hall. And though her sister's boyfriend was tried and convicted of murder, Fiona can't shake the suspicion that something was never right about the case. When Fiona discovers that Idlewild Hall is being restored by an anonymous benefactor, she decides to write a story about it. But a shocking discovery during the renovations will link the loss of her sister to secrets that were meant to stay hidden in the past--and a voice that won't be silenced. . . .
Upstate NY, 1982. Every small town like Fell, New York, has a place like the Sun Down Motel. Some customers are from out of town, passing through on their way to someplace better. Some are locals, trying to hide their secrets. Viv Delaney works as the night clerk to pay for her move to New York City. But something isn't right at the Sun Down, and before long she's determined to uncover all of the secrets hidden…
Everyone knows about Ashburn House. They whisper its old owner went mad, and restless ghosts still walk the halls. They say it's the dwelling place of something cruel and sinister. But when Adrienne―desperate and in need of a place to stay―inherits the crumbling old mansion, she only sees it as a lifeline... until darkness falls. Strange messages are etched into the walls. Furniture moves when she leaves the room. There's something here―something powerful, angry, and hell-bent on shaking things up. Worse, a grave hidden in the depths of the forest hints at a terrible, unforgivable secret. Eventually Adrienne can't ignore that a twisted thing lives in the house, its hungry eyes ever-watchful. Chasing the threads of a decades-old mystery, it isn't long before she realizes she's become prey to something deeply unnatural and intensely resentful. She has no idea how to escape. She has no idea how to survive. Only one thing is Ashburn's dead are not at rest.
'It came from the woods. Most strange things do.' Five mysterious, spine-tingling stories follow journeys into (and out of?) the eerie abyss. These chilling tales spring from the macabre imagination of acclaimed and award-winning comic creator Emily Carroll. Come take a walk in the woods and see what awaits you there...
Sarah Piper's lonely, threadbare existence changes when her temporary agency sends her to assist a ghost hunter. Alistair Gellis--rich, handsome, scarred by World War I, and obsessed with ghosts--has been summoned to investigate the spirit of nineteen-year-old maid Maddy Clare, who is haunting the barn where she committed suicide. Since Maddy hated men in life, it is Sarah's task to confront her in death. Soon Sarah is caught up in a desperate struggle, for Maddy's ghost is real; she's angry; and she has powers that defy all reason. Can Sarah and Alistair's assistant, the rough, unsettling Matthew Ryder, discover who Maddy was, where she came from, and what is driving her desire for vengeance before she destroys them all?
It is the story of four seekers who arrive at a notoriously unfriendly pile called Hill House: Dr. Montague, an occult scholar looking for solid evidence of a "haunting"; Theodora, the lighthearted assistant; Eleanor, a friendless, fragile young woman well acquainted with poltergeists; and Luke, the future heir of Hill House. At first, their stay seems destined to be merely a spooky encounter with inexplicable phenomena. But Hill House is gathering its powers—and soon it will choose one of them to make its own.
West Hall, Vermont, has always been a town of strange disappearances and old legends. The most mysterious is that of Sara Harrison Shea, who, in 1908, was found dead in the field behind her house just months after the tragic death of her daughter. Now, in present day, nineteen-year-old Ruthie lives in Sara's farmhouse with her mother, Alice, and her younger sister. Alice has always insisted that they live off the grid, a decision that has weighty consequences when Ruthie wakes up one morning to find that Alice has vanished. In her search for clues, she is startled to find a copy of Sara Harrison Shea's diary hidden beneath the floorboards of her mother's bedroom. As Ruthie gets sucked into the historical mystery, she discovers that she's not the only person looking for someone that they've lost. But she may be the only one who can stop history from repeating itself.
A chilling ghost story with a twist: the New York Times bestselling author of The Winter People returns to the woods of Vermont to tell the story of a husband and wife who don't simply move into a haunted house--they build one . . . In a quest for a simpler life, Helen and Nate have abandoned the comforts of suburbia to take up residence on forty-four acres of rural land where they will begin the ultimate, aspirational do-it-yourself project: building the house of their dreams. When they discover that this beautiful property has a dark and violent past, Helen, a former history teacher, becomes consumed by the local legend of Hattie Breckenridge, a woman who lived and died there a century ago. With her passion for artifacts, Helen finds special materials to incorporate into the house--a beam from an old schoolroom, bricks from a mill, a mantel from a farmhouse--objects that draw her deeper into the story of Hattie and her descendants, three generations of Breckenridge women, each of whom died suspiciously. As the building project progresses, the house will become a place of menace and unfinished business: a new home, now haunted, that beckons its owners and their neighbors toward unimaginable danger.
Have you read any of the titles above?
xoxo,