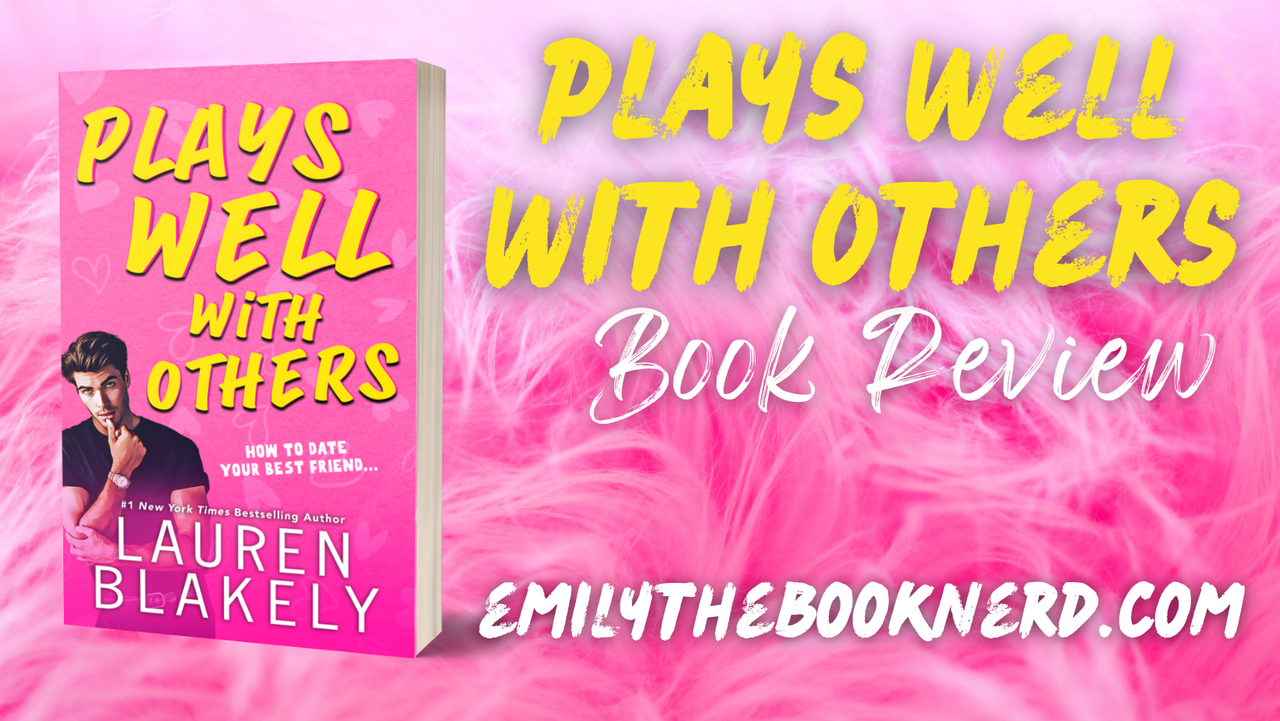 Plays Well With Others
Author: Lauren Blakely
Genre: Romance
Published: July 12, 2023
Pages: 422
My Rating:

★

★

★

★
Am I fake dating my best friend? Hear me out...

So I'm throwing myself a breakup party, a glittery fete where I envision I'll lift a glass and celebrate being free and single again.

What I actually do: Drink too much champagne and blurt out to my best guy friend that I'd really like to get back on the horse.

But what I truly don't expect is Carter's answer - he volunteers as tribute.

With his sinful brown eyes and too-good-to-be-true body it'd be no hardship for me to say yes, though I certainly don't want him to feel obligated to, um, service me, just because my failed, loveless marriage was a s-e-x desert.

But since the charming and confident pro football star owes five public dates to his dating app sponsor, we make a deal to help each other out.

Pretty soon, our public how to date lessons turn into, ahem, very private ones. And I'm a star student, graduating quickly from flirty banter and lingering looks to toe-curling, sheet-grabbing, mind-blowing hours of physical education.

The problem? Turns out learning to date again feels a lot like the real thing. Can our friendship withstand all these late-night bedroom sessions?

Especially since I'm suddenly longing for my best friend and there's nothing fake about my feelings...
A girl falls for her best friend.
I am so blessed to be on Lauren Blakely's review team. I get access to all of her books prior to them coming out for honest reviews in exchange. Lauren is one of my favorite authors and there's nothing she has written that I will not read. I have loved every book by her that I have read so far. All of her books that I have read are just sooooo good. Plays Well With Others is no exception. I absolutely adored this book and her latest release!
I had such a good time reading this book. There were many times while reading this book that I was smiling or blushing while reading. This book has the best spicey scenes written to date by Lauren. I don't want to give anything away but the shower scene she wrote is one of the best I have ever read when it comes to steamy hot scenes.
I loved these main characters and the ADHD representation. This is an amazing friend to lover's book. Friends to lovers is one of my favorite book tropes and this one did not disappoint. I normally do not like sport romances but this one I enjoyed probably because there weren't as much sports in the actual book/story. This book had fake dating as well which left for an intriguing read that kept me entirely entertained.
This book was so hot and that spatula spanking scene had me on my toes and kept me all kinds of blushing. Lauren, you write amazing romances in all the best ways. The tension was nothing short of perfection. Carter is a new favorite book boyfriend you will absolutely love!
A #1 New York Times Bestselling, #1 Wall Street Journal Bestselling, and #1 Audible

Bestselling author, Lauren Blakely is known for her contemporary romance style that's sexy, sweet, and witty. She also writes USA Today bestselling LGBTQ romance. With fourteen New York Times bestsellers, her titles have appeared on the New York Times, USA Today, and Wall Street Journal Bestseller Lists more than 100 times, with more than 55 titles on the USA Today Bestsellers list alone. She's sold more than 4.5 million books. A Brown University graduate, Lauren likes dogs, cake, and show tunes and is the vegetarian at your dinner party.