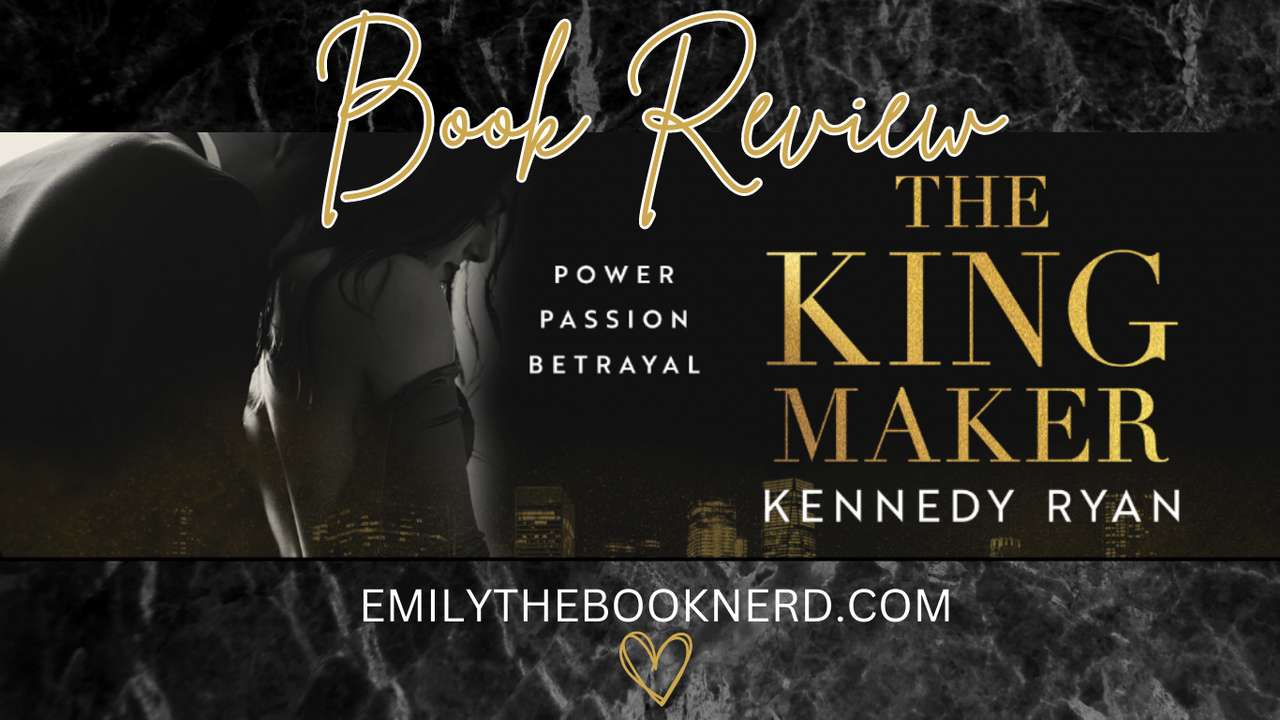 The Kingmaker
Author: Kennedy Ryan
Genre: Romance
Published: October 25, 2019
Pages: 344
My Rating:

★

★

★

★
Raised to rule, bred to lead and weaned on a diet of ruthless ambition. In a world of haves and have nots, my family has it all, and I want nothing to do with it.

My path takes me far from home and paints me as the black sheep. At odds with my father, I'm determined to build my own empire. I have rules, but Lennix Hunter is the exception to every one of them. From the moment we meet, something sparks between us. But my family stole from hers and my father is the man she hates most. I lied to have her, and would do anything to keep her. Though she tries to hate me, too, the inexorable pull between us will not be denied.

And neither will I.
A virgin can't get over the guy she gave her virginity to.
This was my first Kennedy Ryan novel and I was happily surprised at how much I liked this book. It was spicy in all of the best ways. Plus, this book was so much more than just your average spicy romance it had a lot of substance to it, and reading the novel kept me highly engaged and wanting to know what was going to happen to our two main characters.
The novel had a lot of heart to it and made me think a lot about life on the reservation for Native Americans and how as a society we have made those people assimilate to our customs. It was such a powerful romance read that many times while reading the story, I was blown away by how beautiful the writing style was and the deeper meaning behind the novel.
While a virgin falling in love with the main hero trope isn't one of my favorites in this novel it just worked for me. I cared deeply about the main characters and was rooting for them to get together the whole entire novel.
The only downside is the slow burn between the two of them and that it took them over ten years to finally admit their true feelings for one another. The diversity in the novel was nothing short of beautiful and I even loved the parts that were set in my state of Arizona.
The Kingmaker was one powerful read and I plan on continuing to read the other books in the series as well as Ryan's other works because I loved her writing so much. This book gave me hope and opened my eyes to a completely new and beautiful culture/heritage. That ending and cliffhanger just about ended me and punched me right in the gut. AN AMAZING READ!
A RITA® Award Winner and Top 25 Amazon Bestseller, Kennedy Ryan writes for women from all walks of life, empowering them and placing them firmly at the center of each story and in charge of their own destinies. Her heroes respect, cherish and lose their minds for the women who capture their hearts.

She is a wife to her lifetime lover and mother to an extraordinary son. She has always leveraged her journalism background to write for charity and non-profit organizations, but enjoys writing to raise Autism awareness most. A contributor for Modern Mom Magazine, Kennedy's writings have appeared in Chicken Soup for the Soul, USA Today, and many others. The founder and executive director of a foundation serving Atlanta families living with Autism, she has appeared on Headline News, Montel Williams, NPR, and other media outlets as an advocate for families living with autism.