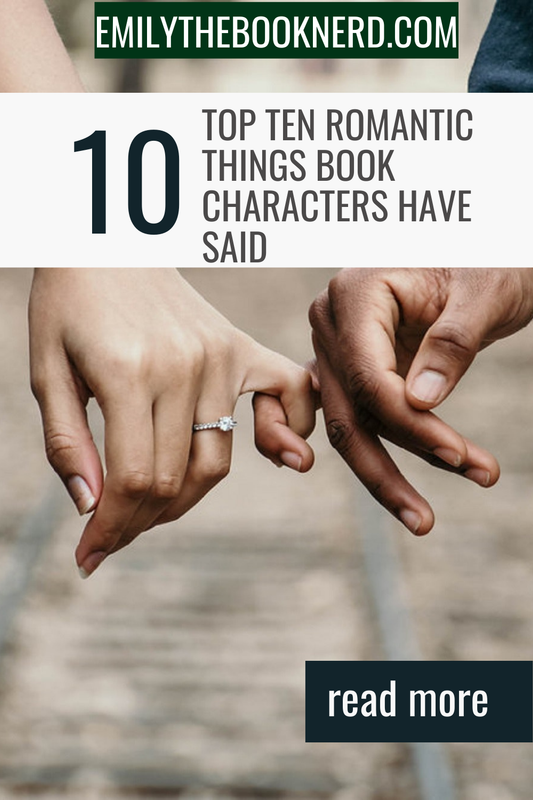 Welcome to another TTT! This week's topic is "favorite 'awwww' moments in books". Interpret this however you'd like. Can you think of times in books when characters have said/done something sweet, gone through a touching experience, had something work out just right in their life, gotten a cute new pet, had a baby or been touched by something someone else did for them? I am a sucker for everything romance. So, this TTT is right up my alley. Plus, I love bookish quotes in general. Here are some of my favorite swoon-worthy book romance quotes.
1. "We accept the love we think we deserve."
― The Perks of Being a Wallflower, Stephen Chbosky
2.

"I am nothing special, of this I am sure. I am a common man with common thoughts and I've led a common life. There are no monuments dedicated to me and my name will soon be forgotten, but I've loved another with all my heart and soul, and to me, this has always been enough."
3. "If you live to be a hundred, I want to live to be a hundred minus one day, so I never have to live without you."
4.
"I fell in love the way you fall asleep: slowly, and then all at once."
- The Fault in Our Stars, John Greene
—
Harry Potter and the Deathly Hallows,
J.K. Rowling
6.

"I was about half in love with her by the time we sat down. That's the thing about girls. Every time they do something pretty…you fall half in love with them, and then you never know where the hell you are."
7.
"I have a theory. Hating someone feels disturbingly similar to being in love with them. I've had a lot of time to compare love and hate, and these are my observations.
Love and hate are visceral. Your stomach twists at the thought of that person. The heart in your chest beats heavy and bright, nearly visible through your flesh and clothes. Your appetite and sleep are shredded. Every interaction spikes your blood with adrenaline, and you're in the brink of fight or flight. Your body is barely under your control. You're consumed, and it scares you.
Both love and hate are mirror versions of the same game - and you have to win. Why? Your heart and your ego. Trust me, I should know."
―
The Hating Game,
Sally Thorne
8.
"I never stopped loving you. There may have been times I tried to hate you, but even then, I never stopped loving you."
―
RoomHate, Penelope Ward
9.
"He wants me to read, with him, in his bed. And what better way to pass a day in stormy weather than curling up with a gorgeous man and getting lost in the words."
―
Flock,
Kate Stewart
10.

"If I had a heart to give, it would be all yours. Free of cost."
―
The Fine Print,
Lauren Asher
Did I include some of your favorite romance book quotes above?
XOXO,