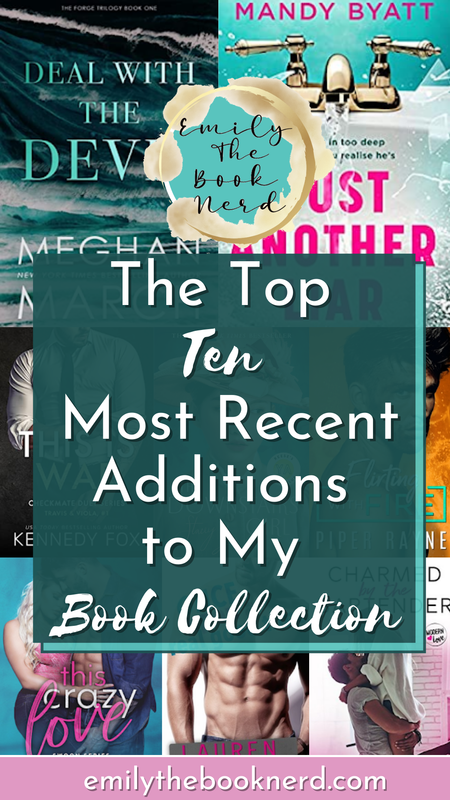 I haven't done a Top Ten Tuesday in a hot minute. I always love sharing books that I have acquired and this topic seemed like a lot of fun... So, I thought I would do it and share with you all the recent book purchases I have had. Here are the last ten books that I have acquired.
1. Charmed by the Bartender by Piper Rayne
Who knew sleeping with the enemy could be this fun? Was the one night stand a good idea? Well, no. Probably not in retrospect. In my defense I had just moved back into my grandparent's house, I'd lost my dream job, and a guy on Tinder had stood me up. It was like life had suddenly stamped 'LOSER' on my forehead. So when the guy behind the bar started giving me THE look…you know, the one that promised I'd be screaming his name into the wee hours of the morning? When that guy also has the perfect amount of scruff on his chiseled chin, biceps bulging out of his t-shirt, and a cocky grin you knew he'd earned in the sack…when he gives you that look, you don't bother to figure out what your six degrees of separation are. You jump on that horse and ride it! Pun fully and completely intended. And accurate by the way. I fully admit to feeling sorry for myself and acting impulsively, but by the time I'd figured out WHO the bartender was, I was already falling for him.
2. Once Upon a Real Good Time by Lauren Blakely
That smoking hot one-night stand with a former rock star? Turns out he's my son's new music teacher. Oops. But I didn't know that the night I met Campbell. All I knew was he played my body the same way he played a guitar — like he owned it. My libido is still high-fiving me after being self-served for too many years, and we're both ready for another night or two of fun, especially since we don't just have chemistry in bed — we connect over everything. That is, until I learn he's the man who'll be coming to my house twice a week to teach my son — the best music lessons money can buy. Time to turn down the volume on our shenanigans. Only that's easier said than done.

***

I can rock a guitar solo in front of thousands, I can write chart-topping tunes, and I can absolutely stop thinking about my student's mother naked. After all, I'm a single parent too, and I know what it's like to put your kid first. That's what I do every damn day. Trouble is, now that I've had Mackenzie, it's hard — and I do mean hard — to stop wanting her. Harder too when I get to know her, and learn she's an awesome mom, a great friend, and, oh yeah, she happens to get along perfectly with my daughter. All we have to do is set some rules. No dating, no nookie when the kids are around, and no one gets hurt. It's all working out beautifully. Until we start breaking the rules, one by one. Making music with her in the bedroom is easy. But will we be more than just a real good time when the music stops?
3. Haunting the Deep by Adriana Mather
The Titanic meets the delicious horror of Ransom Riggs and the sass of Mean Girls in this follow-up to the #1 New York Times bestseller How to Hang a Witch, in which a contemporary teen finds herself a passenger on the famous "ship of dreams"—a story made all the more fascinating because the author's own relatives survived the doomed voyage. Samantha Mather knew her family's connection to the infamous Salem Witch Trials might pose obstacles to an active social life. But having survived one curse, she never thought she'd find herself at the center of a new one. This time, Sam is having recurring dreams about the Titanic . . . where she's been walking the deck with first-class passengers, like her aunt and uncle. Meanwhile, in Sam's waking life, strange missives from the Titanic have been finding their way to her, along with haunting visions of people who went down with the ship. Ultimately, Sam and the Descendants, along with some help from heartthrob Elijah, must unravel who is behind the spell that is drawing her ever further into the dream ship . . . and closer to sharing the same grim fate as its ghostly passengers.
4. This Crazy Love by J.H. Croix
Rule #1: Do not fall for your brother's best friend.
Rule # 2: Absolutely do not fall for your brother's best friend.
Rule # 3: Don't break the rules.

Shay

Jackson Stone is hot—like burn-down-buildings kind of hot. He's also my brother's best friend, and the memory of one kiss with him years ago still might get to me. Maybe. But, I am not looking for a second chance. When I return to the small town of Stolen Hearts Valley, my life is a hot mess. I'm a few bucks shy of broke with nowhere else to go. My heart's battered and bruised, and when it comes to romance, the door is nailed shut. But Jackson's the kind of man women ruin panties over. Oh, and he's my roommate. Talk about too close for comfort. When I'm at my most vulnerable, he pulls that whole knight-in-shining-armor thing. What can I say? He's d*mn near impossible to resist.

Jackson

Shay Martin is my best friend's little sister. And she's so hot she nearly sets me on fire. She's a walking complication, and I don't do complications. But I can't seem to stay away from her. It doesn't help that her bedroom is across the hall from mine. Every look, every kiss, every touch nearly brings me to my knees. I can't keep my balance, much less think. Before I know it, I'll do anything for her. Complications be d*mned.
5. Flirting with Fire by Piper Rayne
Everyone knows that if you play with fire you'll end up getting burned…What happens when you attend a first responder's bachelor auction with your best friends? Well, if your name is Madison Kelly like me, your friends end up bidding on a date for you with your high school crush. That's right. Even back when I was 'Fatty Maddie' to all my classmates, I had eyes for the quarterback of our football team. Not like I was the only one.

Mauro Bianco may fight fires for a living, but he still sets my heart ablaze. One look at the rugged, muscular man he's turned into and I want to slide down his pole. One date. That's all I'm committed to. A few hours and I can tuck him back into that tattered old shoebox in my closet. As always, the universe has other plans. I never would've predicted that in a matter of days he'd turn from my dream guy into my business partner — and that's when things got interesting.
She hates him. He loves getting under her skin. Travis King is the worst kind of a**hole. He taunts me for being a good girl and mocks my high standards. He's cruel, crass, and has enough confidence to last two lifetimes. And I hate him.

It wouldn't matter so much if he were avoidable.
But considering he's my older brother's best friend and roommate, I see him more than I'd ever want to. His sculpted abs and gorgeous eyes are wasted on such an arrogant man, which makes me hate him even more. Even though I've had a crush on him since I was ten, the feelings weren't mutual and he's made that very clear. He's always loved getting under my skin and one night against my better judgment, I let him in my bed. I've succumbed to his manw**re ways, but that doesn't change a thing. Because the King is about to get played at his own game—and lose. Checkmate, King.

This is book 1 in the Travis & Viola duet and must be read first. Suggested for mature readers only.
7. The Other Family by Wendy Corsi Staub
New York Times bestselling author Wendy Corsi Staub makes her trade paperback debut with a fast-paced thriller in the vein of Lisa Jewell's The Family Upstairs and Megan Collins' The Winter Sister. Here, a family making a fresh start moves into a house which was the site of an unsolved triple homicide--and are watched by an unknown person... The watcher sees who you are...and knows what you did.

It's the perfect home for the perfect family: pretty Nora Howell, her handsome husband, their two teenage daughters, and lovable dog. As California transplants making a fresh start in Brooklyn, they expected to live in a shoebox, but the brownstone has a huge kitchen, lots of light, and a backyard. The catch: its previous residents were victims of a grisly triple homicide that remains unsolved. Soon, peculiar things begin happening. The pug is nosing around like a bloodhound. Nora unearths a long-hidden rusty box in the flowerbed. Oldest daughter Stacey, obsessed with the family murdered in their house, pokes into the bloody past and becomes convinced that a stranger is watching the house. Watching them. She's right. But one of the Howells will recognize his face. Because one of them has a secret that will blindside the others with a truth that lies shockingly close to home--and to this one's terrifying history.
8. Just Another Liar by Mandy Byatt
He says he loves you. He says you're the only one. He's just another liar…


Three women love him. But he's lying to them all.

Denise, Petra, and Anna all have their reasons for being alone.
But they're not ready to share them.
David is the answer to all their problems.
But they've only met him online.
Each woman wants her happy ending.
But only one of them can get it.
One of these women will end up dead.
But which one? And will you ever work out who killed them?
From the founding member of We Need Diverse Books comes a powerful novel about identity, betrayal, and the meaning of family.

By day, seventeen-year-old Jo Kuan works as a lady's maid for the cruel daughter of one of the wealthiest men in Atlanta. But by night, Jo moonlights as the pseudonymous author of a newspaper advice column for the genteel Southern lady, "Dear Miss Sweetie." When her column becomes wildly popular, she uses the power of the pen to address some of society's ills, but she's not prepared for the backlash that follows when her column challenges fixed ideas about race and gender. While her opponents clamor to uncover the secret identity of Miss Sweetie, a mysterious letter sets Jo off on a search for her own past and the parents who abandoned her as a baby. But when her efforts put her in the crosshairs of Atlanta's most notorious criminal, Jo must decide whether she, a girl used to living in the shadows, is ready to step into the light. With prose that is witty, insightful, and at times heartbreaking, Stacey Lee masterfully crafts an extraordinary social drama set in the New South.
10. Deal with the Devil by Meghan March
"You can put that man in a suit, but he'll never be tame."
One look at Jericho Forge and I knew the rumors were true. He was a predator, and he had set his sights on me. I knew better than to bet more than I could afford to lose that night. I knew better than to bet myself. But desperation leads to bad decisions, and I thought there was no way I could lose. I was wrong. Now I have no choice but to make a deal with the devil.
Have you read any of the books above?
Are any of them on your personal tbr?
What were the last books that you bought or acquired?
xoxo,