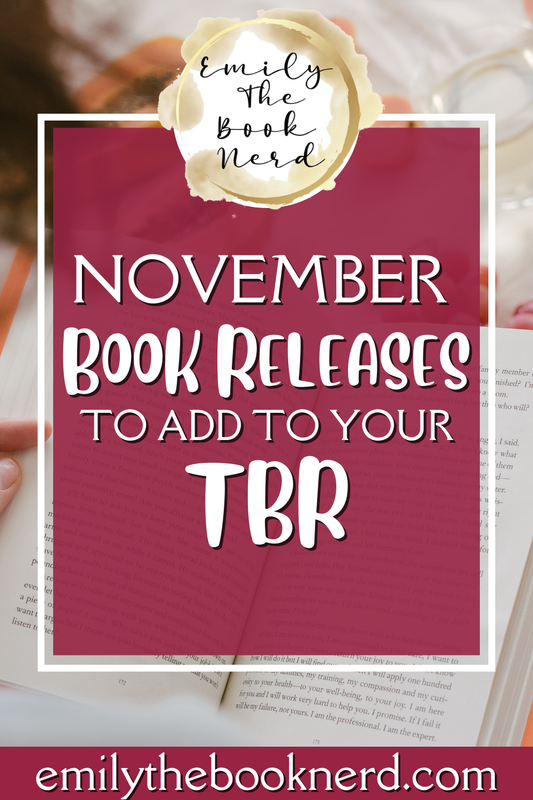 I love book releases! Lately, there have been a couple books on my radar that come out in November that I have been adding to my TBR and I thought I would share them with all of my readers. I love helping authors get the word out about their latest and upcoming book releases.
Here are books coming out in November that I have added to my to be read list:
1. Gilded by Marissa Meyer (November 2, 2021)
Marissa Meyer, #1 New York Times-bestselling author, returns to the fairytale world with this haunting retelling of Rumpelstiltskin.

Long ago cursed by the god of lies, a poor miller's daughter has developed a talent for spinning stories that are fantastical and spellbinding and entirely untrue.

Or so everyone believes.





When one of Serilda's outlandish tales draws the attention of the sinister Erlking and his undead hunters, she finds herself swept away into a grim world where ghouls and phantoms prowl the earth and hollow-eyed ravens track her every move. The king orders Serilda to complete the impossible task of spinning straw into gold, or be killed for telling falsehoods. In her desperation, Serilda unwittingly summons a mysterious boy to her aid. He agrees to help her… for a price. Love isn't meant to be part of the bargain.





Soon Serilda realizes that there is more than one secret hidden in the castle walls, including an ancient curse that must be broken if she hopes to end the tyranny of the king and his wild hunt forever.
2. Hear It in a Love Song by Tracey Gravis Graves (November 2, 2021)
Layla Hilding is thirty-five and recently divorced. Struggling to break free from the past—her glory days as the lead singer in a band and a ten-year marriage to a man who never put her first—Layla's newly found independence feels a lot like loneliness.

Then there's Josh, the single dad whose daughter attends the elementary school where Layla teaches music. Recently separated, he's still processing the end of his twenty-year marriage to his high school sweetheart. He chats with Layla every morning at school and finds himself thinking about her more and more.





Equally cautious and confused about dating in a world that favors apps over meeting organically, Layla and Josh decide to be friends with the potential for something more. Sounds sensible and way too simple—but when two people are on the rebound, is it heartbreak or happiness that's a love song away?



From the bestselling author of The Girl He Used to Know comes a love song of a story about starting over and second chances.
3. You'll Be the Death of Me by Karen M. McManus (November 30, 2021)
From the author of One of Us Is Lying comes a brand-new pulse-pounding thriller. It's Ferris Bueller's Day Off with murder when three old friends relive an epic ditch day, and it goes horribly--and fatally--wrong.

Ivy, Mateo, and Cal used to be close. Now all they have in common is Carlton High and the beginning of a very bad day.

Type A Ivy lost a student council election to the class clown, and now she has to face the school, humiliated. Heartthrob Mateo is burned out--he's been working two jobs since his family's business failed. And outsider Cal just got stood up . . . again.





So when Cal pulls into campus late for class and runs into Ivy and Mateo, it seems like the perfect opportunity to turn a bad day around. They'll ditch and go into the city. Just the three of them, like old times. Except they've barely left the parking lot before they run out of things to say . . .





. . . until they spot another Carlton High student skipping school--and follow him to the scene of his own murder. In one chance move, their day turns from dull to deadly. And it's about to get worse.

It turns out Ivy, Mateo, and Cal still have some things in common. They all have a connection to the dead kid. And they're all hiding something.

Now they're all wondering--could it be that their chance reconnection wasn't by chance after all?
4. Everything We Didn't Say by Nicole Baart (November 2, 2021)
From the author of Little Broken Things, a

"

race-to-the-finish family drama" (People) following

a mother who must confront the dark summer that changed her life forever in order to reclaim the daughter she left behind.





Juniper Baker had just graduated from high school and was deep in the throes of a summer romance when Cal and Beth Murphy, a childless couple who lived on a neighboring farm, were brutally murdered. When her younger brother became the prime suspect, June's world collapsed and everything she loved that summer fell away. She left, promising never to return to tiny Jericho, Iowa.

Until now. Officially, she's back in town to help an ill friend manage the local library. But really, she's returned to repair her relationship with her teenage daughter, who's been raised by Juniper's mother and stepfather since birth—and to solve the infamous Murphy murders once and for all. She knows the key to both lies in the darkest secret of that long-ago summer night, one that's haunted her for nearly fifteen years.





As history begins to repeat itself and a dogged local true crime podcaster starts delving into the murders, the race to the truth puts past and present on a dangerous collision course. Juniper lands back in an all-too-familiar place with the answers to everything finally in her sights, but this time it's her daughter's life that hangs in the balance. Will revealing what really happened mean a fresh start? Or will the truth destroy everything Juniper loves for a second time? Baart once again brilliantly weaves mystery into family drama in this expertly-crafted novel for fans of Lisa Jewell and Megan Miranda.
5. All Her Little Secrets by Wanda M. Morris (November 2, 2021)
In this fast-paced thriller, Wanda M. Morris crafts a twisty mystery about a black lawyer who gets in over her head after the sudden death of her boss. A debut perfect for fans of Attica Locke, Alyssa Cole, Harlan Coben, and Celeste Ng, with shades of How to Get Away with Murder and John Grisham's The Firm. Everyone has something to hide...



Ellice Littlejohn seemingly has it all: an Ivy League law degree, a well-paying job as a corporate attorney in midtown Atlanta, great friends, and a "for fun" relationship with a rich, charming executive—her white boss, Michael.

But everything changes one cold January morning when Ellice goes to meet Michael… and finds him dead with a gunshot to his head.

And then she walks away like nothing has happened. Why? Ellice has been keeping a cache of dark secrets, including a small-town past and a kid brother who's spent time on the other side of the law. She can't be thrust into the spotlight—

again

.





But instead of grieving this tragedy, people are gossiping, the police are getting suspicious, and Ellice, the company's lone black attorney, is promoted to replace Michael. While the opportunity is a dream-come-true, Ellice just can't shake the feeling that something is off.

When she uncovers shady dealings inside the company, Ellice is trapped in an impossible ethical and moral dilemma. Suddenly, Ellice's past and present lives collide as she launches into a pulse-pounding race to protect the brother she tried to save years ago and stop a conspiracy far more sinister than she could have ever imagined…
6. The Sisters Sweet by Elizabeth Weiss (November 30, 2021)
A young woman in a vaudeville sister act must learn to forge her own path after her twin runs away to Hollywood in this richly immersive debut about love, family, and friendship. Leaving was my sister's choice. I would have to make my own.

All Harriet Szász has ever known is life onstage with her sister, Josie. As "The Sisters Sweet," they pose as conjoined twins in a vaudeville act conceived of by their ambitious parents, who were once themselves theatrical stars. But after Josie exposes the family's fraud and runs away to Hollywood, Harriet must learn to live out of the spotlight—and her sister's shadow. Striving to keep her struggling family afloat, she molds herself into the perfect daughter. As Josie's star rises in California, the Szászes fall on hard times and Harriet begins to form her first relationships outside her family. She must decide whether to honor her mother, her father, or the self she's only beginning to get to know.

Full of long-simmering tensions, buried secrets, questionable saviors, and broken promises, this is a story about how much we are beholden to others and what we owe ourselves. Layered and intimate, The Sisters Sweet heralds the arrival of an accomplished new voice in fiction.