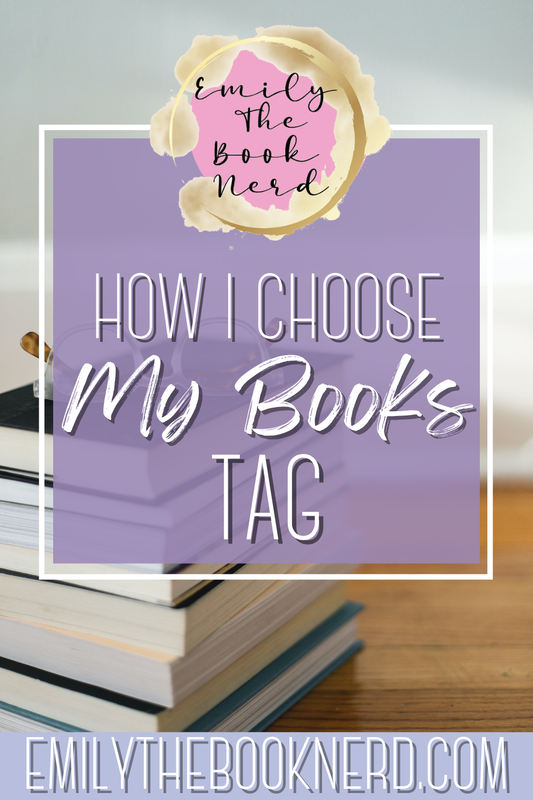 Choosing what to read next isn't always the easiest task. It can be super daunting especially when coming off of a 5 star read or a book you absolutely loved. For me, I am always afraid to pick up a book after a book I enjoyed or liked because of the fear of not liking the next book, and then it results in putting me into a reading slump.
Reading slumps are bad. Especially when you are a blogger and review books. At times, I have books that I need to get done in order to review them for my blog. I try not to put pressure on myself anymore to read in general because I have found that when I do it always results in a slump.
Every single reader has their own process for selecting books to read. I thought I would share with you some of my process of how I select what to read by doing a tag. I haven't done a tag in a long time and this one caught my eye.
I originally found this tag via @boundtowriting
I don't know who originally created this tag but if you do please let me know. I would love to give them some credit.
1. Find a book on your bookshelves with a blue cover. What made you want to pick up this book?
The Last Mrs. Parrish by Liv Constantine. I picked this title up because I have been trying to make my way through all of Reese Witherspoon's Book Of The Month Picks. Reese and I have very similar reading tastes and I have enjoyed most of her book picks so far. Plus, she is my favorite actress. My favorite actress + has a book club = score!!!
2. Think of a book you didn't expect to enjoy, but did. Why did you read it in the first place?
Of Mice and Men by John Steinbeck. Most of the books that I didn't expect to enjoy I either had to read in high school or college because they were required reads for language arts. Most of these picks are in the classics genre and made me realize that books become classics for a reason. I loved the story in Of Mice and Men. It tugged at my heart.
3. Stand in front of your bookshelf with your eyes closed and pick a book at random. How did you discover this book?
A Girl Like That by Tanaz Bhathena. I am pretty sure that I originally discovered this title way back when on Booktube and then I added it to my TBR on Goodreads. I found myself a copy of it recently at my local Goodwill for only $1!
4. Pick a book that someone personally recommended to you. What did you think of it?
The Glass Castle by Jeannette Walls. My stepmom gave me this book to read originally and it is now one of my favorite books/nonfiction books ever. I now recommend it to other people all the time.
5. Pick a book up that you discovered through booktube/bookstagram/book blogs. Did it live up to the hype?
Love and Other Words by Christina Lauren. This book totally lived up to its hype because it is now one of my favorite books ever! I laughed and cried while reading this book. It takes a lot nowadays to get me to cry from a book and I cried like crazy while reading this novel. Most books that I read these days/find come from Goodreads, Booktube, Bookstagram, and blogging.
6. Find a book on your shelves with a one-word title. What drew you to this book?
Roommate by Sarina Bowen. I am a sucker for all things romance. Plus, look at the hot guy on the cover! I love the falling for your roommate trope in romance novels. I still have yet to read this novel.
7. What book did you discover through a film/TV adaptation?
Silver Linings Playbook by Matthew Quick. I saw the movie first and found out that it was a book and immediately went to get the book and read it. I adore both versions.
8. Think of your all-time favorite book(s). When did you read these and why did you pick them up in the first place?
I have a lot of favorite books so that list would be way too long. Instead, I will just list three of them.
To Kill a Mockingbird by Harper Lee. The first time I read the novel was in the 8th grade and my life changed. This is my all-time favorite book hands down. It's the only book that I have read on my shelves countless times and never get tired of it. I also laughed and cried while reading this book. Originally, this was not assigned to me through school like most people. My stepmom gave it to me to read for the first time in the 8th grade. When I finally got to high school it was assigned in the 9th grade and by that point, I used the assignment as an excuse to read it again for the second time....
Roomhate by Penelope Ward. Penelope Ward is now one of my favorite authors. I love her romance books and they are steamy in all the best ways. I first stumbled upon her books from the library with Roomhate and I became obsessed. She is now one of my auto-buy authors and I will read anything she writes. I found her novels in 2020 and thank god that I did. She then led me to Vi Keeland another favorite author of mine which she cowrites a lot of books with.
Tuck Everlasting by Natalie Babbitt. I first read Tuck Everlasting back in the 4th grade and was immediately engrossed in the story. It has stuck with me till this day and poses the question, "If you could live forever would you?" It made me think a lot about life/death and the importance of love and family. Plus, it has one of my favorite book quotes of all time, "Don't be afraid of death; be afraid of an unlived life. You don't have to live forever, you just have to live." Plus, the movie is great too.
How do you choose what books to read next?
Have you read any of the titles that I mentioned above and what did you think of them?
As always, bloggers, feel free to do this tag as well and let me know in the comments down below that you did.. because I love reading other people's answers to tags.
xoxo,