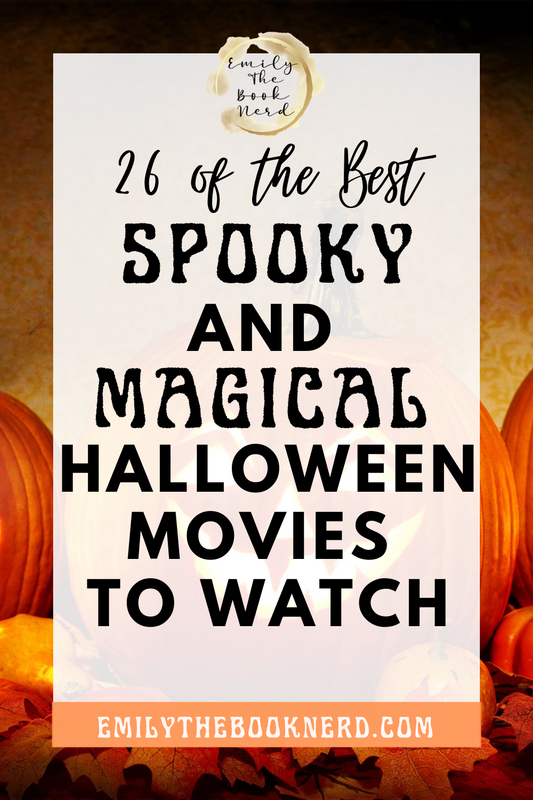 I love the Fall and everything that comes with it... especially Halloween! I love the cooler weather and the start of wearing jackets, jeans, boots, and hoodies. Lately, I have been watching some great Halloween/spooky-themed movies to get me into the fall and Halloween mood. So I thought I would share some of my favorites that span from my childhood to adulthood years. Some of these titles I will even make a point to watch each and every year because I love them that much. I have a great mix of movies down below that span from many different generations/years.
I have even more spookyish/Halloween movie recommendations than this but I will save those suggestions for a later post... because I don't want this list to get super long.
Here's my list to get you in the Halloween/Spooky mood:
1. Halloweentown (1998)
Hands down one of my favorite Halloween films of all time/from my childhood. It's a 90s classic.
Marnie and her kids get a big shock when they follow grandma home to Halloweentown - and find out they come from a family of witches. The town is the only place where supernatural beings can lead a `normal' life, but trouble is looming, and on her 13th birthday Marnie not only finds she is a witch,

but that she and her family are involved in a fight against the evil that is threatening to take over the world.
2. Halloweentown 2 Kalabar's Revenge (2001)
One of the only films where the second movie is just as good as the first if not even better! This movie still makes me smile and laugh to this day. I loved it as a kid and still do now.
An angry warlock has stolen a magic spell book and plans to turn everyone into whatever costume they're wearing at midnight on Halloween. It's a race against time to get the book back and save the humans from permanent horror.
3. Hocus Pocus (1993)
Another 90s classic and a film that I make a point to watch every single Halloween. It is pure perfection and a childhood favorite.
After moving to Salem, Mass., teenager Max Dennison (Omri Katz) explores an abandoned house with his sister Dani (Thora Birch) and their new friend, Allison (Vinessa Shaw). After dismissing a story Allison tells as superstitious, Max accidentally frees a coven of evil witches (Bette Midler, Sarah Je

ssica Parker, Kathy Najimy) who used to live in the house. Now, with the help of a magical cat, the kids must steal the witches' book of spells to stop them from becoming immortal.
4. Under Wraps (1997)
The first Disney Channel Original movie ever to air and it's such a classic. I guess they remade it this year... which I kinda refuse to watch because the original is so great and nostalgic for me. I feel like a remake would ruin it or be horrible. Plus, it's so classic 90s!
Three twelve-year-old children, Amy, Marshall, and Gilbert, encounter a mummy which has been undiscovered in three thousand years. While investigating, they accidentally revive him, but he must be returned to his resting place by midnight on Halloween or he will never find his long-lost love.
5. Practical Magic (1998)
I don't know any girl from the 90s that watched this movie as a kid and didn't want to be a witch. It's a classic and one of my favorite films that Sandra Bullock and Nicole Kidman have ever done. It shows the power of family and sisterhood. That love conquers all.
Sally (Sandra Bullock) and Gillian Owens (Nicole Kidman), born into a magical family, have mostly avoided witchcraft themselves. But when Gillian's vicious boyfriend, Jimmy Angelov (Goran Visnjic), dies unexpectedly, the Owens sisters give themselves a crash course in hard magic. With policeman Gary

Hallet (Aidan Quinn) growing suspicious, the girls struggle to resurrect Angelov -- and unwittingly inject his corpse with an evil spirit that threatens to end their family line.
6. The Conjuring (2013)
This movie scared the crap out of me. The fact that The Conjuring universe movies are based on true stories makes it that much more terrifying to know that they really happened.
In 1970, paranormal investigators and demonologists Lorraine (Vera Farmiga) and Ed (Patrick Wilson) Warren are summoned to the home of Carolyn (Lili Taylor) and Roger (Ron Livingston) Perron. The Perrons and their five daughters have recently moved into a secluded farmhouse, where a supernatural pre

sence has made itself known. Though the manifestations are relatively benign at first, events soon escalate in horrifying fashion, especially after the Warrens discover the house's macabre history.
7. The Conjuring 2
This is my favorite film in The Conjuring universe movies so far. I still need to see the newest one the third that just came out but this one scared me to pieces. It's so good.
In 1977, paranormal investigators Ed (Patrick Wilson) and Lorraine Warren come out of a self-imposed sabbatical to travel to Enfield, a borough in north London. There, they meet Peggy Hodgson, an overwhelmed single mother of four who tells the couple that something evil is in her home. Ed and Lorrai

ne believe her story when the youngest daughter starts to show signs of demonic possession. As the Warrens try to help the besieged girl, they become the next targets of the malicious spirit.
8. Insidious (2010)
I love this franchise and this film is so unique and scary! It is a must-watch if you want to be scared.
Parents (Patrick Wilson, Rose Byrne) take drastic measures when it seems their new home is haunted and their comatose son (Ty Simpkins) is possessed by a malevolent entity.
9. Insidious 2 (2013)
Even scarier and better than the first! You have to watch these films in order. However, this second film is my favorite so far in the franchise.
Soon after their showdown with evil spirits that possessed their son, the Lamberts, Renai (Rose Byrne) and Josh (Patrick Wilson), are ready for their lives to return to normal. However, something still is seriously off, especially with Josh, who -- unbeknown to Renai -- is possessed too. In order to

free Josh's soul and finally defeat the malevolent forces around them, Lorraine Lambert (Barbara Hershey) and her ghost-hunting friends investigate the past to save her family's future.
10. Don't Look Under The Bed (1999)
Such a creative Disney Channel Original Movie! I love this film even now as an adult. Another great nostalgic film from my childhood.
Spooky tale about a no-nonsense teenager who refuses to believe in the supernatural - until she is confronted with the bogeyman under her bed. When somebody starts to play destructive pranks in her neighborhood, the girl is framed as the culprit, but when she realizes that the root of her problem i

s the real bogeyman, she is forced to change her mind about the paranormal.
11. Tim Burton's The Nightmare Before Christmas (1993)
Gosh, another wonderful creative film from my childhood. The music is great too!
The film follows the misadventures of Jack Skellington, Halloweentown's beloved pumpkin king, who has become bored with the same annual routine of frightening people in the "real world." When Jack accidentally stumbles on Christmastown, all bright colors and warm spirits, he gets a new lease on life

-- he plots to bring Christmas under his control by kidnapping Santa Claus and taking over the role. But Jack soon discovers even the best-laid plans of mice and skeleton men can go seriously awry.
12. Edward Scissorhands (1990)
Another classic Tim Burton film and it is absolutely stunning! This is Johnny Depp at his best. I will always love this film.
13. Beetlejuice (1988)
What a classic movie and another Tim Burton favorite of mine! Nothing else is like it.
After Barbara (Geena Davis) and Adam Maitland (Alec Baldwin) die in a car accident, they find themselves stuck haunting their country residence, unable to leave the house. When the unbearable Deetzes (Catherine O'Hara, Jeffrey Jones) and teen daughter Lydia (Winona Ryder) buy the home, the Maitlands

attempt to scare them away without success. Their efforts attract Beetlejuice (Michael Keaton), a rambunctious spirit whose "help" quickly becomes dangerous for the Maitlands and innocent Lydia.
14. Donnie Darko (2001)
I love this movie. It is so unbelievably unique! The ending made my heart drop.
During the presidential election of 1988, a teenager named Donnie Darko sleepwalks out of his house one night and sees a giant, demonic-looking rabbit named Frank, who tells him the world will end in 28 days. When Donnie returns home, he finds that a jet engine has crashed into his bedroom. Is Donni

e living in a parallel universe, is he suffering from mental illness - or will the world really end?
15. IT (1990)
I prefer the original 90s version over today's newest version. Tim Curry as Pennywise The Clown is so much better! Plus, this original version is closer to the novel.
In 1960, seven pre-teen outcasts fight an evil demon that poses as a child-killing clown. Thirty years later, they reunite to stop the demon once and for all when it returns to their hometown.
16. Ghostbusters (1984)
An iconic 80s movie that is a must-watch that all people should see at least once.
After the members of a team of scientists (Harold Ramis, Dan Aykroyd, Bill Murray) lose their cushy positions at a university in New York City, they decide to become "ghostbusters" to wage a high-tech battle with the supernatural for money. They stumble upon a gateway to another dimension, a doorway

that will release evil upon the city. The Ghostbusters must now save New York from complete destruction.
17. The Haunted Mansion (2003)
A movie about the ride in Disneyland and it's so good. It will for sure get you in the mood for Halloween and all things spooky.
Workaholic real estate agent Jim Evers (Eddie Murphy) is accused by his wife, Sara (Marsha Thomason), of neglecting his son (Marc John Jefferies) and daughter (Aree Davis), so he takes the family on a vacation. Along the way, the family stops off at a sinister mansion that Jim has been asked to sell

, only to discover it's haunted by Master Gracey (Nathaniel Parker); his stern butler, Ramsley (Terence Stamp); and two other servants who need some help breaking a curse.
18. Casper Meets Wendy (1998)
Hilary Duff's first major role in a movie! I loved this movie as a kid.
After drawing the ire of a nefarious warlock named Desmond (George Hamilton), Wendy the Good Little Witch (Hilary Duff) and her aunts seek sanctuary in a special resort that caters to the supernatural. There, Wendy meets Casper the Friendly Ghost (Jeremy Foley), who is vacationing with his quarrelso

me uncles. Despite their families' prejudiced warnings, Wendy and Casper become fast friends. Before long, this high-spirited duo decides to team up to take down the bullying warlock.
19. The Rocky Horror Picture Show (1975)
There is a reason why this movie is a cult classic and played every single Halloween since the 70s because it's so iconic and the music is amazing! Do yourself a favor and go to a live showing of the movie. You won't regret it because it's always acted out and interactive. Perfect for Halloween! This movie features Tim Curry at his best.
In this cult classic, sweethearts Brad (Barry Bostwick) and Janet (Susan Sarandon), stuck with a flat tire during a storm, discover the eerie mansion of Dr. Frank-N-Furter (Tim Curry), a transvestite scientist. As their innocence is lost, Brad and Janet meet a houseful of wild characters, including

a rocking biker (Meat Loaf) and a creepy butler (Richard O'Brien). Through elaborate dances and rock songs, Frank-N-Furter unveils his latest creation: a muscular man named "Rocky."
20. The Labyrinth (1986)
I love the music in this film. There is nothing else like it out there and David Bowie is everything <3 The 80s at its best!
Teenage Sarah (Jennifer Connelly) journeys through a maze to recover her baby brother (Toby Froud) from a goblin king (David Bowie).
21. Buffy the Vampire Slayer (1992)
I still love this movie. Luke Perry will make your heart melt. Gosh, was he cute in the 90s! This follows a strong-willed ass-kicking girl who kills vampires. Yay for girl power!
For Buffy Summers (Kristy Swanson), nothing is the same after she meets Merrick Jamison-Smythe (Donald Sutherland). Merrick tells the teen that he's been sent to train her to fight vampires, and he proves himself by displaying his supernatural powers. Buffy is a quick study, and soon takes fellow st

udent Oliver Pike (Luke Perry) under her wing, repeatedly saving him from fierce bloodsuckers. But, when a very dangerous vampire (Rutger Hauer) gets rambunctious, she must go to war again.
22. Coco (2017)
The premise behind Coco is nothing short of beautiful. I love this film and it is so unique especially for a Disney cartoon. Plus, the music is great!
Despite his family's generations-old ban on music, young Miguel dreams of becoming an accomplished musician like his idol Ernesto de la Cruz. Desperate to prove his talent, Miguel finds himself in the stunning and colorful Land of the Dead. After meeting a charming trickster named Héctor, the two ne

w friends embark on an extraordinary journey to unlock the real story behind Miguel's family history.
23. Goosebumps (2015)
Jack Black makes this movie. I loved the Goosebumps books as a kid and this film brings them alive. There are some great laughs I had while watching this movie.
Upset about moving from the big city to a small town, young Zach Cooper (Dylan Minnette) finds a silver lining when he meets his beautiful neighbor Hannah (Odeya Rush). The teen is surprised to learn that Hannah's mysterious father is R.L. Stine (Jack Black), the famous author of the best-selling "G

oosebumps" series. When Zach accidentally unleashes the monsters from the fantastic tales, it's up to Stine, his daughter, and Cooper to return the beasts back to the books where they belong.
24. Coraline (2009)
One of the coolest cartoons out there. It's so trippy and nothing else is like it. You have to watch it.
While exploring her new home, a girl named Coraline (Dakota Fanning) discovers a secret door, behind which lies an alternate world that closely mirrors her own but, in many ways, is better. She rejoices in her discovery, until Other Mother (Teri Hatcher) and the rest of her parallel family try to ke

ep her there forever. Coraline must use all her resources and bravery to make it back to her own family and life.
25. The Little Vampire (2000)
This movie was one of my favorites as a kid and it is still just as good. I love the story and the message behind the film.
After he moves to Scotland with his parents, only child Tony (Jonathan Lipnicki) struggles to make friends at his new school. But he is bullied and picked on by the other boys, and has little hope of overcoming his miserable new life. Then he meets Rudolph (Rollo Weeks), a kid vampire with whom Tony

becomes very close. But, when Rudolph's life and the future of the vampire race are threatened by a ruthless vampire hunter, Tony must find the courage to save his best friend.
26. Matilda (1996)
Another favorite from my childhood. This is such a good movie.
Have you seen any of the movies above?
What do you tend to watch for Halloween/the fall?
xoxo,