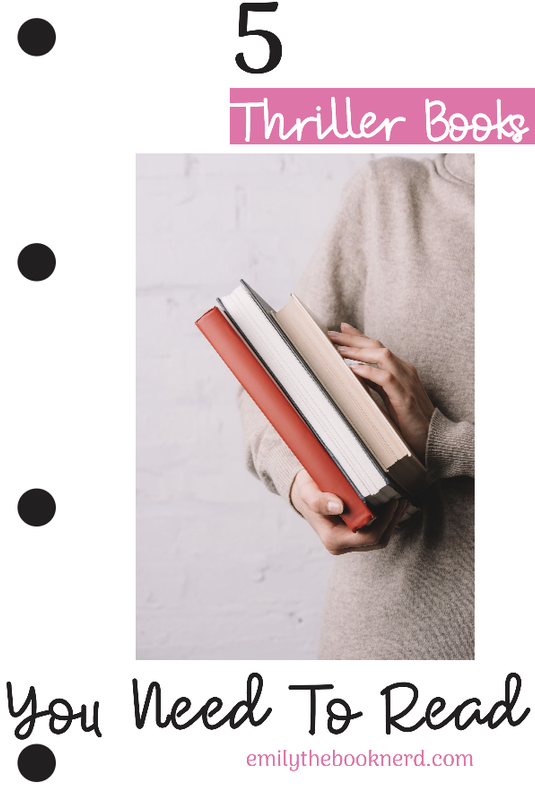 For some reason, every single summer I get into a thriller genre mood and only want to read thriller/suspense novels. I don't know about you but it is hard for me to find thriller books where I don't guess the plot twists or who murdered who etc. It has to be an extremely good thriller for me to be surprised by the ending. So, I thought I would compile a list of five thriller books that I absolutely loved that I didn't guess the ending to that I think people should read.
1. The Good Girl by Mary Kubica
I've been following her for the past few days. I know where she buys her groceries, where she works. I don't know the color of her eyes or what they look like when she's scared. But I will.

One night, Mia Dennett enters a bar to meet her on-again, off-again boyfriend. But when he doesn't show, she unwisely leaves with an enigmatic stranger. At first Colin Thatcher seems like a safe one-night stand. But following Colin home will turn out to be the worst mistake of Mia's life.

When Colin decides to hide Mia in a secluded cabin in rural Minnesota instead of delivering her to his employers, Mia's mother, Eve, and detective Gabe Hoffman will stop at nothing to find them. But no one could have predicted the emotional entanglements that eventually cause this family's world to shatter.
Held captive for years in a small shed, a woman and her precocious young son finally gain their freedom, and the boy experiences the outside world for the first time.

To five-year-old-Jack, Room is the world. . . . It's where he was born, it's where he and his Ma eat and sleep and play and learn. At night, his Ma shuts him safely in the wardrobe, where he is meant to be asleep when Old Nick visits.

Room is home to Jack, but to Ma it's the prison where she has been held for seven years. Through her fierce love for her son, she has created a life for him in this eleven-by-eleven-foot space. But with Jack's curiosity building alongside her own desperation, she knows that Room cannot contain either much longer.

Room

is a tale at once shocking, riveting, exhilarating -- a story of unconquerable love in harrowing circumstances, and of the diamond-hard bond between a mother and her child.
A murder...A tragic accident...Or just parents behaving badly? What's indisputable is that someone is dead.

Madeline is a force to be reckoned with. She's funny, biting, and passionate; she remembers everything and forgives no one. Celeste is the kind of beautiful woman who makes the world stop and stare but she is paying a price for the illusion of perfection. New to town, single mom Jane is so young that another mother mistakes her for a nanny. She comes with a mysterious past and a sadness beyond her years. These three women are at different crossroads, but they will all wind up in the same shocking place.

Big Little Lies

is a brilliant take on ex-husbands and second wives, mothers and daughters, schoolyard scandal, and the little lies that can turn lethal.
From the bestselling author of

Everything I Never Told You

, a riveting novel that traces the intertwined fates of the picture-perfect Richardson family and the enigmatic mother and daughter who upend their lives.

In Shaker Heights, a placid, progressive suburb of Cleveland, everything is planned--from the layout of the winding roads, to the colors of the houses, to the successful lives its residents will go on to lead. And no one embodies this spirit more than Elena Richardson, whose guiding principle is playing by the rules.

Enter Mia Warren--an enigmatic artist and single mother--who arrives in this idyllic bubble with her teenaged daughter Pearl, and rents a house from the Richardsons. Soon Mia and Pearl become more than tenants: all four Richardson children are drawn to the mother-daughter pair. But Mia carries with her a mysterious past and a disregard for the status quo that threatens to upend this carefully ordered community.

When old family friends of the Richardsons attempt to adopt a Chinese-American baby, a custody battle erupts that dramatically divides the town--and puts Mia and Elena on opposing sides. Suspicious of Mia and her motives, Elena is determined to uncover the secrets in Mia's past. But her obsession will come at unexpected and devastating costs.

Little Fires Everywhere

explores the weight of secrets, the nature of art and identity, and the ferocious pull of motherhood--and the danger of believing that following the rules can avert disaster.
5. Psycho by Robert Bloch
It was a dark and stormy night when Mary Crane glimpsed the unlit neon sign announcing the vacancy at the Bates motel. Exhausted, lost, and at the end of her rope, she was eager for a hot shower and a bed for the night. Her room was musty but clean and the plumbing worked. Norman Bates, the manager, seemed nice, if a little odd.
---
What are some of your favorite thriller books?
Have you read any of the books above too?
xoxo,