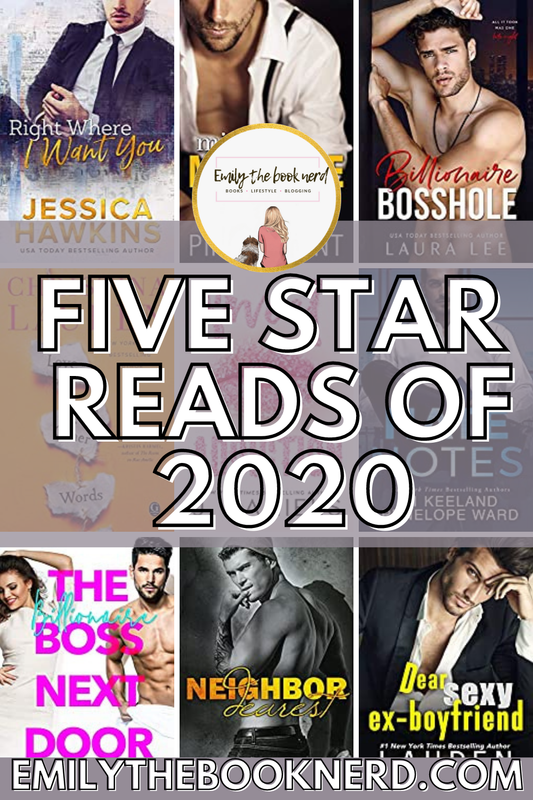 It is a new year and I am happy to kiss 2020 goodbye! COVID has really messed up life for everyone this past year and I cannot wait for it to be over and done with. With that being said, I had way more reading time this past year and read some amazing books! I thought I would share with you all of my five star reads that I read in 2020. They are new favorites of mine.
I read a total of 67 books in 2020!
Five stars to me means...
★★★★★
I FREAKING LOVE THIS BOOK MORE THAN ANYTHING! A NEW FAVORITE. Close to perfection. I would recommend it to anyone and if I don't own a physical copy of the book... I need it now! The writing style, characters, and plot were perfect. This book had no flaws.
1. Love and Other Words by Christina Lauren
The story of the heart can never be unwritten.

Macy Sorensen is settling into an ambitious if emotionally tepid routine: work hard as a new pediatrics resident, plan her wedding to an older, financially secure man, keep her head down and heart tucked away.

But when she runs into Elliot Petropoulos—the first and only love of her life—the careful bubble she's constructed begins to dissolve. Once upon a time, Elliot was Macy's entire world—growing from her gangly bookish friend into the man who coaxed her heart open again after the loss of her mother...only to break it on the very night he declared his love for her.

Told in alternating timelines between Then and Now, teenage Elliot and Macy grow from friends to much more—spending weekends and lazy summers together in a house outside of San Francisco devouring books, sharing favorite words, and talking through their growing pains and triumphs. As adults, they have become strangers to one another until their chance reunion. Although their memories are obscured by the agony of what happened that night so many years ago, Elliot will come to understand the truth behind Macy's decade-long silence, and will have to overcome the past and himself to revive her faith in the possibility of an all-consuming love.

Love, loss, friendship, and the betrayals of the past all collide in this first fiction novel from New York Times and #1 international bestselling author Christina Lauren (Autoboyography, Dating You / Hating You).
2. Dear Sexy Ex-Boyfriend by Lauren Blakely
Let me just say -- none of this was supposed to happen.





I didn't expect the letter to go viral. I didn't think anyone would figure out who Dear Sexy Ex was. And I especially never thought he would find out about it.





Yeah, bit of a miscalculation there.





But see, I need the money to fund my brand new venture. And Dear Sexy Ex, well, it turns out he needs me to save his business.





By becoming his fake fiancée.





Yup, that's the pickle I find myself in -- pretending to be madly in love with the charming, brilliant, and utterly infuriating man known as Dear Sexy Ex.





Only, it's not an act. And he can never know.
3. Billionaire Bosshole by Laura Lee
Bosshole (ˈbȯs - ˈhōl )

-noun

1. A person who turns into a massive jerk ten seconds after being made supervisor.

2. An employer completely devoid of empathy or concern for anyone else.

3. A manager with whom you often disagree.

Also see: jerk boss, a$$hole, egomaniac


Do you know the one thing you should never do at work?

Your boss.

Sadly, following that particular piece of advice is much easier said than done.

Ronan Maxwell is hands down the sexiest man I've ever met. He's also the pushiest, most demanding, and most arrogant S.O.B. on the planet. And even though I can't stand him, I never stop wondering how his ridiculously pretty mouth would feel against my skin. Or whether or not that bulge in his pants is as impressive as it seems.

For two years, I had it under control. But then one late night, all that changed. Now that I know firsthand how electrifying his touch can be, I want him more than ever. And the longer we continue this twisted relationship, the softer my heart gets. I have no idea what the future holds, but one thing I know for sure—this man has the power to break my heart.

And that's one thing I can never let happen.


*Billionaire Bosshole is the third installment in the Bedding the Billionaire world. It is a full-length interconnected standalone novel.
4. The Boss Who Stole Christmas by Jana Aston
Dear Santa,





Please bring me a new boss for Christmas. Mine is the worst. The worst, hidden in a six foot tall package of male perfection. It'd be easier if he looked like an old Scrooge, wouldn't it?





Nick Saint-Croix doesn't look like an old scrooge. He's hot as-





Um, never mind. Just bring me a new boss. Please.





Sincerely,




Holly Winter
5. The Billionaire Boss Next Door by Max Monroe
My new boss has it all.

In spades.



Gorgeous green eyes?

Check.


Hard-and-sexy body?

Check.


Intelligence?

Check.


Success?

A big fat billionaire… Check.



Too bad I haven't started out on the best foot.





My big mouth has already turned him against me, and tempting good looks and success aside, Trent Turner is no peach either. He's stubborn and thick-headed, and son of a fruitcake, he thinks he knows

everything

there is to know about the hotel business.





With him running the development of the new Vanderturn New Orleans Hotel and me doing the design, our work relationship is far too intimate for two people who absolutely despise one another.





But that's not all.





See, he isn't just my billionaire boss from hell. He's my new neighbor, too.





Same city.




Same building.




Same floor.



Trent Turner is my billionaire boss next door.



Holy moly, let's hope my career—

and hormones

—can survive.





Disclaimer: If you generally love to suffer, hate fun of any kind, and are allergic to laughter, this book is not for you.
6. Right Where I Want You by Jessica Hawkins
There's a thin line between love and hate . . . and it cuts right through the middle of their office.



Bad boys? They run right over good girls like Georgina Keller. But after a confidence-shattering breakup, she's determined not to let anyone at her new workplace push her around—least of all the brooding creative director, a "bad boy of publishing" who's made it clear she's enemy #1.





Sebastian Quinn's taste for fast cars, late nights, and beautiful women may have gotten him to the top of a leading New York magazine, but the reputation that made him is suddenly threatening to end his career.





Georgina can help Modern Man shed its bad reputation, but in order to do that, she'll have to start at the top—and no amount of rakish charm or inconvenient attraction will distract her.





Because if Sebastian gets her right where he wants her, it means she's going down.
7. The Naked Truth by Vi Keeland
From #1

New York Times

Bestseller

Vi Keeland

, comes a new, sexy standalone novel.





It was just a typical Monday.





Until the big boss asked me to make the pitch for a prospective new client.





After two years on shaky ground at work because of my screw up, an opportunity to impress the senior partners was just what I needed.



Or so I thought…



Until I walked into the conference room and collided with the man I was supposed to pitch.





My coffee spilled, my files tumbled to the ground, and I almost lost my balance.





And that was the good part of my day.





Because the gorgeous man crouched down and looking at me like he wanted to eat me alive, was none other than my ex, Gray Westbrook.





A man who I'd only just begun to move on from.





A man who my heart despised—yet my body obviously still had other ideas about.





A man who was as charismatic and confident as he was sexy.





Somehow, I managed to make it through my presentation ignoring his intense stare.





Although it was impossible to ignore all the dirty things he whispered into my ear right after I was done.





But there was no way I was giving him another chance, especially now that he was a client


…was there?
8. Hate Notes by Vi Keeland & Penelope Ward
From New York Times bestselling authors Vi Keeland and Penelope Ward comes an unexpected love story of secondhand hearts and second chances…

It all started with a mysterious blue note sewn into a wedding dress.

Something blue.

I'd gone to sell my own unworn bridal gown at a vintage clothing store. That's when I found another bride's "something old."

Stitched into the lining of a fabulously feathered design was the loveliest message I'd ever read: Thank you for making all of my dreams come true.

The name embossed on the blue stationery: Reed Eastwood, obviously the most romantic man who ever lived. I also discovered he's the most gorgeous. If only my true-love fantasies had stopped there. Because I've since found out something else about Mr. Starry-Eyed.

He's arrogant, cynical, and demanding. I should know. Thanks to a twist of fate, he's my new boss. But that's not going to stop me from discovering the story behind his last love letter. A love letter that did not result in a happily ever after.

But that story is nothing compared to the one unfolding between us. It's getting hotter, sweeter, and more surprising than anything I could have imagined.

Something new.

But I have no idea how this one is going to end...
9. Mister McHottie by Pippa Grant
Chase


I've just bought the woman of my nightmares.




Technically, I bought the company she works for. Point is, she cost me my two best friends ten years ago. It's payback time, and I'm going to make her life hell.




When I'm not banging her silly and myself stupid.




I need to get my head back in business, because getting off is great, but "He was a man who had sex, and lots of it, and in the worst locations, with the woman of his nightmares" isn't the inscription I want on my tombstone.




Even if it's true.



Ambrosia


There are three things I hate:




Bratwurst in any form, my neighbors boinking loudly like farm animals at 3 AM, and Chase Jett.




Mostly I hate Chase Jett. It's been ten years since he took my virginity—I'd make a bratwurst joke, but the unfortunate truth is that it would have to be a bratbest joke, and yes, it kills me to admit it—and now he's not only a billionaire, he's also my new boss.




Turns out our hate is mutual. And this kind of hate is horrifically twisted, filthy, and banging hot.




I just might have to hate him forever.



MISTER McHOTTIE is 45,000 gloriously hilarious, hot, sexy words that your mother warned you about, complete with an organic happy-ever-after (or seven), a Bratwurst Wagon, ill-advised office pranks, and no cheating or cliffhangers.
10. Neighbor Dearest by Penelope Ward
From New York Times bestselling author, Penelope Ward, comes a friends-to-lovers story with sexy new characters. After getting dumped, the last thing I needed was to move next door to someone who reminded me of my ex-boyfriend, Elec. Damien was a hotter version of my ex. The neighbor I'd dubbed "Angry Artist" also had two massive dogs that kept me up with their barking. He wanted nothing to do with me. Or so I thought until one night I heard laughter coming through an apparent hole in my bedroom wall. Damien had been listening to all of my phone sessions with my therapist. The sexy artist next door now knew all of my deepest secrets and insecurities. We got to talking. He set me straight with tips to get over my breakup. He became a good friend, but Damien made it clear that he couldn't be anything more. Problem was, I was falling hard for him anyway. And as much as he pushed me away, I knew he felt the same...because his heartbeat didn't lie. I thought my heart had been broken by Elec, but it was alive and beating harder than ever for Damien. I just hoped he wouldn't shatter it for good. Author's note - Neighbor Dearest is a full-length standalone novel.
11. RoomHate by Penelope Ward
Sharing a summer house with a hot-as-hell roommate should be a dream come true, right?





Not when it's Justin… the only person I'd ever loved… who now hates me.





When my grandmother died and left me half of the house on Aquidneck Island, there was a catch: the other half would go to the boy she helped raise.





The same boy who turned into the teenager whose heart I broke years ago.





The same teenager who's now a man with a hard body and a hardass personality to match.





I hadn't seen him in years, and now we're living together because neither one of us is willing to give up the house.





The worst part? He didn't come alone.





I'd soon realize there's a thin line between love and hate. I could see through that smug smile. Beneath it all…the boy is still there. So is our connection.





The problem is…now that I can't have Justin, I've never wanted him more.




Author's note

– RoomHate is a full-length standalone novel. Due to strong language and sexual content, this book is not intended for readers under the age of 18.
12. Cocky Bastard by Penelope Ward & Vi Keeland
He was someone who belonged in my wildest fantasies instead of a rest stop in the middle of Nebraska.

A sexy, cocky, Australian named Chance was the last person I expected to run into on my cross-country drive.

When my car broke down, we made a deal. Next thing I knew, we were traveling together, spending sexually-tense nights in hotels and taking unplanned detours.

My ordinary road trip turned into the adventure of a lifetime. It was all fun and games until things got intense.

I wanted him, but Chance wouldn't make a move. I thought he wanted me too, but something was holding him back.

I wasn't supposed to fall for the cocky bastard, especially when I knew we'd be going our separate ways.

All good things must come to an end, right?

Except our ending was one I didn't see coming.


Author's note - Cocky Bastard is a full-length standalone novel. Due to strong language and sexual content, this book is not intended for readers under the age of 18.
13. Sweet Addiction by J. Daniels
Wedding hookups never amount to anything.





Those who partake in this wicked little activity know the rules. Get in. Get laid. Get out. There's no expectation of a relationship. It is what it is.





Dylan Sparks knows the rules. She's familiar with the protocol. And she engages in the best sex of her life with a complete stranger at her ex-boyfriend's wedding.





Reese Carroll doesn't care about the rules. He wants more than just one night with Dylan.





And Dylan finds him too addicting to pass up.





Sweet Addiction is the story of one woman's struggle to keep things casual, and one man's desire to never let her go.



Warning: This book contains adult themes. 18+
---
What five-star books did you read in 2020?
Have you read any of the books above?
xoxo,