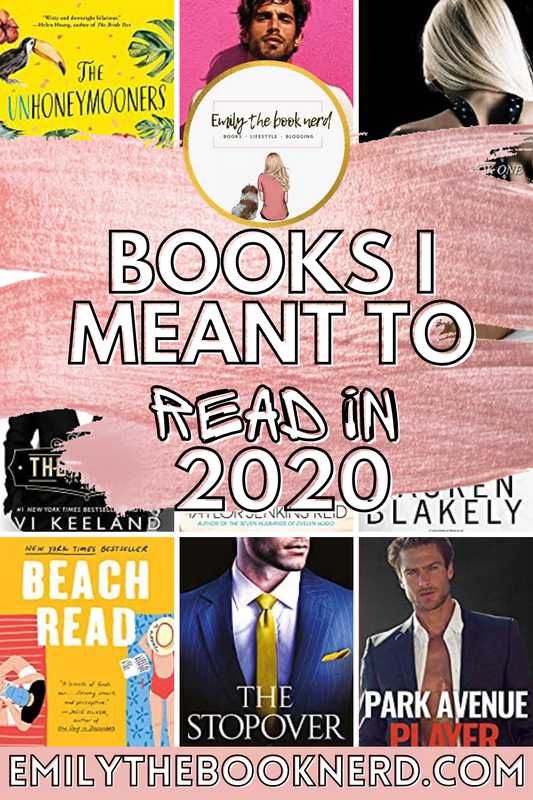 Another Tuesday means another Top Ten Tuesday. This week's topic is Books I Meant to Read In 2020 But I Didn't Get To. All of these books I was super excited about and I just, unfortunately, did not get to them. Hopefully, I can get to some of them this year instead. There are always too many books that I want to read and not enough time in the day... if only as humans we didn't have to sleep HAHAHA.
1. In Flight by R.K. Lilley
When reserved flight attendant Bianca gets one look at billionaire hotel owner James Cavendish, she loses all of her hard-won composure. For a girl who can easily juggle a tray of champagne flutes at 35,000 feet in three inch heels, she finds herself shockingly weak-kneed from their first encounter. The normally unruffled Bianca can't seem to look away from his electrifying turquoise gaze. They hold a challenge, and a promise, that she finds impossible to resist, and she is a girl who is used to saying no and meaning it.





Bianca is accustomed to dealing with supermodels and movie stars in her job as a first class flight attendant, but James Cavendish puts them all to shame in the looks department. If only it were just his looks that she found so irresistible about the intimidating man, Bianca could have ignored his attentions. But what tempts her like never before is the dominant pull he seems to have over her from the moment they meet, and the promise of pleasure, and pain, that she reads in his eyes.
2. Beach Read by Emily Henry
A romance writer who no longer believes in love and a literary writer stuck in a rut engage in a summer-long challenge that may just upend everything they believe about happily ever afters.

Augustus Everett is an acclaimed author of literary fiction. January Andrews writes bestselling romance. When she pens a happily ever after, he kills off his entire cast.

They're polar opposites.

In fact, the only thing they have in common is that for the next three months, they're living in neighboring beach houses, broke, and bogged down with writer's block.

Until, one hazy evening, one thing leads to another and they strike a deal designed to force them out of their creative ruts: Augustus will spend the summer writing something happy, and January will pen the next Great American Novel. She'll take him on field trips worthy of any rom-com montage, and he'll take her to interview surviving members of a backwoods death cult (obviously). Everyone will finish a book and no one will fall in love. Really.
3. Daisy Jones & The Six by Taylor Jenkins Reid
A gripping novel about the whirlwind rise of an iconic 1970s rock group and their beautiful lead singer, revealing the mystery behind their infamous break up.





Everyone knows Daisy Jones & The Six, but nobody knows the real reason why they split at the absolute height of their popularity…until now.





Daisy is a girl coming of age in L.A. in the late sixties, sneaking into clubs on the Sunset Strip, sleeping with rock stars, and dreaming of singing at the Whisky a Go-Go. The sex and drugs are thrilling, but it's the rock and roll she loves most. By the time she's twenty, her voice is getting noticed, and she has the kind of heedless beauty that makes people do crazy things.





Another band getting noticed is The Six, led by the brooding Billy Dunne. On the eve of their first tour, his girlfriend Camila finds out she's pregnant, and with the pressure of impending fatherhood and fame, Billy goes a little wild on the road.





Daisy and Billy cross paths when a producer realizes the key to supercharged success is to put the two together. What happens next will become the stuff of legend.
4. The Unhoneymooners by Christina Lauren
Olive is always unlucky: in her career, in love, in…well, everything. Her identical twin sister Ami, on the other hand, is probably the luckiest person in the world. Her meet-cute with her fiancé is something out of a romantic comedy (gag) and she's managed to finance her entire wedding by winning a series of Internet contests (double gag). Worst of all, she's forcing Olive to spend the day with her sworn enemy, Ethan, who just happens to be the best man.

Olive braces herself to get through 24 hours of wedding hell before she can return to her comfortable, unlucky life. But when the entire wedding party gets food poisoning from eating bad shellfish, the only people who aren't affected are Olive and Ethan. And now there's an all-expenses-paid honeymoon in Hawaii up for grabs.

Putting their mutual hatred aside for the sake of a free vacation, Olive and Ethan head for paradise, determined to avoid each other at all costs. But when Olive runs into her future boss, the little white lie she tells him is suddenly at risk to become a whole lot bigger. She and Ethan now have to pretend to be loving newlyweds, and her luck seems worse than ever. But the weird thing is that she doesn't mind playing pretend. In fact, she feels kind of... lucky.
5. Park Avenue Player by Penelope Ward & Vi Keeland
It started out like any normal day.

Then the fender bender happened.

The guy I collided with drove an expensive car and was drop-dead gorgeous. Too bad he was also a total jerk. We argued over whose fault it was and any other thing that came out of his condescending mouth.





Eventually, the police came and we went our separate ways. The insurance companies would have to figure things out. I had a job interview to get to anyway—one I was excited about.

Though that excitement changed to disappointment the moment the person interviewing me walked in.

The guy from the accident. Whoops!

Yeah, so I didn't get the position.





The problem was, I

really

wanted it. No, I

needed

it. Anything to get me out of my current career and back into working with kids.

So, even though Hollis LaCroix was as intimidating as he was devastatingly handsome, I went back to see him and begged for a chance.

To my surprise, he gave me a shot taking care of his troubled niece.

At least my attraction to him wouldn't be able to go anywhere. I wasn't about to jeopardize my job or the strong bond Hailey and I formed.





But resisting the magnetic pull between us wasn't that simple. (Then there was our little underwear game—don't ask.)

We continued to flirt without crossing the line—until it finally happened.

This is the part of the story where we fall in love and live happily ever after, right?

Well, life has a way of throwing some major curveballs.

Ours was one I didn't see coming.
6. Mister Moneybags by Penelope Ward & Vi Keeland
From the New York Times Bestselling authors of Cocky Bastard and Stuck-Up Suit, comes a sexy new standalone novel.





I met Bianca in an elevator.

She was on her way to interview me when we got stuck.




The beautiful raven-haired reporter assumed I was a delivery guy because of the way I was dressed.

She had no clue I was really Dex Truitt, the wealthy, successful businessman she'd dubbed "Mister Moneybags"―her afternoon appointment.

Bianca told me how much she hated Dex's type―snobby, over educated, silver-spooned men who didn't appreciate the simple things in life.





So, after the elevator finally started moving again, I cancelled the interview and let her believe I was someone I wasn't―a bike messenger named Jay. I loved the way she looked at the fake me and didn't want it to end.

I began dating her as "Jay"―all the while letting her interview the real me over email.

I didn't expect that our chemistry online would be just as hot.

I didn't expect the mess I'd gotten myself into.

I didn't expect that Jay and Dex would fall in love with her.





And she was falling for two men.

Only, both men were me.

And when she found out, we were both going to lose her.

Nothing could have prepared me for that day. And I certainly wasn't prepared for what came after.

All good things must come to an end, right?

Except our ending was one I didn't see coming.
7. My Favorite Souvenir by Penelope Ward & Vi Keeland
From

New York Times

New Bestselling authors

Penelope Ward

and

Vi Keeland

comes a new, sexy

standalone

novel.





My planned trip for two unexpectedly turned into a trip for one. Rather than let my breakup get me down, I packed my bags and decided a week at a luxury resort was just what I needed.

But one calamity after the next, and suddenly I was stuck without a hotel room, along with a few hundred other people.

It looked like my fancy vacation was about to turn into me sleeping on the hotel lobby floor.

Until I overheard a gorgeous man pretending to be someone he wasn't in order to steal a reservation from a guest who hadn't shown up yet.

When I realized there were two rooms, instead of calling him out, I pretended to be his sister. That's how the story of "Milo and Maddie Hooker" began.

We were the Hookers.

My depressing trip quickly made a U-turn into an adventure.

My fake brother spent the next few days showing me around his hometown. When it was time to leave, neither of us really wanted to go yet.

So, instead of flying back to our respective homes, we ventured on a road trip.

At every stop, we'd pick up souvenirs.

But as hot as our chemistry was, we never crossed the line.

Milo knew I'd just come out of a tough relationship and didn't want to mess with a vulnerable woman.

So instead, at the end of our trip, we made a pact to meet again in three months.

It was always my intention to meet him.

But when I got back home, reality hit in a big way.

And I worried I may have lost my handsome stranger forever.

Was there a place for him in my future?

Or had the memory of him just become my favorite souvenir?
8. The Stopover by T.L. Swan
A memorable night of passion refuses to stay just a memory in this sizzling and scandalous romance from bestselling author T L Swan. I was upgraded to first class on a flight from London to New York. The food, champagne, and service were impeccable. The blue-eyed man sitting next to me, even better.

He was suave and intelligent. We talked and laughed, and something clicked. Fate took over and the plane was grounded, and we had an unexpected stopover for the night. With no plans, we made our own.

We danced and laughed our way around Boston and had a night of crazy passion that no woman would ever forget. That was twelve months ago, and I haven't heard from him—until today. I started a new job and met the CEO. You can imagine my surprise to see those naughty blue eyes dance with delight when he saw me across the mahogany desk.

But I'm not that carefree girl anymore. My life has changed, I have responsibilities. I just got an email. He wants to see me in his office for a private meeting at 8:00 a.m. Naughty blue eyes have no place in the workplace. What kind of private meeting does he have in mind?
9. The Rivals by Vi Keeland
The feud between Weston Lockwood and me started at the altar.

Only neither of us attended the wedding, and the nuptials happened decades before either of us was born.

Our grandfathers had been best friends and business partners, at least up until my grandfather's wedding day—when his bride-to-be blurted out she couldn't marry him because she was also in love with Weston's grandfather.





The two men spent years fighting over Grace Copeland, who also happened to be their third business partner.  But in the end, neither man could steal half of her heart away from the other.

Eventually, they all went their separate ways. Our grandfathers married other women, and the two men became one of the biggest business rivals in history.

Our fathers continued the family tradition of feuding. And then Weston and I did, too.





For the most part, we kept as much distance as possible.

Until the day the woman who started the feud died—and unexpectedly left one of the most valuable hotels in the world to our grandfathers to share.

Now I'm stuck in a hotel with the man I was born to hate, trying to unravel the mess our families inherited.





As usual, it didn't take long for us to be at each other's throats.

Weston Lockwood was everything I hated: tall, smart, cocky, and too gorgeous for his own good.  We were fire and ice. 

But that shouldn't be an issue. Our families were used to being at war. There was just one minor problem, though. Every time Weston and I fought, we somehow wound up in bed.
10. Big Rock by Lauren Blakely
It's not just the motion of the ocean, ladies. It's definitely the SIZE of the boat too.

And I've got both firing on all cylinders. In fact, I have ALL the right assets. Looks, brains, my own money, and a big c*&k.

You might think I'm an a*&hole. I sound like one, don't I? I'm hot as sin, rich as heaven, smart as hell and hung like a horse.





Guess what? You haven't heard my story before. Sure, I might be a playboy, like the NY gossip rags call me. But I'm the playboy who's actually a great guy. Which makes me one of a kind.





The only trouble is, my dad needs me to cool it for a bit. With conservative investors in town wanting to buy his flagship Fifth Avenue jewelry store, he needs me not only to zip it up, but to look the part of the committed guy. Fine. I can do this for Dad. After all, I've got him to thank for the family jewels. So I ask my best friend and business partner to be my fiancée for the next week. Charlotte's up for it. She has her own reasons for saying yes to wearing this big rock.





And pretty soon all this playing pretend in public leads to no pretending whatsoever in the bedroom, because she just can't fake the kind of toe-curling, window-shattering orgasmic cries she makes as I take her to new heights between the sheets.

But I can't seem to fake that I might be feeling something real for her.

What the fuck have I gotten myself into with this…big rock?





BIG ROCK is a standalone, dirty romance novel written from the guy's POV by NYT Bestselling author Lauren Blakely…
---
Have you read any of the books above? What did you think of them?
Are any of the books above on your TBR?
xoxo,