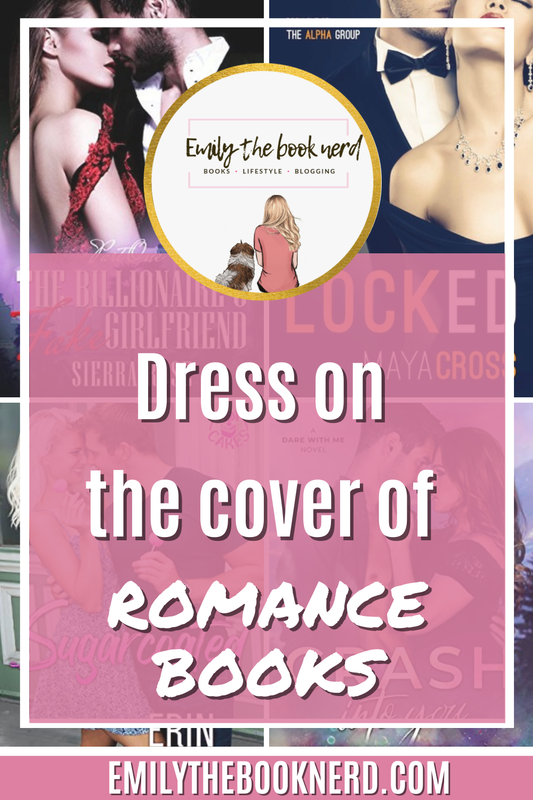 This Top 5 series started back in October 2018, and it has grown really big! This is a series of books that all have a common theme. You can talk about books you want to read or books you have read and all prompts are open for interpretation! Feel free to get as creative as you want with the prompts. I was tagged by devouringbooks2017 to do this post and it sounded fun to me. I will do the Dress on the Cover prompt for this tag.
---
Upcoming Schedule!
November 14th, 2020 — Dress on the Cover
November 21st, 2020 — Books with 2 Authors
November 28th, 2020 — Cover Buys
December 5th, 2020 — Apocalyptic Books
December 12th, 2020 — Water on the Cover
December 19th, 2020 — Famous Authors
December 26th, 2020 — 2021 Releases
---
Rules!
Share your top 5 books on the current topic– these can be books that you want to read, have read and loved, have read and hated, you can do it any way you want.

Tag the original post

Tag 5 people — So that more people can join us!!
Dress on the cover of romance books:
A hot, funny brother's best friend rom com… with sugar on top!

She's his best friend's little sister. He's known her all his life. He's practically part of the family. There is nothing either of them could do to surprise the other at this point.

Then she showed up in his bedroom in lingerie and asked him to take her V-card.

Okay, that was a surprise.

Aiden is pretty sure Zoe was equally surprised when he told her no.

To say that he didn't handle it well would be a massive understatement. Almost as massive as the amount of work he's going to have to do now to convince her that he wants her. Forever.

Right after he tells her that he's bought the company that's her bakery's biggest competitor.

Maybe if he tells her he's in love with her first, that will help sugarcoat the whole we're-rivals-in-business-now thing.

So, first "I'm in love with you", then "take off your clothes", then "I'm now your business adversary".

Piece of cake.
She's my sister's best friend. She thinks I've never noticed her. She couldn't be more wrong. Now I just need to prove it to her...before she says "I do."

You know that phrase "the one who got away"?

Well, Brooklyn Tanner is mine.

My worst mistake.

My biggest regret.

My one true love.

But as much as I wish I could take back everything I've done to hurt her, the truth remains...

I don't deserve her.

That doesn't make our situation any easier, though. After all, she's my sister's best friend. Not to mention, she buried any animosity she held toward me and helped raise my two little girls when my ex split without a single glance back.

But when I learn the man she's been dating has proposed, I'm faced with a decision.

Do I finally tell Brooklyn the reason I betrayed her trust all those years ago?

Or do I watch her marry another man to protect her from suffering any more heartache?

Commitment is the first book in the Redemption Duet. Binge-read this angst-filled second chance, best friend's brother romance today!
3. Crash Into You by J.H. Croix
A swoon-worthy romance from USA Today Bestselling Author J.H. Croix!

A hotshot pilot and a Southern princess looking for a fresh start collide in the wilds of Alaska.

The first time I met Daphne involved three things: a cute skirt, a bear, and mud. Lots of mud.

Daphne is everything I don't need, and she makes me crazy in all the wrong ways. This princess does not belong in the wilderness. Or, so I think. But then, thought is hard to come by around Daphne.

Between flying tourists all over Alaska's skies, hotshot firefighting on the side, raising my sixteen year old sister who has enough attitude to run the world, and fending off demons from my days in the military, I don't have time for women.

But time's been laughing at me ever since Daphne showed up. I can't get her out of my mind, and my control has fled the building. Oh, and I'm her boss.

One night, just one night, I let things go too far. Now, all bets are off.
Who is Sebastian Lock?

The bar Sophia Pearce is in doesn't look like much. The wine is bad and the decor worse. But when a sudden attack of curiosity leads her to sneak past security and into the back room, she discovers something unimaginable. The most lavish party she's ever laid eyes on, in the most unlikely of places.

But that's nothing compared to what comes next, to the man she meets back there. Sebastian Lock. Gorgeous, commanding, and radiating charm, he is exactly the sort of silver-tongued rake Sophia has sworn to avoid. Unfortunately, he doesn't care much for her promises.

Every instinct tells her to run, but the chemistry between them is as inescapable as gravity. Soon, he's opening her eyes to a whole new world of pleasures, pleasures she never thought she'd enjoy.

There's just one problem. Sebastian is more than he seems. Between the famous company he keeps and the almost paranoid secrecy of his employers, he's a puzzle Sophia can't quite solve, and his insistence on keeping things casual forces her to confront the demons of her past.

Can she learn to trust again? Or will Sebastian's privacy tear them apart?

Contains light BDSM, including spanking, restraint, and anal play.

Note: This book is the first part of a trilogy that is designed to be read together, much like The Blackstone Affair. Sebastian and Sophia will get their happily ever after, but not until the last book.



5. The Billionaire's Fake Girlfriend by Sierra Rose
Contemporary Romance. The Billionaire Saga

Rebecca is an aspiring actress. While at a fancy cocktail party, the socialites begin to pick on her. And that's when she claims she's dating the billionaire host of the party. When he goes along with it, Rebecca is in shock. And when this billionaire offers her a proposition she can't say no to, she dives straight in.

As a courtesy, the author wishes to inform you that this story ends with a cliffhanger. This is a three book series and all your questions won't be answered in book 1.
Have you read any of the books above? I would love to know in the comments down below. Feel free to do this tag even if I do not tag you to do so and let me know. I love reading tag blog posts.
I TAG: