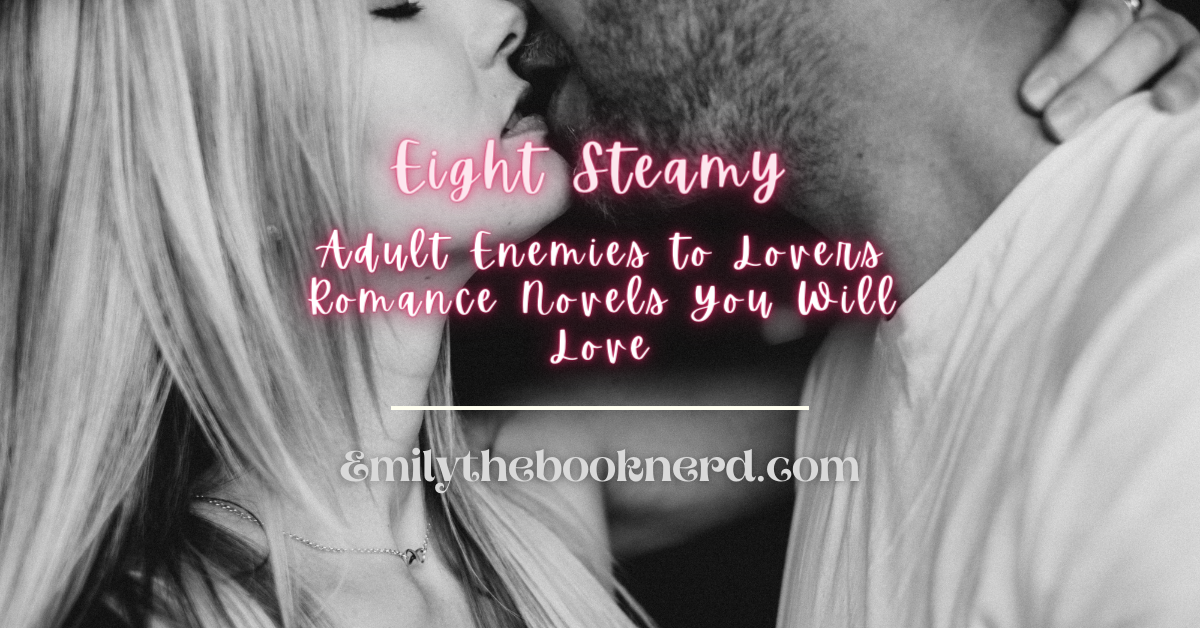 I am a sucker for all things romance. Especially when it comes to steamy haters to lovers romances. Throw in some passionate hate sex and I am sure to swoon.
I think this is a natural occurrence for romance suckers. For this list, I thought I would include some of my favorite enemies to lovers romances that I have read so far. The enemies to lovers trope is my favorite. So, there is no wonder as to why I have read a lot of books containing this trope. Lately, it is one of the main tropes that I have been in the mood to read. Gosh, I wish I had my own boy to hate to love. 😂
Here is the beautiful list that you are sure to love:
Bennett Fox walked into my life on one hell of a crappy Monday morning.

I was late for the first day at my new job—a job I'd now have to compete for even though I'd already worked

eight years

to earn it, because of an unexpected merger.

While I lugged my belongings up to my new office, a meter maid wrote me a parking summons.

She'd ticketed a long line of cars—except for the Audi parked in front of me, which happened to be the same make and model as mine.

Annoyed, I decided to

regift

my ticket to the car that had evaded a fine. Chances were, the owner would pay it and be none the wiser.

Except, I

accidentally

broke the windshield wiper while slipping the ticket onto the car's window.

Seriously, my day couldn't get any worse.

Things started to perk up when I ran into a gorgeous man in the elevator. We had one of those brief moments that only happened in movies.

You know the deal…your body lights up, fireworks go off, and the air around you crackles with electricity.

His heated stare left me flush when I stepped off the elevator.

Maybe things here wouldn't be so bad after all.

Or so I thought.

Until I walked into my new boss's office and met my competition.

The gorgeous man from the elevator was now my nemesis. His heated stare wasn't because of any mutual attraction. It was because he'd seen me vandalize his car. And now he couldn't wait to annihilate his rival.

There's a fine line between love and hate—and we shouldn't cross it.

We shouldn't

—but straddling that line could be so much fun.
2. Right Where I Want You by Jessica Hawkins
There's a thin line between love and hate . . . and it cuts right through the middle of their office.

Bad boys? They run right over good girls like Georgina Keller. But after a confidence-shattering breakup, she's determined not to let anyone at her new workplace push her around—least of all the brooding creative director, a "bad boy of publishing" who's made it clear she's enemy #1.

Sebastian Quinn's taste for fast cars, late nights, and beautiful women may have gotten him to the top of a leading New York magazine, but the reputation that made him is suddenly threatening to end his career.

Georgina can help Modern Man shed its bad reputation, but in order to do that, she'll have to start at the top—and no amount of rakish charm or inconvenient attraction will distract her.

Because if Sebastian gets her right where he wants her, it means she's going down.
Nemesis (n.) 1) An opponent or rival whom a person cannot best or overcome. 2) A person's undoing 3) Joshua Templeman

Lucy Hutton has always been certain that the nice girl can get the corner office. She's charming and accommodating and prides herself on being loved by everyone at Bexley & Gamin. Everyone except for coldly efficient, impeccably attired, physically intimidating Joshua Templeman. And the feeling is mutual.

Trapped in a shared office together 40 (OK, 50 or 60) hours a week, they've become entrenched in an addictive, ridiculous never-ending game of one-upmanship. There's the Staring Game. The Mirror Game. The HR Game. Lucy can't let Joshua beat her at anything—especially when a huge new promotion goes up for the taking.

If Lucy wins this game, she'll be Joshua's boss. If she loses, she'll resign. So why is she suddenly having steamy dreams about Joshua, and dressing for work like she's got a hot date? After a perfectly innocent elevator ride ends with an earth-shattering kiss, Lucy starts to wonder whether she's got Joshua Templeman all wrong.

Maybe Lucy Hutton doesn't hate Joshua Templeman. And maybe, he doesn't hate her either. Or maybe this is just another game.
4. RoomHate by Penelope Ward
Sharing a summer house with a hot-as-hell roommate should be a dream come true, right?

Not when it's Justin… the only person I'd ever loved… who now hates me.

When my grandmother died and left me half of the house on Aquidneck Island, there was a catch: the other half would go to the boy she helped raise.

The same boy who turned into the teenager whose heart I broke years ago.

The same teenager who's now a man with a hard body and a hardass personality to match.

I hadn't seen him in years, and now we're living together because neither one of us is willing to give up the house.

The worst part? He didn't come alone.

I'd soon realize there's a thin line between love and hate. I could see through that smug smile. Beneath it all…the boy is still there. So is our connection.

The problem is…now that I can't have Justin, I've never wanted him more.
A series of chance encounters leads to a sizzling new romance from the New York Times bestselling author of the On Dublin Street series.

The universe is conspiring against Ava Breevort. As if flying back to Phoenix to bury a childhood friend wasn't hell enough, a cloud of volcanic ash traveling from overseas delayed her flight back home to Boston. Her last ditch attempt to salvage the trip was thwarted by an arrogant Scotsman, Caleb Scott, who steals a first class seat out from under her. Then over the course of their journey home, their antagonism somehow lands them in bed for the steamiest layover Ava's ever had. And that's all it was--until Caleb shows up on her doorstep.

When pure chance pulls Ava back into Caleb's orbit, he proposes they enjoy their physical connection while he's stranded in Boston. Ava agrees, knowing her heart's in no danger since a) she barely likes Caleb and b) his existence in her life is temporary. Not long thereafter Ava realizes she's made a terrible error because as it turns out Caleb Scott isn't quite so unlikeable after all. When his stay in Boston becomes permanent, Ava must decide whether to fight her feelings for him or give into them. But even if she does decide to risk her heart on Caleb, there is no guarantee her stubborn Scot will want to risk his heart on her....
6. Mister McHottie by Pippa Grant
Chase,

I've just bought the woman of my nightmares.

Technically, I bought the company she works for. Point is, she cost me my two best friends ten years ago. It's payback time, and I'm going to make her life hell.

When I'm not banging her silly and myself stupid.

I need to get my head back in business, because getting off is great, but "He was a man who had sex, and lots of it, and in the worst locations, with the woman of his nightmares" isn't the inscription I want on my tombstone.

Even if it's true.

Ambrosia,

There are three things I hate:

Bratwurst in any form, my neighbors boinking loudly like farm animals at 3 AM, and Chase Jett.

Mostly I hate Chase Jett. It's been ten years since he took my virginity—I'd make a bratwurst joke, but the unfortunate truth is that it would have to be a bratbest joke, and yes, it kills me to admit it—and now he's not only a billionaire, he's also my new boss.

Turns out our hate is mutual. And this kind of hate is horrifically twisted, filthy, and banging hot.

I just might have to hate him forever.
7. Cocky Playboy by Sloane Howell & Alex Wolf
He's a bastard in Burberry. Decker Collins knows how to do one thing—win. When his billion-dollar law practice moves to merge with a firm out of Dallas, she shows up to oversee the transition. Tate Reynolds—the vixen in Versace. She's whip-smart, sassy, and gorgeous. Oh, and she doesn't take any of Decker's sh*t. With the merger hanging in the balance, they go to war with each other. There's only one problem. This war isn't just about business. Because when they're not butting heads… They're banging headboards.
My new boss has it all.

In spades.

Gorgeous green eyes?

Check.

Hard-and-sexy body?

Check.

Intelligence?

Check.

Success?

A big fat billionaire… Check.

Too bad I haven't started out on the best foot.

My big mouth has already turned him against me, and tempting good looks and success aside, Trent Turner is no peach either. He's stubborn and thick-headed, and son of a fruitcake, he thinks he knows

everything

there is to know about the hotel business.

With him running the development of the new Vanderturn New Orleans Hotel and me doing the design, our work relationship is far too intimate for two people who absolutely despise one another.

But that's not all.

See, he isn't just my billionaire boss from hell. He's my new neighbor, too.

Same city.

Same building.

Same floor.

Trent Turner is my billionaire boss next door.

Holy moly, let's hope my career—

and hormones

—can survive.

Disclaimer: If you generally love to suffer, hate fun of any kind, and are allergic to laughter, this book is not for you.
---
Have you read any of the books above? What is your favorite romance trope? I would love to know in the comments down below. You can never get enough steamy reads!
xoxo,