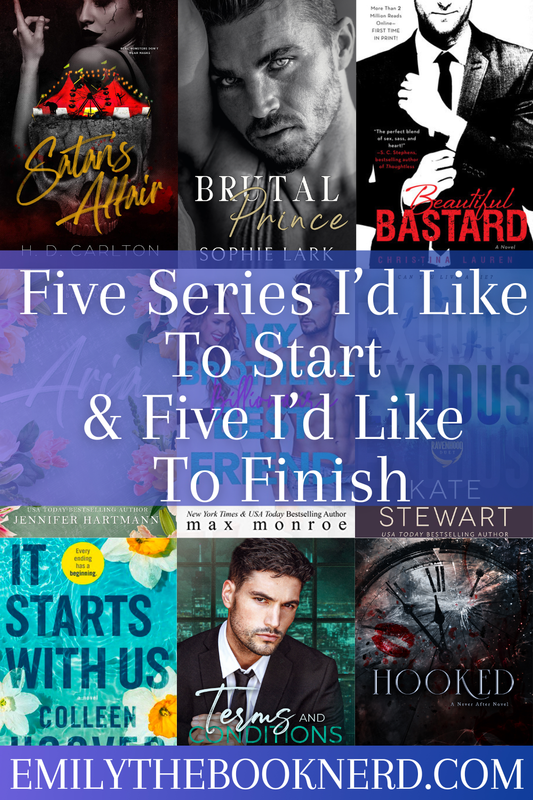 It's been a while since I have done a Top Ten Tuesday! This week's topic is on book series I'd like to either start, catch up on, or finish (regardless of whether or not the complete series has been released or if it's still being written)! I am not a huge series reader unless it's within the romance genre. I am a way bigger fan of standalone or standalone series. Either way, I seem to be pretty bad at finishing series in general. Anyways, let's get into the books that I would like to start and one's I would like to finish.
Series I'd Like to Start
1. The Beautiful Bastard Series by Christina Lauren
An ambitious intern. A perfectionist executive. And a whole lot of name calling.

Whip-smart, hardworking, and on her way to an MBA, Chloe Mills has only one problem: her boss, Bennett Ryan. He's exacting, blunt, inconsiderate—and completely irresistible. A Beautiful Bastard. Bennett has returned to Chicago from France to take a vital role in his family's massive media business. He never expected that the assistant who'd been helping him from abroad was the gorgeous, innocently provocative—completely infuriating—creature he now has to see every day. Despite the rumors, he's never been one for a workplace hookup. But Chloe's so tempting he's willing to bend the rules—or outright smash them—if it means he can have her. All over the office. As their appetites for one another increase to a breaking point, Bennett and Chloe must decide exactly what they're willing to lose in order to win each other.
Christina Lauren is an auto-buy author duo of mine and I have been putting off reading this series. I started the first book a while back maybe got to page 50 and really liked it.... just never finished the first book or picked it back up. I would like to hop back into it.
2. Aria (Duet Series #1) by Jennifer Hartman
When the lead singer of my rock band sets his sights on a pretty waitress, I'll do whatever it takes to make sure she doesn't get in the way of our dreams. Only, my plan unravels when she accidentally spills her darkest secrets to me one night, triggering a profound connection neither of us saw coming. And when those dark secrets come back to haunt her, threatening more than just the new life she's built for herself, I'm the one she runs to. I know I should run the other way—I'm a single father who's been burned before. Not to mention, she's my front man's girl. But in my crusade to drive her away, I fell for her instead, and now, I'll do whatever it takes to keep her safe… whether she's mine, or not.
3. Brutal Prince (Brutal Birthright #1) by Sophie Lark
He's No Prince Charming… Callum Griffin is the heir to the Irish Mafia. He's ruthless, arrogant, and he wants to kill me. We got off on the wrong foot when I set a (very small) fire in his house. Our families believe a marriage pact is the only thing that will prevent all-out warfare. I think I might need to murder him while he sleeps. This would all be a lot easier if Callum wasn't so damned good-looking. But I've got a lockbox around my heart. Because even if I'm forced to marry him… I could never love a brutal prince. "Brutal Prince" is the explosive first act in the epic "Brutal Birthright" series. It's a stand-alone Dark Mafia Romance, complete with HEA and no cliffhangers. It contains blazing hot bedroom scenes for mature readers only!!!
4. Hooked (Never After #1) by Emily McIntire
He wants revenge, but he wants her more…

James has always had one agenda: destroy his enemy, Peter Michaels. When Peter's twenty-year-old daughter Wendy shows up in James's bar, he sees his way in. Seduce the girl and use her for his revenge. It's the perfect plan, until things in James's organization begin to crumble. Suddenly, he has to find the traitor in his midst, and his plan for revenge gets murkier as James starts to see Wendy as more than just a pawn in his game. Wendy has been cloistered away most of her life by her wealthy cold father, but a spontaneous night out with friends turns into an intense and addictive love affair with the dark and brooding James. As much as she knows James is dangerous, Wendy can't seem to shake her desire for him. But as their relationship grows more heated and she learns more about the world he moves in, she finds herself unsure if she's falling for the man known as James or the monster known as Hook.
5. Satan's Affair (Cat and Mouse Duet #0.5) by H.D. Carlton
Every Halloween, Satan's Affair will come to you. We travel the country, offering terrifying haunted houses, thrilling rides and the tastiest food. And with every passing town, I cleanse this world, one execution at a time. I hide within the walls, casting my judgement for those that reek of evil, singing lullabies to their rotting souls. Once you've been chosen, there's no escaping my henchmen—they cater to my every desire. You can run and you can hide, but it only excites me.

Come. Take a walk through my dollhouse, where your screams will blend and your cute little pleas will go unanswered. But I can't promise it'll be over quickly...
Series I'd Like To Finish
4. My Brother's Billionaire Best Friend (Billionaire Collection #2) by Max Monroe
Mabel "Maybe" Willis died a virgin at the very young age of twenty-four.

She leaves behind her parents, Betty and Bruce, her brother, Evan, a laptop filled with one too many Jason Momoa memes, and a Kindle library with more books than one human being could ever finish in a lifetime.

Cause of death: a text message.

Okay. So, I didn't die. But I may as well have. One minute, I'm a woman trying to find her way in the world, and the next, I'm the sender of

six

of the most embarrassing text messages that have ever been sent in the history of time--or the cell phone. Whatever. We're talking code red, send a flipping mayday, the apocalypse is coming kind of texts. And I didn't just send them to some random person I'll never see again. No. That would be too easy. I sent them to

Milo Ives

. The man who played a starring role in all of my teenage fantasies--and my brother's lifelong best friend. And, boy oh boy, has he grown up. He's hard-bodied, blue-eyed, jawline-of-stone handsome, crazy successful, and has more money in his bank account than my brain can fathom.

Deflower me, please?

I said. Yeah. Send help.
5. Baby Yours (Hunter & Lennon Roommate Duet #2) by Kennedy Fox
The worst day of my life happened when my boyfriend died. As I grieve my loss, I learn that I'm carrying his baby. If my world wasn't already crashing down, now it's burning up in flames. My religious parents will never accept a pregnancy out of wedlock, and telling them means I risk losing them completely. To avoid disappointing my family, Hunter offers to be my fake husband. The lines become so blurred that neither of us want to admit we're no longer pretending. The guilt of what we're doing eats at me as I struggle to deal with my emotions. Just as I come to terms with our new situation, I learn Hunter's been keeping secrets. And I'm left to make the hardest decision of my life—follow my heart or walk away from him.
Have you read any of the books above? What book series do you need to finish or want to start? I would love to know in the comments down below.
xoxo,