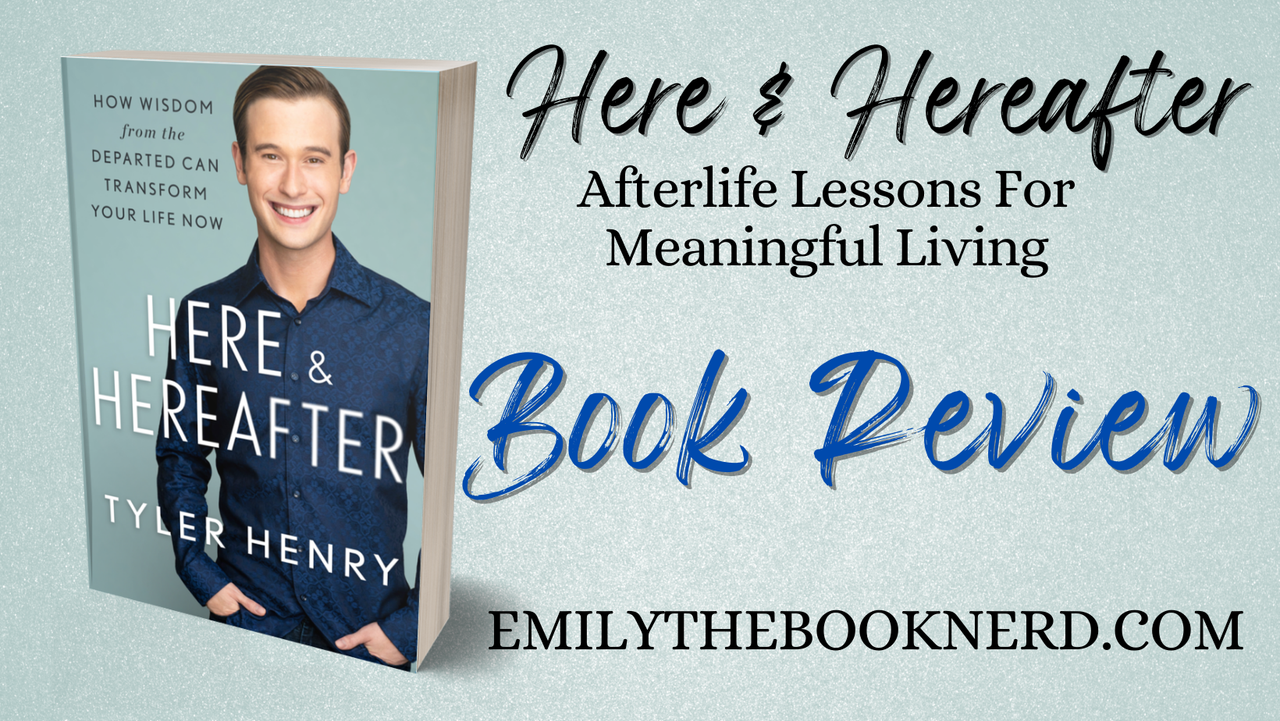 Here & Hereafter: Afterlife Lessons For Meaningful Living
Author: Tyler Henry
Published: February 1, 2022
Publisher: St. Martin's Essentials
Do you want to live more meaningfully, and in turn fulfill your life's potential? Do you want to have the capability to transform your life and make it infinitely better, by paying attention to what those who have lived and died have come to understand about the meaning of life itself? As one of the world's most accomplished mediums, Tyler Henry has had thousands of communications with those who've already gone through humanity's final frontier: physical death. The life lessons he's learned from those conversations have been truly transformative. In Here & Hereafter Tyler explains that by listening and learning from the departed, following their guidance, and paying attention to what they might have done differently, we can get more fulfillment and purpose from our own lives. Here & Hereafter will shed light on the most powerful understandings Tyler has gained from modern day mediumship—and explain how those understandings can lead us to live a more meaningful life.
A look into medium Tyler Henry's life.
I was super excited that I got offered to read the advanced reader's copy of Tyler Henry's newest memoir. I love all things supernatural, psychic, and mediumship so I instantly knew that I wanted to read his newest book. There were a lot of concepts that I enjoyed reading in this book and learning about Tyler's outlook on life. However, some of the parts were a bit longer than they needed to be and dragged on a bit.
I was hoping to learn something more about the afterlife but instead, I didn't. The book was more of a self-help book instead of what I thought it was going to be. I enjoyed the supernatural stories he shared because that's initially the type of book that I wanted to read not a self-help book but nonetheless I still enjoyed parts of the book.
Tyler talks a lot about manifesting the life you want and some of his concepts I did not always necessarily agree with. You can't always think about the life you want or wish it into existence. The law of attraction only goes so far. Yes, I do believe in the power of prayer too, and appreciated his take on religion but some of the concepts fell flat to me.
Overall, the message behind the book is still one of hope and that life goes on after death. I was just wanting a different book I think instead of a self-help book at the time.
Tyler Henry (born January 13, 1996) is a teen clairvoyant medium originally from central California. Born with a unique gift, Tyler has helped countless people acquire closure, comfort, and proof that consciousness transcends physical death. Working as an evidential-based medium, his ability to provide specific, detail-oriented specifics has allowed him to share what he sees with medical professionals and missing person cases. As Tyler's grandmother was terminally ill with cancer in April of 2006, he began having strong intuitive hunches that would later turn into a series of profound visions that proved to be true. After a series of life changing events (including a near death experience), Tyler's passion, calling, and life purpose has been to bring clarity, closure, and evidence to those he is privileged to read. Tyler is known for his rational, comforting, and tactful presentation of the information he receives. This mentality has allowed him to provide a down-to-earth understanding with messages of hope, closure, and forgiveness. With clientele both nationally and internationally, Tyler has been blessed to work with a vast array of people from all walks of life. More than anything, Tyler's goal has always been to aid in the grief process and provide validation and closure to everyone he's able to, through his one-on-one readings, group events, lectures, and workshops all across the map.