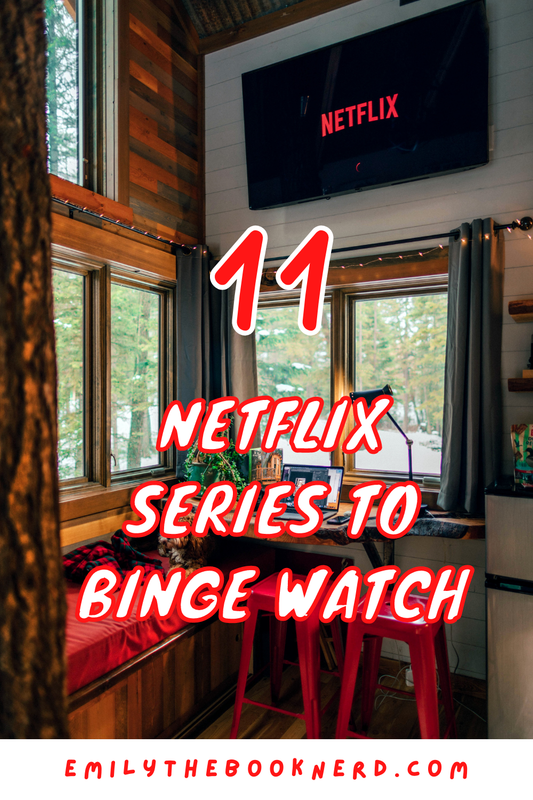 Recently, I have watched/binged some incredible tv shows on Netflix that I am loving. Netflix can be extremely addicting I must say. Therefore, I thought I would share with you the recent tv shows that I have either binged all of the episodes or I am currently loving. I am always looking for new shows to watch myself.
1. Dead to Me
This is an extremely addicting show. I love Christina Applegate so much and she is fabulous in this tv show.
Jen's husband recently died in a hit-and-run, and the sardonic widow is determined to solve the crime. Optimistic free spirit Judy has recently suffered a tragic loss of her own. The ladies meet at a support group and, despite their polar-opposite personalities, become unlikely friends. As the women

bond over bottles of wine and a shared affinity for "The Facts of Life," Judy tries to shield Jen from a shocking secret that could destroy her life as she knows it. The dark comedy -- which explores the weirdly funny sides of grief, loss, and forgiveness -- features a cast that includes TV veterans Christina Applegate and Ed Asner.
2. Emily In Paris
I cannot wait for the second season to come out! I binge-watched the entire first season within a couple days. This show is so cute and made me want to go to Paris really bad. Plus, I am obsessed with all of the clothing on this show!
Chicago marketing executive Emily Cooper is hired to provide an American perspective at a marketing firm in Paris.
3. The Circle
One of my favorite reality competition tv shows. Please, start at season 1 you will not regret it.
In this lighthearted and strategic competition series, the players must choose whether to be themselves or other people -- all while chasing a cash prize.
4. Dawson's Creek
I started rewatching from season one and it is still just as good as when I was a kid. Still a classic tv show and one of my favorites.
This drama series chronicles the lives of wannabe filmmaker Dawson Leery, his best friend Joey (female), who has been in love with him since childhood, close friend and slacker Pacey, and new girl next door Jen. Additional friends come and go, feelings change, and Dawson must suffer through growing pains.
5. Love is Blind
This is such an addicting reality tv show. I cannot wait for season two.
Singles try to find a match and fall in love -- without ever seeing each other face-to-face, as emotional connection attempts to conquer physical attraction.
6. Dolly Parton's Heartstrings
Each episode is like a fictional mini-movie about each individual song of Dolly's and it is nothing short of cute and sappy. I loved this mini-series! This is a perfect option if you are looking to watch something cute and mindless.
This anthology series showcases the stories, memories, and inspirations behind the singer's most beloved songs.
7. Selling Sunset
Another addicting reality show that any real estate junkie will love! I need a new season now!
Selling real estate in the Los Angeles market can be glorious, given the area's sunny location and an abundance of the rich and famous living there. It can also be cutthroat as agents fight over clients and properties. "Selling Sunset" showcases the drama at The Oppenheim Group, where elite real est

ate brokers sell the luxurious life to their affluent buyers. And the drama gets bumped up even more when a new agent joins the team and the veterans want her to prove herself before accepting her as a member of the group.
8. Gypsy
This was an interesting but entertaining drama/thriller. I am kinda sad this got cancelled and was only one season. The acting was extremely well done.
Academy Award-nominee Naomi Watts stars in this Netflix-original psychological thriller as Jean, a therapist in New York with a successful practice and a life that seems picturesque. As Jean starts to develop intimate and illicit relationships with the people in her patients' lives, the borders of her professional life and personal fantasies become blurred. Jean descends into a world where reality and the forces of her desires are disastrously at odds, which impacts her life and the lives of those around her.
9. Mindhunter
This show will keep you on the edge of your seat the entire time while watching.
Catching a criminal often requires the authorities to get inside the villain's mind to figure out how he thinks. That's the job of FBI agents Holden Ford and Bill Tench. They attempt to understand and catch serial killers by studying their damaged psyches. Along the way, the agents pioneer the devel

opment of modern serial-killer profiling. The crime drama has a strong pedigree behind the camera, with Oscar-nominated director David Fincher and Oscar-winning actress Charlize Theron among the show's executive producers.
10. Firefly Lane
This show is so cute and shows the beauty of friendship.
Tully and Kate meet as young girls on Firefly Lane and become inseparable friends throughout 30 years of ups and downs.
11. Sister, Sister
I started rewatching all of the show from the beginning again and it is just as good as when I was a kid. It was making me feel very nostalgic for the 90s and my childhood.
Tia and Tamera are twins who were separated at birth, with each being adopted by a different parent. One day, the teens have a chance encounter while shopping at a clothing store in the mall. After the families meet, Tamera's adoptive father reluctantly allows Tia and her mother to move into his hom

e so the girls can be together. But just because they're twins doesn't mean Tia and Tamera are identical in any way other than looks -- Tia is intelligent and from inner-city Detroit while Tamera is the boy-crazy twin from the suburbs.
Have you seen any of the shows above?
What shows have you been binging on Netflix or in general lately?
xoxo,