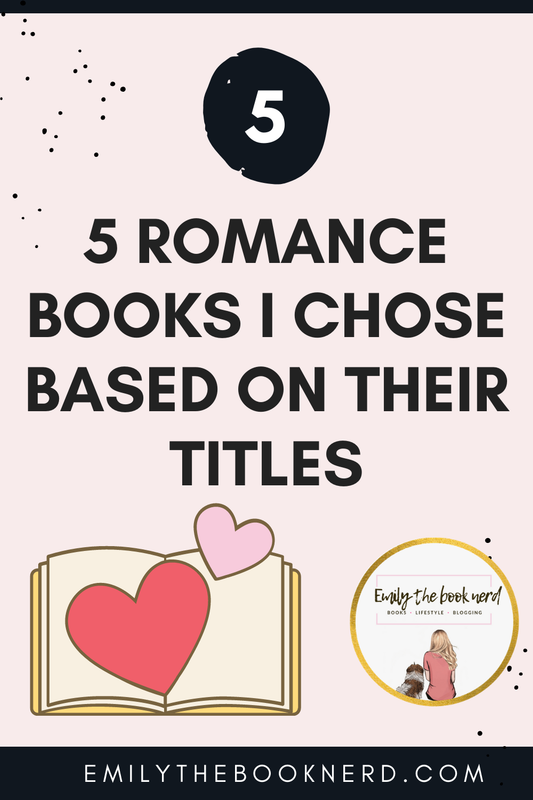 Wednesday Weekly Blogging Challenge is Hosted by Long and Short Reviews. Read everyone else's replies to this week's question here!
This week, the topic is about discussing books that you chose to read based on their titles. I decided to list five books because hey the number 5 is my favorite and as always I added my own spin to the topic to include romance books! Usually, I go by covers if I haven't heard anything about the book before but I will say a good title will occasionally catch my eye if it sounds intriguing enough. I do think having an eye-grabbing/good title is important when writing books. You need something that is going to draw readers in initially.
1. RoomHate by Penelope Ward
Thank god, I picked up this novel because it started my love of author Penelope Ward and is one of my favorite all-time romance novels.
Sharing a summer house with a hot-as-hell roommate should be a dream come true, right?

Not when it's Justin… the only person I'd ever loved… who now hates me.

When my grandmother died and left me half of the house on Aquidneck Island, there was a catch: the other half would go to the boy she helped raise.





The same boy who turned into the teenager whose heart I broke years ago.

The same teenager who's now a man with a hard body and a hardass personality to match.

I hadn't seen him in years, and now we're living together because neither one of us is willing to give up the house.





The worst part? He didn't come alone.





I'd soon realize there's a thin line between love and hate. I could see through that smug smile. Beneath it all…the boy is still there. So is our connection.

The problem is…now that I can't have Justin, I've never wanted him more.
2. Dear Sexy Ex-Boyfriend by Lauren Blakely
Thank god, I picked up this book because it also introduced me to one of my favorite romance authors Lauren Blakely. I will read anything this girl writes. Her books are purely enjoyable from start to finish.
Let me just say -- none of this was supposed to happen.

I didn't expect the letter to go viral. I didn't think anyone would figure out who Dear Sexy Ex was. And I especially never thought he would find out about it.

Yeah, bit of a miscalculation there.





But see, I need the money to fund my brand new venture. And Dear Sexy Ex, well, it turns out he needs me to save his business.





By becoming his fake fiancée.





Yup, that's the pickle I find myself in -- pretending to be madly in love with the charming, brilliant, and utterly infuriating man known as Dear Sexy Ex.





Only, it's not an act. And he can never know.
3. The Billionaire Boss Next Door by Max Monroe
For some reason, I love the Billionaire boy trope within romance novels. This lovely book turned into one of my all-time favorite novels. It is so hot that you can't help but blush while reading this book. Plus, I love the boy next door trope as well. It had everything I wanted in a five-star read!
My new boss has it all. In spades.
Gorgeous green eyes? Check.
Hard-and-sexy body? Check.
Intelligence? Check.
Success? A big fat billionaire… Check.
Too bad I haven't started out on the best foot.

My big mouth has already turned him against me, and tempting good looks and success aside, Trent Turner is no peach either. He's stubborn and thick-headed, and son of a fruitcake, he thinks he knows everything there is to know about the hotel business.

With him running the development of the new Vanderturn New Orleans Hotel and me doing the design, our work relationship is far too intimate for two people who absolutely despise one another. But that's not all. See, he isn't just my billionaire boss from hell. He's my new neighbor, too.

Same city. Same building. Same floor. Trent Turner is my billionaire boss next door. Holy moly, let's hope my career—and hormones—can survive.

Disclaimer: If you generally love to suffer, hate fun of any kind, and are allergic to laughter, this book is not for you.
4. The Seven Husbands of Evelyn Hugo by Taylor Jenkins Reid
First of all, I was hearing about this book everywhere from tons of other romance readers/bloggers, and when I heard the title........ I just knew that I had to pick this one up and by golly thank goodness I did! I loved this story so much and the old Hollywood vibes were the best. I would love to see a movie made out of this book. It would make a good one if done right to the novel.
Aging and reclusive Hollywood movie icon Evelyn Hugo is finally ready to tell the truth about her glamorous and scandalous life.





When she chooses unknown magazine reporter Monique Grant for the job, no one in the journalism community is more astounded than Monique herself. Why her? Why now? Monique is not exactly on top of the world. Her husband, David, has left her, and her career has stagnated. Regardless of why Evelyn has chosen her to write her biography, Monique is determined to use this opportunity to jumpstart her career.





Summoned to Evelyn's Upper East Side apartment, Monique listens as Evelyn unfurls her story: from making her way to Los Angeles in the 1950s to her decision to leave show business in the late 80s, and, of course, the seven husbands along the way. As Evelyn's life unfolds—revealing a ruthless ambition, an unexpected friendship, and a great forbidden love—Monique begins to feel a very a real connection to the actress. But as Evelyn's story catches up with the present, it becomes clear that her life intersects with Monique's own in tragic and irreversible ways.
5. Big Shot by Carly Phillips and Erika Wilde
I love cocky male characters. The title jumped out at me immediately after hearing it. Plus, Carly Phillips is a very well-known romance author that I was just dying to try and man am I glad I picked up this novel. I smiled the whole time while reading this book. I can't wait to try more of Carly and Erika's books now.
New York Times Bestselling Authors Carly Phillips and Erika Wilde bring you THE BOOK BOYFRIEND SERIES, featuring four hot heroes guaranteed to make you swoon!





Fall in love with your next Book Boyfriend . . .





Wes Sinclair is a notorious heart-breaker, a hot as sin bad boy with a panty-dropping smile no woman can resist. Except for his prim and proper adversary, Natalie Prescott, who seems immune to his flirtatious charms. While she's become a permanent fixture in his dirtiest, most scandalous fantasies, she wants nothing to do with him, or his seductive promises. Challenge accepted. His goal? To bring her to her knees, make her beg, and show her just how good being bad can be.
---

Well, there you have it! All of the books above are nothing pure of amazingness. Please, give them a try and you will not be disappointed.




What are some books that you picked up based on the title alone?

How do you decide what to read next?

Have you read any of the books above too? What did you think?

Do you pick up books based on titles alone too?




xoxo,