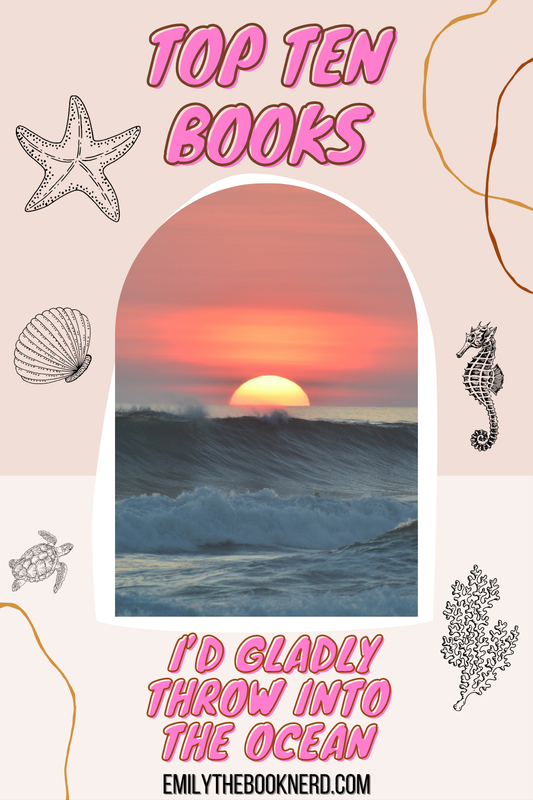 It has been a while since I have done a TTT! This week's topic was submitted by Beauty & Her Books, and looked like a super fun and interesting topic that I thought I would participate in.
You can want to throw a book into the ocean for a number of different reasons, both good and bad: you didn't like it and DNFed it, you kept reading it hoping it would get better and it never did, you wish the ending had been different, it made you feel too many feels, there was a love triangle (or maybe said love triangle ended with the main character ending up with the person you didn't them to end up with), it ended on a cliffhanger and you're dying, there was a plot twist that messed with your mind, you thought you had figured out how things would end and the author outsmarted you, something made you mad, a character made a bad choice, etc. This week I am talking about ten different books that I was not crazy about.
If your reasons are all negative ones, that's ok! We're allowed to not like books! Lately, I have been reading a lot of two-star books that I have not been crazy about. Just because I did not necessarily like these books that does not mean that you won't. We all have different reading tastes and that is the beautiful thing about reading.... we all have different opinions. I am by no means attacking the authors of these books. My opinions are my own. I applaud anyone for writing a book period. For the longest time, I would not allow myself to DNF a book. I made it a mission to finish all books but now I simply do not put that pressure on myself. If I am not enjoying something that badly, I have no problem putting down a book and moving on. There are too many books on this planet that I want to read and not enough time in the day to do so... so why waste my time? Reading is supposed to be an enjoyable hobby. Unless it is required reading for school I have no problem not finishing a book.
Here is a list of ten books I either rated one, two stars, or did not finish (DNF):
1. Never Have I Ever by Joshilyn Jackson
My most recent two-star read.

The villain was downright horrible and in some of the passages I was cringing and it became too much. There are a lot of triggering things in this book. I had been looking forward to reading this novel for a long time and I am very disappointed with how it turned out. The book dragged on and on.
2. Take Me Back by Meghan March
I was so disappointed in this book and almost DNF it several times. I skimmed most of this book. This was supposed to be a romance book but there was hardly any romance in it. It had a weird action story premise.
The story dragged on and was predictable. I did not connect with any of the characters. I did not care about the family feud and honestly was just very bored.
4. Truth by Trilina Pucci
The main character was abusively MEAN to the main heroine but in a bad way... not the normal enemies to lovers trope I love so much. Very disappointed with this book.
DNF this book was about a blog about spanking? I was bored reading it from the very beginning and it was very weird.
I almost finished this book but couldn't bring myself to. Literally only had about 50 pages left but I was so bored. I did not connect with any of the characters or plot. I could not bring myself to finish it.
DNF, I was very very bored. Did not like the characters or pretty much anything. Just not my thing. I was not a fan of the writing style of the book.
DNF could not get into this story as hard as I tried. I wanted to like this book so much. The concept seemed so cool but it honestly was very confusing.... there were way too many characters to keep straight in this novel.
I stopped reading this memoir halfway through. I love Ellie so much but her book was boring and she is normally sooooo funny but I barely laughed while reading it. I didn't care about her stories. Bland writing.
---
Have you read any of the titles above?