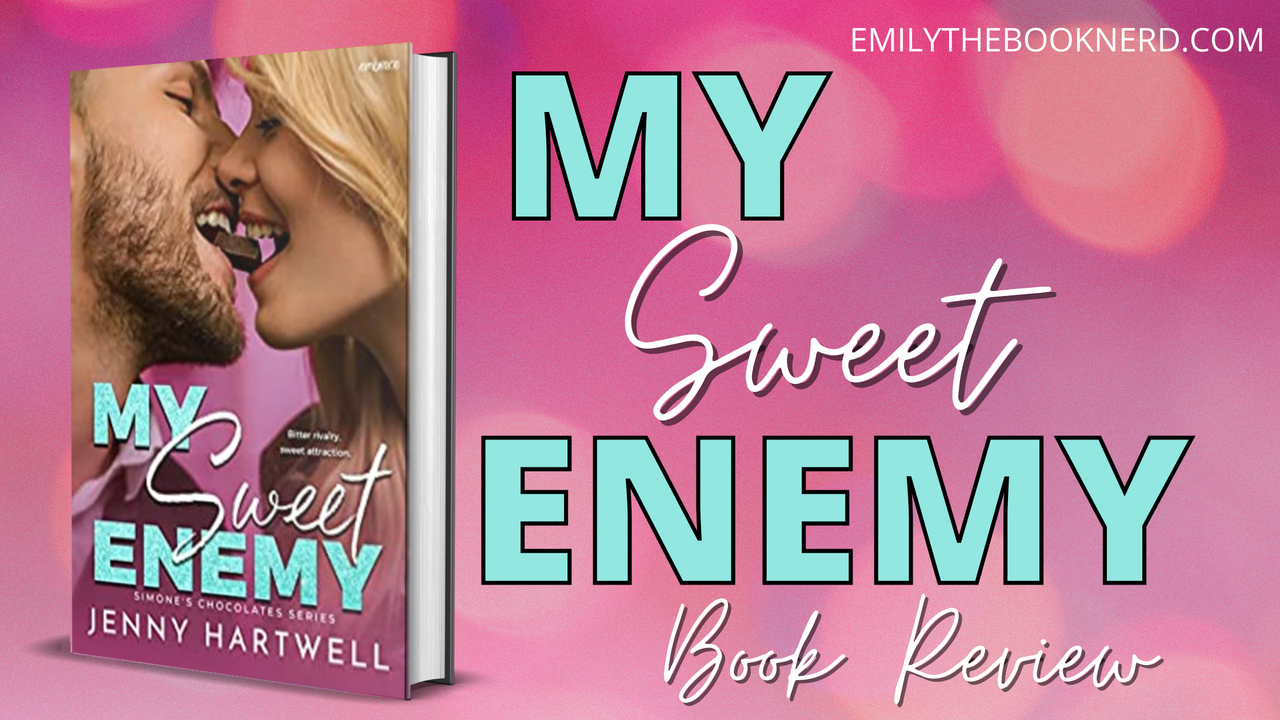 My Sweet Enemy
Author: Jenny Hartwell
Genre: Romance
Published: February 8th, 2021
Publisher: Entangled Publishing LLC (Embrace)
The only thing tempering their insta-hate is delicious attraction. Sunny chocolatier Charlotte Beecher is unemployed, in student debt, and on the verge of hawking her beloved copper pots just to make ends meet. So when a gourmet chocolate factory chooses her as one of five candidates to help re-launch the company in their Charlie and the Chocolate Factory inspired competition, Charlotte begins to see a light at the end of the tunnel. Fellow contestant Luke Wells complicates her plans to win by a landslide with his flow charts and marketing projections. Mr. Tall, Dark, and Haughty is all about the bottom line and is as bitter as she is sweet. And when he snubs Charlotte in the first challenge, misunderstanding or not, she transforms from cream puff to jawbreaker. Bring. It. On. But when these two rivals find themselves distracted by delicious attraction, will they let their passion get in the way of winning the competition?
Falling in love with a rival opponent.
At first, I requested to read My Sweet Enemy simply because it revolved around a chocolate romance that was compared to Charlie and The Chocolate Factory with enemies to lover's story thrown in. Enemies to lovers is my favorite romance trope. However, the book was hard to follow at times because there were tons of side characters.
I honestly did not even care for the main character Charlotte that much because she became super whiny throughout the book and had a major lack of trust in the main hero Luke. Luke gave her no reason to not trust him and I became seriously annoyed with Charlotte in the process.
Charlotte ends up competing with Luke and other interns for a job offer. The whole competition was hard to follow and the challenges that the characters had to go through were kind of unbelievable and far stretched. Plus, after the whole competition going on throughout most of the book ended in the way that it was extremely frustrating for me. I won't give anything away but I found myself saying "come on" by the end of the book.
I did enjoy the actual steamy moments of the book though. However, I do think I would have rated this book higher if there had been more steam. For most of the book, I wanted sweets and chocolate. The story dragged on a bit. My Sweet Enemy is all about falling in love with the rival you are competing with. I did not love the book but I didn't necessarily hate it either. All and all it was pretty average.
Jenny Hartwell has a confession–she loves People magazine as much as Pride and Prejudice. Her fun, pop culture adoring side shines in her contemporary rom-com novels set in a gourmet chocolate factory while Jenny's Regency romances feature strong damsels and swoony lords. Her writing has won or finaled in numerous contests including the Golden Heart, The Emily, Four Seasons, Fool for Love, and The Catherine. Jenny lives with her family in the verdant Pacific Northwest. She loves movies, travel, and staying up late with a good book. And, of course, chocolate. Jenny is represented by Lesley Sabga of The Seymour Agency. Her debut novel, My Sweet Enemy, will be released by Entangled Publishing on Feb. 8, 2021.