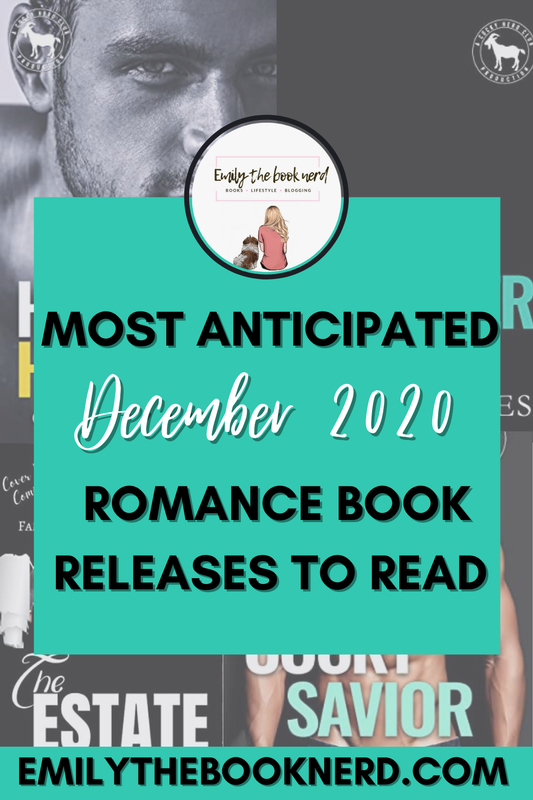 I cannot believe the end of the year is near and that it is going to be December before you know it. December always brings a lot of new book releases right around the holidays. Gifting a book is always a good gift option in my book. I personally would love to receive any of these books below for Christmas!
Here are some highly anticipated romance book releases for December 2020:
1. Vicious Vet by Ashley Munoz: December 20th
I never imagined that I'd be adding Manager of Operations for Park Street Animal Shelter to my resume. Not until my firm closed up, my boss moved away, and I was asked, nearly begged to step in and help.

Once I found a decent allergy medication and adjusted to the smell that accompanied the shelter, I was oddly excited to start my new venture.

That is until I met our on-call Veterinarian.

Greyson Knox.

Local animal doctor, famously rich, unfathomably gorgeous and my worst nightmare.

I can put up a good fight, always have, but against Greyson; I've always been flustered, irritated…weak.

Especially after what happened.

Four years I've managed to avoid him. I've stayed on my side of town with my head down and now he's here…and I can't escape him.

Some men are cordial, kind, professional…but Greyson Knox is nothing but a vicious vet looking to score.

My first order of business was to strip him of his job, get him out of my clinic. But like everything between us, it turned into a war.

Except for this time, losing would strip me of something I never expected to have. Something I've been too afraid to want and when Greyson plays dirty by revealing a secret he's been harboring; my battle lines grow weak, leaving me vulnerable for attack.
2. Ex-Rated Gigolo by Kimberly Knight: December 20th
A Cocky Hero Club and Saddles & Racks Crossover Novel

From USA Today Bestselling author Kimberly Knight, comes a Saddles & Racks Series and Cocky Hero Club crossover novel.

It all started with a cat on my roof.

My neighbor's Siamese to be exact.

When Mrs. Higgins begged me to go up on my roof to save Chloe, I did it to appease her because she thought the cat was stuck.

The cat wasn't stuck.

But I was.

The ladder fell, Mrs. Higgins called 9-1-1, and the guy I'd had a crush on since high school arrived with the fire department and saved me.

To my surprise, he asked me out, and our relationship took off.

That was until I got the opportunity of a lifetime to go to Paris for six months and didn't see him again for two years when he was a passenger on the flight I was working.

I was still in love with him, but he told me he was now a part-time gigolo, and there was no way I could ever share him with anyone else. Even if the job was only for money.

So, I let him go.

Like I should have done with that damn cat in the first place.
3. Egotistical Executive by K.L. Humphreys: December 6th
Who does he think he is? What an Egotistical Executive!

Melanie Karlson's day just took a nosedive when gorgeous and confident Eli Egan

walks into her coffee shop.

He's demanding, conceited and thinks he's god's gift to women.

After he leaves, she can breathe again thinking it was a one and done situation. Except

it's not.

A chance encounter leads to a dinner date that neither of them will forget. For more

reasons than one.

Even though she despises him, he still manages to get under her skin and into her bed.

What happens when he leaves her with more than a lasting impression? Will she be

able to find her Egotistical Executive?
4. The Estate by Ivy Wild: December 15th
Family. Honor. Commitment. Lies.

Carter:

Family. Honor. Commitment.

My entire life was built around these three words.

And my entire life turned out to be a lie.

But burying the pain is easier than dealing with it and that's what I'd planned to do.

Until Lex Evans showed up.

She tore down the walls I'd thrown around my heart brick by brick.

She reduced me to rubble, so she could build me back up.

Lex:

I am the girl people abandon and I've accepted that.

I don't say no because I don't know how and people take advantage of it.

I hoped he'd be different. It seemed like he was.

Carter Ross swept into my life and I didn't say no.

But this time, I didn't want to.

His walls are up so high, but I can see the cracks.

And in all his darkness, he can't stop the light from seeping through.

When he leaves, I'll be the one to break.

The Estate is a complete stand-alone contemporary romance novel.
5. Brazen Biker by Jessica Ames: December 2020
The last thing Carla wants is to go on a road trip across country with a loud-mouthed, bossy biker. Rooster lives up to his name as the cockiest member of her father's motorcycle club and it's pretty much hate at first sight. After growing up in the MC life, she's used to dealing with men like him, but there's something about him she can't shake. Beneath the cocky veneer, there's something more there, something sincere, and that has her interested.

Rooster didn't want to travel thousands of miles with a stuck-up woman who is completely immune to his charms—or so it seems. He's sure he can see a crack in the walls she's pulled up and he's determined to get through it. Too bad this trip isn't one for pleasure, but a protection detail, because he really wants to get to know her better, but with their enemies moving against them they might have to put love on hold long enough to stay alive.
6. Hoax Husband by Candice Wright: December 13th
What happens in Vegas, stays in Vegas, right?

Well, except for when it doesn't.

And while for Linda Carter, that was a night she will never forget,

For Asher Sloan, it was a night he couldn't remember.

A year later, their paths cross once more.

Their chemistry is still combustible




But Linda has learned her lesson when it comes to Asher all too well, and she doesn't plan on getting burned again.

Refusing to take no for an answer, Asher comes up with a solution: a three-month deal where they can both get what they want.

Confident, Asher knows how to wear his opponent down, in both the boardroom and the bedroom

But when his true motives come to light

Asher stands to lose everything he never knew he wanted

And if he fails to remind Linda of all the reasons why she should stay,

He'll be the one to become nothing more than a hazy memory.
7. Cocky Savior by Jane Blythe: December 27th
Florence Harris thought if she ever fell in love it would be with someone sweet, dependable, boring.

Nope.

Turns out she likes arrogant, annoying, ego so big it wouldn't fit in the ocean Eli Lennox.

Just because he saved her life he thinks it gives him permission to meddle in it. He's determined to save her from herself.

Problem is she thinks she's beyond saving.

She's beautiful, intelligent, and the sexiest woman Eli had ever laid eyes on, and she turns him down flat when he asks her out.

That doesn't happen to him often.

Or ever.

And it makes him determined to prove to her she's worth every ounce of effort he's going to put into winning her heart.

Eli Lennox always gets what he wants
Are any of these titles on your tbr? I would love to know in the comments down below!
xoxo,