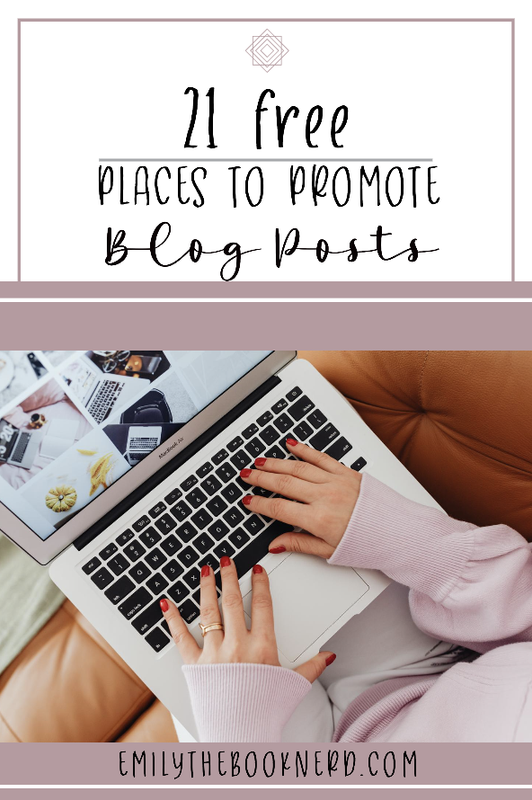 Blogging is sometimes a lot of work but honestly, it is one of my favorite hobbies. There is just something about the simple task of writing a blog post that makes me calm. It is a very healing thing and helps my depression and anxiety.
However, sometimes you can spend hours and put a lot of work into a blog post, and then it gets almost new views or comments. You can feel a sense of defeat like is anyone reading my blog at all? First and foremost don't start blogging just for the views. Blog for yourself and I will assure you the viewers will come. It takes time to build an audience but the important thing is to not give up.
I blog for myself and if a post gets views then great! Some posts will get more views than others and that is okay. On my blog, book lists and blogging advice always seem to get the most views. Knowing your audience when you blog is key!
There are tons of ways to highlight/share your posts all over the internet. Some work better than others but I thought I would share all of the best places to do so in this post. To get viewers on your blog, you have to share your posts and advertise. Without doing so, your blog probably won't get any views. Making connections with other bloggers is extremely important. Other bloggers read blogs. To be a successful blogger you have to share your work with the world.
here are all of the best sites to share your blog posts:
1. Comment on other blogs and cross-promote your posts:
One of the biggest ways to get blog views is to cross-promote on other blog sites. Leave valuable comments on other blogs and casually link back to your blog in the comments. It is important not to spam other people's sites but you want to share your blog too with the site owner. Hey, you may even get a new blog reader to your blog that way. Bloggers read other blogs and if you have valuable things to say on your website they will come and check out your site!
2. Pinterest:
This is the biggest social media site that you should be cross-promoting all blog posts too. Pinterest group boards are a must that you should be joining. My group boards drive thousands of traffic to my blog. My Book Blog Inspiration group board is a prime example. Other bloggers have joined this group board of mine and we all cross-promote each other's blog posts. I have other group boards as well. My post on 100+ PINTEREST GROUP BOARDS FOR EVERY BLOG NICHE has a list of group boards that you can join to drive the traffic of your blog up. Make sure you have a business account set up for your blog on your Pinterest. Another great post of mine to read that I recommend on Pinterest is A Guide To Pinterest SEO - 13 Tips To Skyrocket Your Blog. The majority of my traffic comes from Pinterest alone because of this it is very important for bloggers to utilize Pinterest and all of its capabilities... Plus, it's completely free so why wouldn't you use it?
Depending on how active I am on Pinterest my monthly views can go up or down... Here are the monthly views I have this month because of Pinterest. These views drove traffic to my blog/posts.
Instagram is a must for bloggers. Sharing photos really does skyrocket your blog traffic to your website. Make sure your Instagram has your website on your profile and your profile looks professional. Here is mine for example. I utilize Instagram Stories to drive even more traffic to my blog.
I hope this list helps you increase the traffic on your blog. Not getting the viewers you expected on your posts can be discouraging but it's important to never give up and to keep trying. Being active and posting frequently really does make a difference in the blogging world. It's important to realize some posts get more views than others. It's important to pay attention to your readers and audience. Making sure you are looking at your site statistics and analytics is key in knowing what types of posts perform well on your blog. I hope this helps and as always if you have any questions you can always ask me.
What do you do to promote your blog/posts?
Where do you get most of your blog traffic from?
What are some tips that you can share with me?
What has worked or not worked for you in the past?
xoxo,