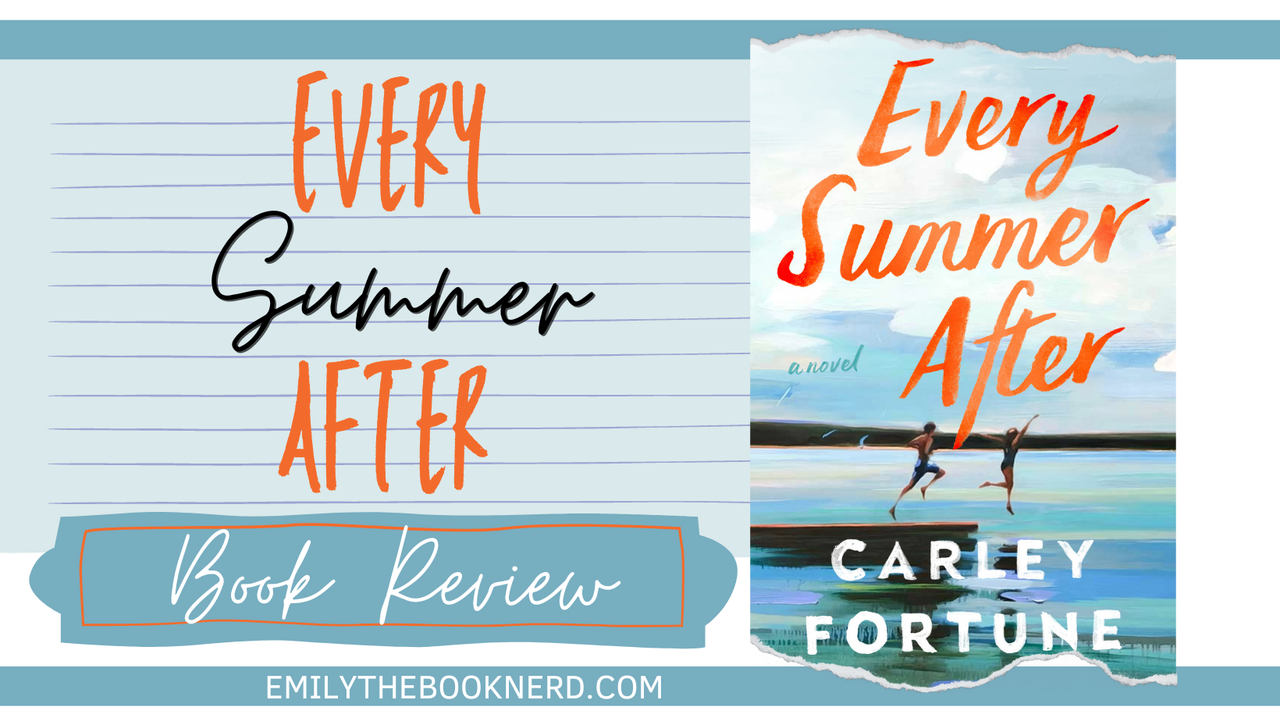 Every Summer After
Author: Carley Fortune
Genre: Contemporary Romance
Publisher: Berkley
Published:
May 10th, 2022
Pages:

313
My Rating:
★
★
★
They say you can never go home again, and for Persephone Fraser, ever since she made the biggest mistake of her life a decade ago, that has felt too true. Instead of glittering summers on the lakeshore of her childhood, she spends them in a stylish apartment in the city, going out with friends, and keeping everyone a safe distance from her heart.

Until she receives the call that sends her racing back to Barry's Bay and into the orbit of Sam Florek—the man she never thought she'd have to live without.

For six summers, through hazy afternoons on the water and warm summer nights working in his family's restaurant and curling up together with books—medical textbooks for him and work-in-progress horror short stories for her—Percy and Sam had been inseparable. Eventually that friendship turned into something breathtakingly more, before it fell spectacularly apart.

When Percy returns to the lake for Sam's mother's funeral, their connection is as undeniable as it had always been. But until Percy can confront the decisions she made and the years she's spent punishing herself for them, they'll never know whether their love might be bigger than the biggest mistakes of their past.

Told over the course of six years and one weekend, Every Summer After is a big, sweeping nostalgic look at love and the people and choices that mark us forever.

Six summers to fall in love. One moment to fall apart. A weekend to get it right.
A girl falls in love for the first time with her childhood neighbor.
Here me out...... did I enjoy this book? Yes, I did. For most of the book, I absolutely loved it and reading the love story. Plus, I loved the alternating timelines/build-up as to why the main character's romance ended until they rekindled their romance by the end of the book. But when I found out why the two characters initially fell apart it literally tore me up inside.

The two main characters were just plain dumb for most of the book to the point that it was just making me angry to read towards the end of the book. Clearly, both of you adore each other just get together already and stop whining. It got to be annoying. Then, throw in the fact of the actual reveal of what happened between the two to end their relationship and it was almost unforgivable in my opinion and Percy treated Charlie like absolute garbage. I don't think I have disliked a heroine this much in a while. It was gut-wrenching. I can't wrap my mind around how this ended.

Plus, I felt the ending was sort of rushed. If I was rating the first half of Every Summer After I would have rated the book four stars easily but as I said towards the end of the book and the end just was not for me. I loved Carley's writing style so I will for sure try her next book but these characters were just terrible............ They were perfect in the beginning and gushy cute but then a bolder came and blew them up into annoying, whining, dumb juvenile assholes.