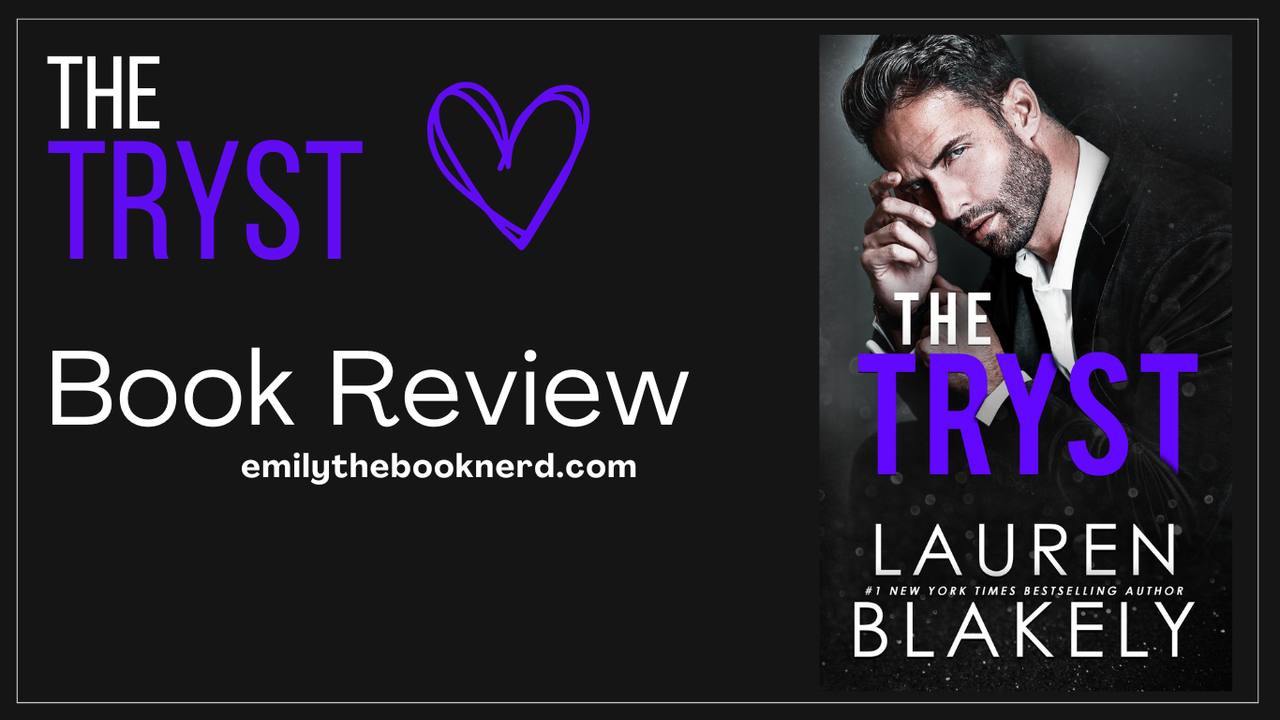 The Tryst
Author: Lauren Blakely
Genre: Romance
Published: April 5, 2023
Pages: 454
My Rating:

★

★

★

★
Some men are just off-limits. Like your ex-boyfriend's father.

But when I met the sexy, powerful older man shortly after my business school graduation, he was simply the seductive stranger I wanted to notice me, and he sure did.

Fast forward a few months later, when my college ex – now a good friend – introduces me to the person he looks up to most…his father.

The man I spent that one hot night with.

I should stay far away from the commanding business mogul. But my ex and I are planning a charity fundraiser that involves late nights at his dad's penthouse in Manhattan.

Nights where he can't stop looking at me with desire in his eyes that matches my own.

I try to resist him, playing the good girl in the city…mostly.

He's the perfect gentleman…until he comes knocking on my door and tells me exactly what he wants to do to me.

And I say yes.

Stealing nights with him like this is supposed to be wrong, but it feels so right. And when he saves the day to protect his son at the fundraiser, my heart wants him as much as my body does.

Can we ever be more than just a tryst?
A girl falls for her ex-boyfriend's father.
I didn't even know this was book two in a series but I read it as a standalone and it still made sense that way. Lauren Blakely is my girl and one of my favorite romance authors for a reason. I am so blessed to be a part of her review team where I get to read her books before they come out for my honest opinions. This novel did not disappoint. It was steamy in all the best ways. I love the trope of a girl falling in love with an older man.
While it was not my favorite book Lauren has ever written I still adored it. I loved the elements of pushing forward and moving on even in hard times. I love the extended epilogue that you could download later too. The resolution with the main heroine's mother was also a tear-jerker moment for me.
I loved this age gap, virgin, falling for your ex-boyfriend's dad romance! Plus, the dual perspective adds so much more to the story! Lauren, you have done it again!
A #1 New York Times Bestselling, #1 Wall Street Journal Bestselling, and #1 Audible

Bestselling author, Lauren Blakely is known for her contemporary romance style that's sexy, sweet, and witty. She also writes USA Today bestselling LGBTQ romance. With fourteen New York Times bestsellers, her titles have appeared on the New York Times, USA Today, and Wall Street Journal Bestseller Lists more than 100 times, with more than 55 titles on the USA Today Bestsellers list alone. She's sold more than 4.5 million books. A Brown University graduate, Lauren likes dogs, cake, and show tunes and is the vegetarian at your dinner party.